I was invited to Los Angeles by Disney with expenses paid, my opinion is personal.
Baymax, the giant inflatable robot, which cares for humans, arrives this November 20th to the TV series Big Hero 6: Baymax Returns on Disney XD.
We had an interview with the creators and the actor who lends his voice to the robot, because Baymax returns, now in the Disney XD TV series Big Hero 6: Baymax Returns.
Before the interview we were able to watch the first episode of the new animated series, which premieres Monday, November 20 at 8:00 p.m. on Disney XD and Disney Channel.
The series takes place in the city of San Fransokyo, (a combination of San Francisco and Tokyo) where we will see Hiro, a very intelligent teenager, trying to rebuild Baymax, the inflatable robot that tries to take care of humans!
Hiro and his friends (Honey Lemon, Go Go, Wasabi and Fred) form the Big Hero 6 team and together they will live several adventures as they try to solve problems using their superpowers. Unlike the film, fans will be able to get to know more about each of these characters.
The series is very colorful and entertaining, I'm sure boys and girls will like it, the team includes female characters and we will also see villains. It includes action, science and very funny moments.
Interview with Ryan Potter (voiced by Hiro) and Executive Producers Mark McCorkle, Bob Schooley and Nick Filippi.
After watching the first chapter Big Hero 6: Baymax Returns, Ryan Potter, voice d'Hiro, told us that unlike the film, with the series they could have more fun, because in a movie you would make a scene in four, five, up to eight times, but in the series for gr to open an episode, we go to the cockpit and play with the ideas throughout the episode, when it's movie, in you come up with new ideas up to two months later.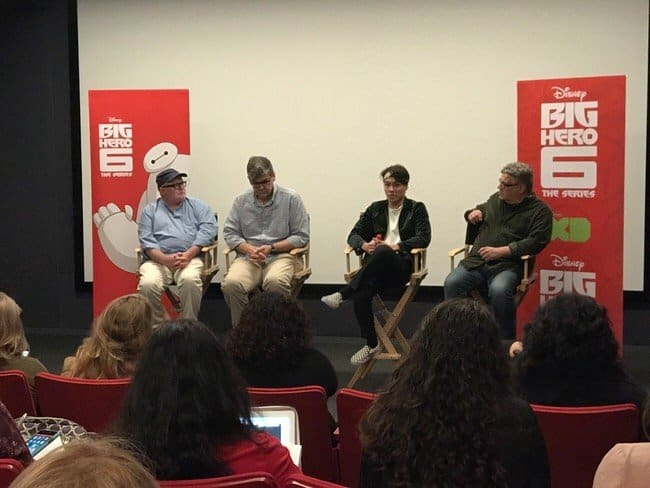 For his part, Executive Producer Mark McCorkle told us that they are very excited to have Back Stan Lee, who makes Fred's dad in the small sequence after the credits. The story is that he was a superhero in the past and managed to be the voice of wisdom of Fred and then a particular episode for Hiro. "It's great to work with Stan Lee this way. Intimidating but it's an honor," he told us.
The protagonists who lend the voice to the characters of this new series are very varied. They wanted it to hybrid variety in the series, some of the villains are clumsy, others a little more funny, serious or threatening. Otherwise, the show would be very repetitive.
About the entry animation Executive Producer Nick Filippi told us that they wanted to create a new world and a new look for the show. That everyone recognized the characters, but at the same time refreshed the show, so they chose a hand-drawn animation, something similar to the ones Disney did in the '60s. We refer to the 101 Dalmatians.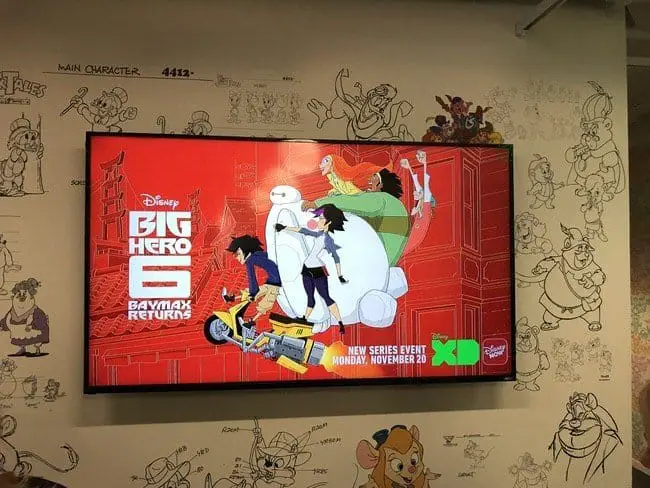 About the new Bob Schooley series of another of the show's Executive Producers, told us that they wanted to mix culture from San Francisco and Tokyo, just because it was a good idea and that informed the animation. "Something like a noodles burger," he said.
Mark McCorkle told us that they made a special story with Hiro, in which Ryan did a good job, when he suddenly goes to everyone and thinks "I gave superpowers to everyone else, but I don't have any" and he gives one himself and it's where Stan Lee gives him a guy advice and he learns that his superpower is his brain. Being smart is his superpower.
One thing that surprised me was that we learned that no one records together, each recording their voice separately. All its protagonists are all over the world. And the recording of an episode can last up to a month, by the time you have all the parts gathered together.
Ryan Potter about people who want to make a career in Hollywood told us "you have to build a very strong team, in the sense of being close and personal. In his case, he tries not to make changes to his agents, because when that happens it's like he's lost a loved one."
Don't miss the premiere of this series on Monday, November 2nd on Disney XD and Disney Channel at 8:00 p.m.