Cheese in Salsa or Chili Cheese, Mexican recipe that we use, usually for lunch or dinner.
My kids really like fresh cheese, but this recipe especially loves it, I accompany it with freshly baked beans or with refried beans and egg (serving the cheese with less sauce).
You can add spicy, many use jalapeño or serrano chili, either cooked in the same sauce or raw at the end; I like it personally with guajillo chili (dry red chile). It is a good option if you are looking for vegetarian recipes, or also for example for Lent.
I hope you enjoy the recipe. I also invite you to see my Cheese Entomatada Recipe, the sauce is very similar to that of this recipe and that of Flamed Cheese.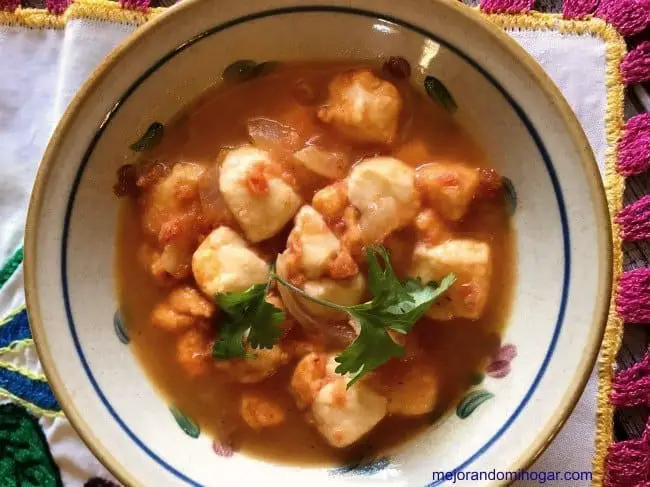 Cheese in Sauce or Cheese Chili
Ingredients
1 lb panela cheese or fresh cheese, diced
5 red tomatoes (tomatoes)
1/2 onion, sliced
1 garlic
2 cups water
1 tablespoon oil
salt to taste
coriander (optional)
We blend the tomatoes with garlic, water and salt.
Heat oil in a frying pan and fry the onion, until it is acitronous or transparent.
Empty the liquefied tomato, onion and boil.
Add the cheese, let it heat until boiling and remove from the heat. You can add coriander at the end of cooking but it's optional.
We serve hot. We can accompany with tortillas, beans, avocado, egg etc.
Have you tried or prepared this recipe with any other ingredients? Tell!