For a few days now I've been using Hamilton Beach's FlexBrew® 2-Way Coffee Maker coffee maker, it's very handy, whether it's making a single cup or a jug of coffee if you have visits from friends or family. #Sorteo #FlexBrew
We receive product my opinion is personal and has not been edited by third parties.
I love coffee, I usually take it alone in the morning, in the quiet of my house when I start blogging after sending the kids to school; that's why it made it so easy for me to use an individual coffee maker, the problem was when I had a meeting or friends would come and I offered them coffee, it's not very practical to be making coffee cup by cup, so when I was offered the FlexBrew coffee maker® 2-Way Coffee Maker from Hamilt on Beach and I knew I could do both, I loved the idea of trying it!
I tried it now that my mom and my brothers came to visit us, my brother is very coffeemaker, so it's best to prepare the 12-cup coffee jug and have it ready.
It made me very phalli to use just follow these steps:
Add water to the container.
Place the coffee.

To use the coffee jug: Place the ground coffee in a paper filter.
To use an individual glass: Place the individual coffee pack in the right place.

Choose the coffee mode: regular or strong.
Press the button and you're done!
The design includes stainless steel parts, which make it look modern, you can find it at Wal-Mart at a very good price.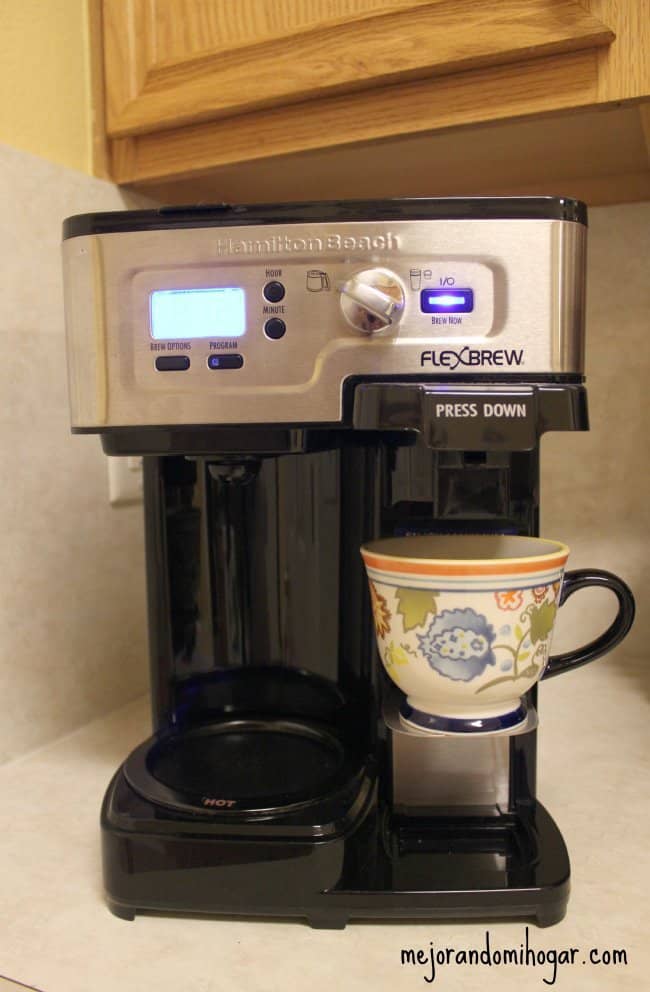 Other features of the FlexBrew® 2-Way Coffee Maker coffee maker from Hamilton Beach :
You can make an individual cup or a jug with 12 cups of coffee.
Used with ground coffee or individual packages such as K-Cup®.
It can be programmed at the time you prefer.
Auto power off after two hours.
It has a pause mode in which you can serve while the coffee is being brewed.
The parts can be washed in the dishwasher.
Better coffee extraction than competing brands.
I really liked the easy and versatile FlexBrew® 2-Way Coffee Maker from Hamilton Beach, I loved my previous coffee maker, but I would definitely prefer to have both options in one coffee maker, serve a single cup or a jug, when needed.
Now I invite you to the Sweepstakes of a FlexBrew 2-Way Coffee Maker of Hamilton Beach equal to the one in the photo, to participate first comment on the blog, tell me: Why would you want to win this Coffee Maker? and follow Rafflecopter's options.