Tooth enamel wear and Gingivitis can occur without realizing it if we don't take certain prevention measures.
*Compensated by Colgate, my opinion is personal.
For years I thought brushing your teeth with a regular paste was enough to have a healthy mouth, but I didn't realize there are other parts of the mouth like gums that we also have to take care of to prevent some oral problems like gingivitis, cavities and bacterial plaque.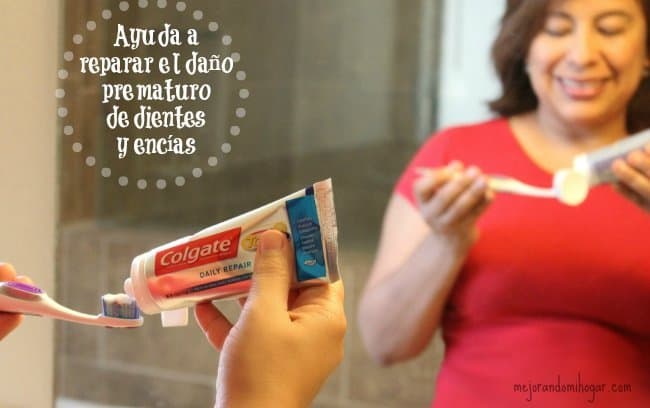 For a few weeks now we have been testing the new Colgate Total® Daily Repair toothpaste and I realized that it helps not only my teeth but also my gums.
In addition to this toothpaste or toothpaste, we floss daily to prevent food buildup and clean our tongue to be free of bad breath bacteria.
Having teeth and gum problems costs money and more in the United States, it's better to prevent them like us using a good toothpaste or toothpaste like Colgate Total® Daily Repair, which offers:
Help reverse premature tooth and gum damage, before you know they exist*.
Remineralize the weakened enamel of your teeth to strengthen them.
Helps prevent cavities and fights plaque and tartar.
Helps eliminate the bacteria that cause gingivitis. Improve the health of your gums.
Helps whiten teeth.
Refresh your breath.
Colgate Total® Daily Repair is used as any toothpaste, comes in an easy tube to stop in any sink, has a very mild mint flavor that my family likes, I personally would prefer a stronger flavor.
Colgate Total® Daily Repair toothpaste is available at a 4.0oz and 5.8oz presentation in supermarket stores and pharmacies.
Visit www.colgatetotal.com for more information on all Colgate Total® products. Follow the Conversation on social media with #ColgateDailyRepair
*Helps repair premature gum problems, helping prevent gingivitis, remineralizes damaged enamel to strengthen teeth and prevent cavities.