The Descendants 2 DVD includes in addition to the movie, extra surprises and an exclusive necklace with icons from Disney villains, plus opportunity to participate in a sweepstakes!
We receive product.

My daughter was looking forward to the premiere of Descendants 2 on the Disney Channel, but she had to wait for the DVD because we were on vacation, the best thing is that the DVD didn't take long to arrive.
Descendants 2 arrives loaded with music, dances and new children of villains, apart from those we already know. Among the many songs in the film my daughter's favorite is "What's my name" performed by Uma (China Anne McClain), for her good rhythm and choreography.
Unlike the first film, most Descendants 2 takes place in The Isle of the Lost, plus it's full of aCtion. This time, Mal (daughter of Maleficient) returns to its roots; she will face together with her friends a group of villains led by Uma, daughter of Ursula the villain of the Little Mermaid.
I think it's a good choice for fans, and fans' dads, I as a lover of Disney movies I can tell you that I'm excited to see Descendants with all their details, music and see the villaindads dads in action.
Uma, continues with her grudges against King Ben for not being chosen to go to Auradon and with the help of new villains Harry, son of Captain Hook's and Gil, son of Gaston, takes him prisoner with the idea of exchanging his freedom for God Fairy mo's magic wand ther to be able to control the world.
Descendants 2 brings meet Mal (Dove Cameron), Evie (Sofia Carson), Carlos (Cameron Boyce) and Jay (Booboo Stewart) in this new musical adventure. The songs and dances are very sticky, my daughter and her friends loved them, I'm sure the fans of the series too.
The new villains include China Anne McClain as Uma, who was on the Disney Channel TV series Ant-Farm, as well as Thomas Doherty as Henry (son of Captain Hook). Uma is the daughter of Ursula and Whoopi Goldberg lends the voice to the latter in the film.
The Descendants 2 DVD has been on sale since August 15, including the full season of Wicked World, deleted scenes and more surprises!
It also includes a free necklace with charms or icons of the villains. The heart of Mal, Evie is a heart with a crown (my favorite), bones representing Henry, a snake for Jay, and a pirate with Uma's tentacles.
Also find inside a 100-point code of Disney Movie rewards and if you enter for Disney's FastPlay option you can watch the trailer for Pixar's Coco!
Participate for free in the DisneyMovieRewards.com draw for the chance to win a collection of five Disney Channel movies including "Descendants" and "Descendants 2"!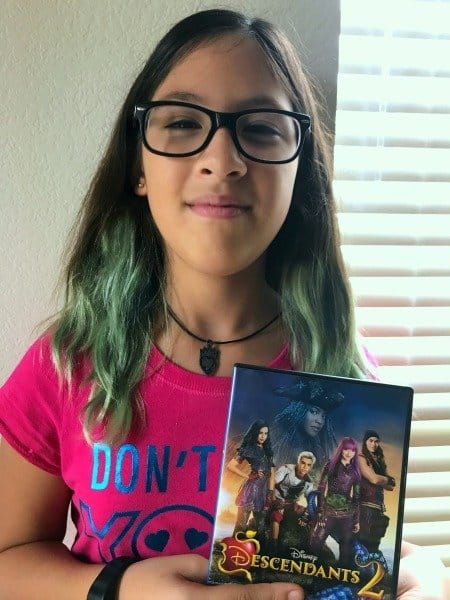 Descendants 2 DVD
Director: Kenny Ortega ("High School Musical")
Executive Producers: Kenny Ortega, Wendy Japhet ("The Italian Job"), Josann McGibbon ("Runaway Bride") and Sara Parriott ("Runaway Bride")
Producer: Shawn Williamson ("50/50")
Writers: Sara Parriott and Josann McGibbon
Extras:
Personal special secrets revealed by some of the actors such as members Dove Cameron (Mal), Cameron Boyce (Carlos), Sofia Carson (Evie), Booboo Stewart (Jay) and China Anne McClain (Uma) during the film's philation.
Bloopers or bugs, deleted song, a collection of animated shorts from Descendants: Wicked World.
Rating: TV-Y (US); G (Canada)
Audio: English 5.1 Dolby; Spanish Dolby 2.0
Subtitles: English SDH, French and Spanish.
Don't miss it!