Meet the teenage sons of Disney's most famous villains in the new movie "Descendants" or Descendants: Bad from the Cradle" this Friday, July 31, 2015.
If you have pre-teen or teen kids like me, you'll probably already know they're expecting the premiere of the new Disney Channel adventure "Descendants".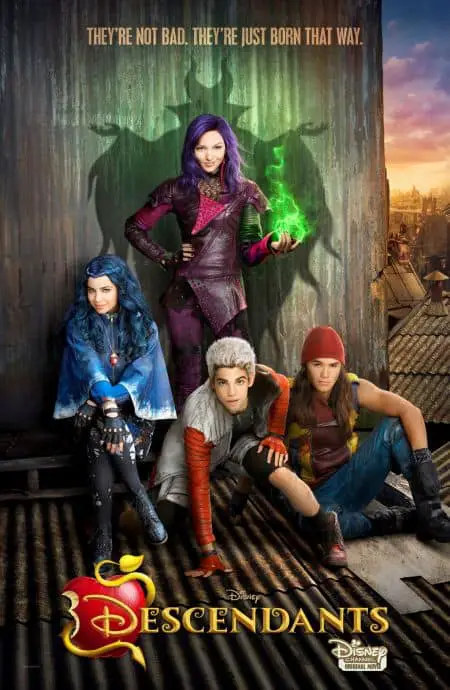 I had the opportunity to see her with my children before she aired, I was intrigued to meet the children of the villains. DESCENDANTS is an epic action adventure comedy that introduces us to the teenage sons of most of Disney's evil villains.
Ben (Mitchell Hope), the handsome son of Beauty and the Beast is about to be crowned King of Auradon, proposes that the children of the villains who live in exile on the Isle of the Lost, have the opportunity to live in the Kingdom for the first time.
The STORY of DESCENDANTS focuses on the teenage children of:
Maleficent. Mal (Dove Cameron).
The Evil Snow White Queen. Evie (Sofia Carson, of Colombian descent).
The son of Cruella de Vil. Carlos (Cameron Boyce).
Jafar's son. Jay (Boo Boo Stewart).
DESCENDANTS: DESCENDANTS is a modern story, with lots of sticky music and dances that young people will surely love, my kids loved it.
In the story all the villains and their families are relegated to the Isle of the Lost, where their teenage children feel pressured to follow in the footsteps of their evil parents, but in the end they are the ones who must decide whether they will be good or bad.
Four of these boys are chosen to attend the same school as the children of the good ones in the films in the Kingdom of Auradon, with hope from the villains who have been on the Isla of the Lost for 20 years; to steal the Godmother Fairy's magic wand to return to the world with all its evil.
Also featured are the daughters of Princesses Sleeping Beauty, Mulan, Cinderella and the fairy Godmother.
The Villains Parents are great and can not miss the dragon, you will love the boys!
Don't miss the RELEASE of DESCENDANTS this Friday, July 31, 2015 at 8:00 pm ET.
Follow all the DESCENDANTS news with the hashtag #DisneyDescendants
I invite you to watch the trailer: