A few days ago we attended Disney's annual Social Media Conference for Mamas every year. This is the Fifth Year of the Disney Social Media Moms Conference, it was first at Disneyland, California.
* We were invited to Disneysmmoms, we paid our travel and conference expenses. All my opinions are honest and have not been edited by third parties.
The Disneysmmoms Conference was filled with magical moments for me and my family; to begin with is our first time as a family at Disneyland and also in Los Angeles;  we loved it!
We stayed at the Disneyland Hotel, there were conferences, which were indeed very inspiring.
Apart from the Disneysmmoms Conferences, which I'll talk to you about later, our family had a chance to:
Stroll and enjoy the attractions of Disneyland and Disney California Adventure.
Enjoy a reception dinner thanks to Disney Junior where we learned about the Disney Magic of Healthy Living, Try it, there was music, activities for kids, raffles for bloggers and photo opportunity with some Disney characters almost without lining up!
Have VIP access to watch World of Color shows at Disney California Adventure Park (you can find a VIP seat with the same-day fastpass), also in "Remember… Dreams Come True" Fireworks Spectacular, one of the biggest celebrations in Disney history with Tinker bell as hostess flying over Disneyland's magical castle, this fireworks show, has you with a knot in the throat of emotion.
Celebrate the 50th Anniversary of It's a Small World; we also receive the Mexican doll who sings in English and Spanish the song of this famous attraction.
We were able to see a special screening of Bears at Downtown Disney.
Attend a Disney Junior-sponsored breakfast where they presented the "Get a Book, Give a Book" program in which we enjoy storytelling or tell stories no more and nothing less than with LeVar Burton, David Arquette, Ariel Winter, Voice of Princess Sofia and Tim Gunn.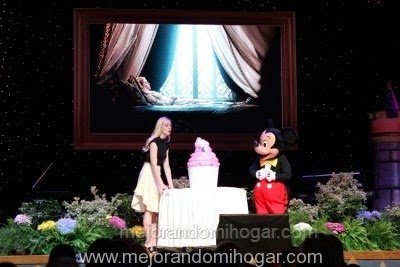 Watch a 9-minute Maleficent trailer, take a photo with her and eat cupcakes to celebrate the birthday of Elle Fanning, who represents Princess Aurora in this film.
We had a very special private dinner in Toontown, sponsored by GoGo Squeez, including dinner, activities for children, exclusive access to attractions, photo opportunity with characters, etc.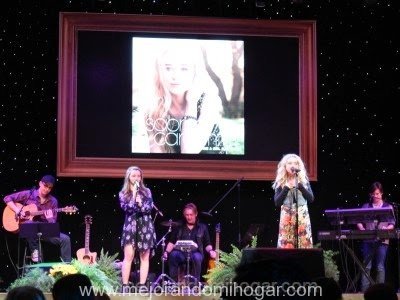 At this same event, Sabrina Carpenter attended to sing her famous song "Can't Blame a Girl for Trying". Sabrina is Maya Hart in Girl Meets World.
Enter when Disney California Adventure was still closed to see bloggers at the Disney Fun Run that ended with a lunch at Cars Land exclusively for bloggers and their families, sponsored by Alamo, Rent a Car. In this event we had opportunity to get on the attractions of Cars Land several times, fast and without a row!
Many other experiences that I will tell you little by little in other post!
Here's a video for California Screamin' on Disney Califronia Adventure.
As you can see, the Disney Social Media Moms Conference offers magical experiences for bloggers and their families, it's a great way to combine learning, make new blogger friends or greet the already known and also have fun as a family, creating Magical memories!