Make a delicious easy lasagna recipe from scratch, your family will love it! You just need a little time to make it.
I have made this recipe several times with lasagna of ground meat and it has always been very rich, my children love it. I usually use only a box of half a kilo of pasta for lasagna and with that is enough for five people, of course, accompanied by some Italian salad and bread with garlic.
We will need: A medium pot to cook the pasta, a medium frying pan to cook the meat and a rectangular mold or refractory to accommodate the lasagna.
Click for the seven-layer dip recipe!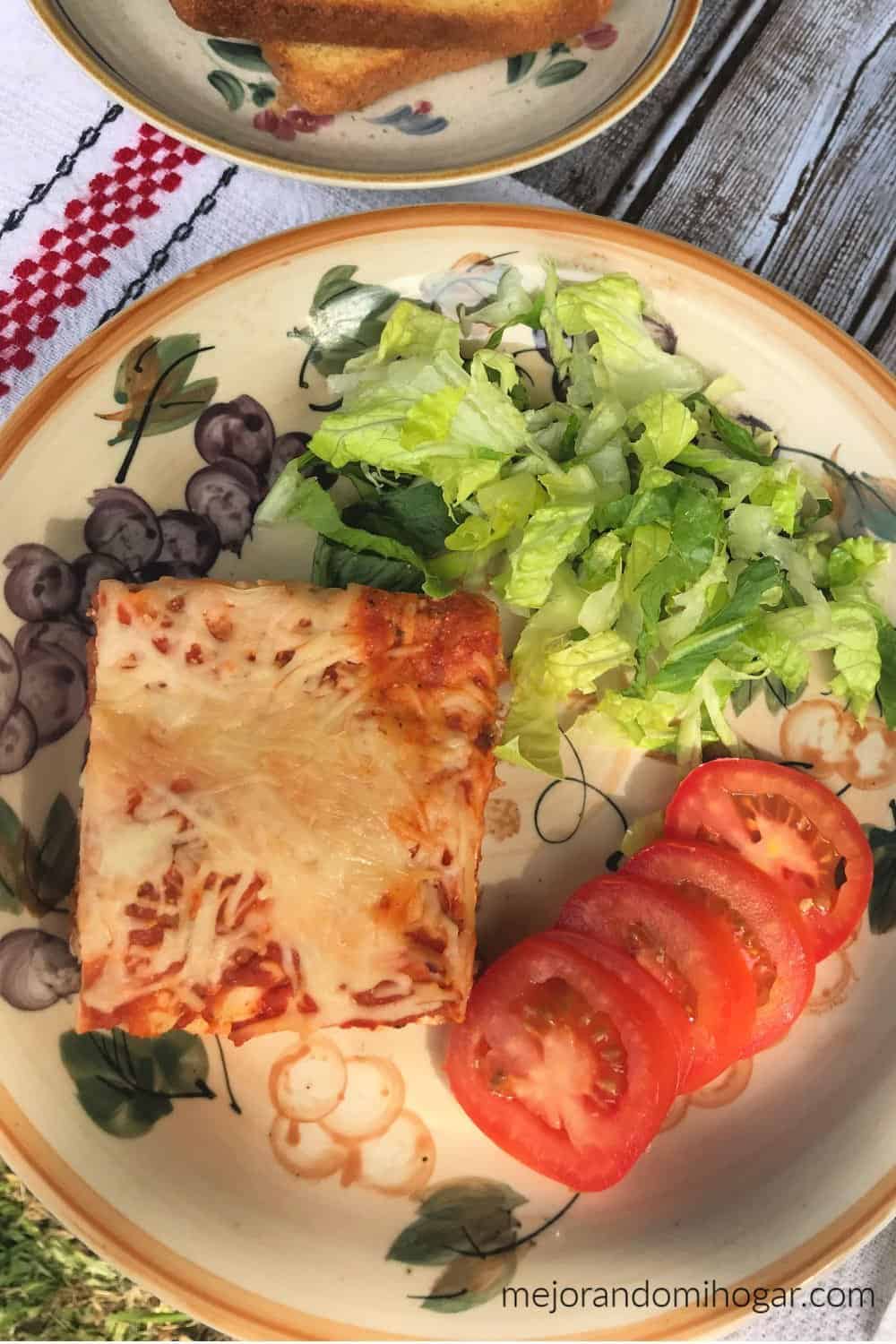 easy lasagna recipe
Ingredients
1lb lasagna paste (1/2 kg)
4 liters of water
1 tablespoon oil
1 tablespoon salt or chicken broth powder
For the filling:
2 lbs ground beef (1/2 kg)
1 medium onion, chopped
2 garlic cloves, chopped
1 tablespoon olive oil
2 medium cans of spaghetti sauce
1/2 cup water or white wine
15 oz ricotta cheese or cream cheese
1/2 cup grated Parmesan cheese
1 cup mozzarella cheese
1 tablespoon dried basil or oregano
Salt and pepper to taste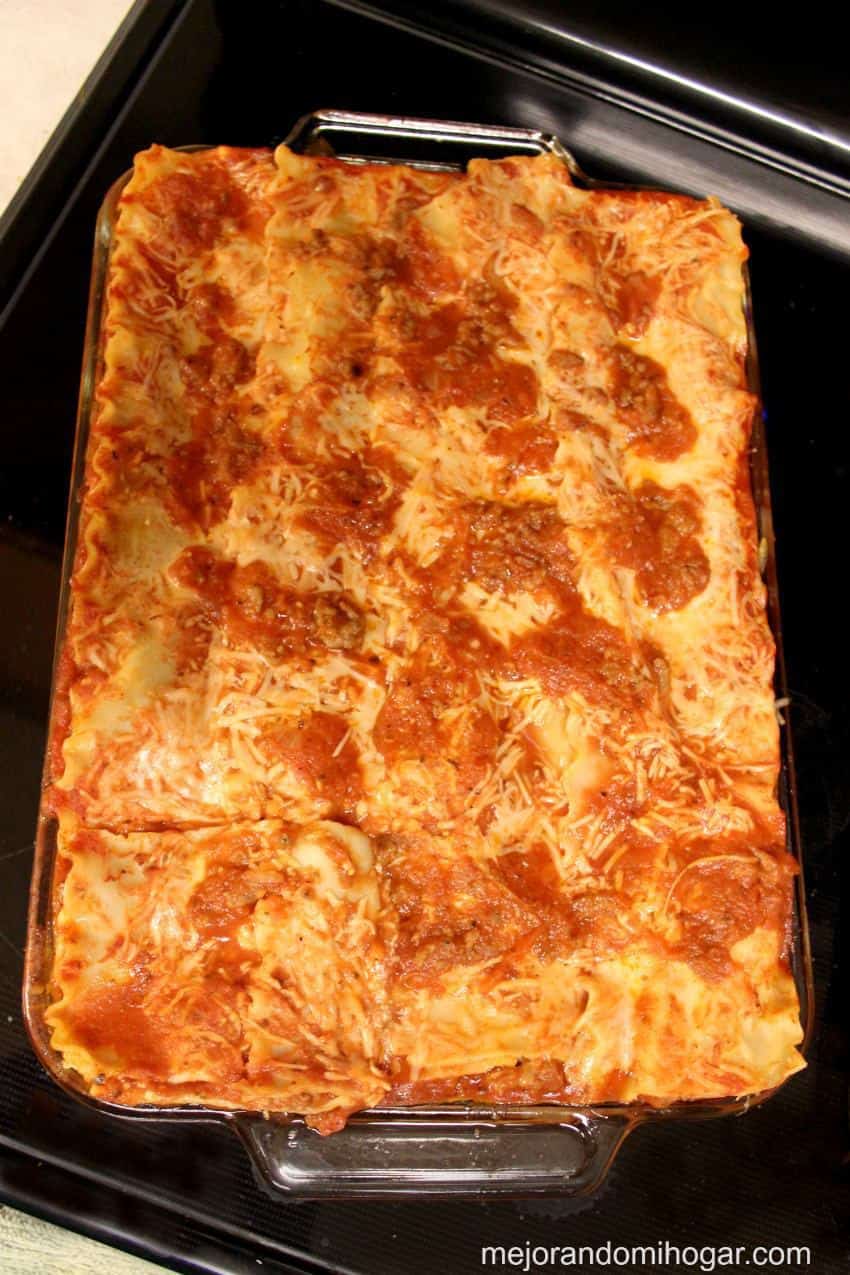 Ingredients

Heat the water (4 liters) with a tablespoon of oil, we can add salt or chicken broth. When it starts to boil, add the slices of pasta and mix a little just to separate them. The water must cover the pasta.
Let it cook for about 7-8 minutes or until the pasta is soft. (While you can chop the vegetables that we are going to use for the filling).
After this time, we drain and separate.
Heat the oven to 375F or 190 C.
For the stuffing.
Heat a frying pan, add olive oil and fry the onion and garlic, until the onion is citrelated (transparent).
We incorporate the ground meat and fry.
Add the half cup of wine or water, a can of the spaghetti sauce, the albahacar or oregano, salt, pepper and turn down the heat, let go. We're removing from the heat.
In addition, we grease a rectangular refractory, add half a can of spaghetti sauce to cover the bottom of the mold.
We accommodate the lasagna sheets, layering. We place a layer of lasagna, a part of the meat mixture, ricota cheese Parmesan cheese. We repeat until we're done with the dough.
On top of the last layer, we added spaghetti sauce.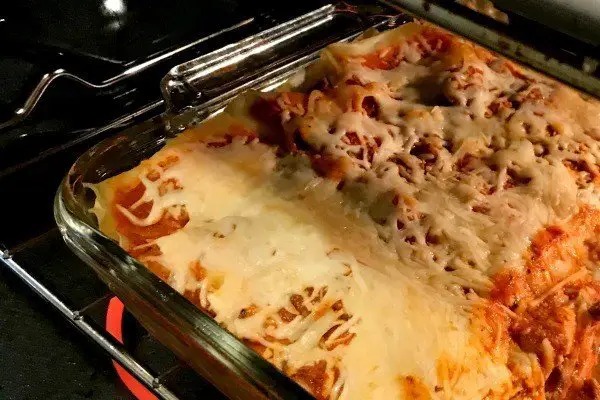 Cover with foil and put in the oven for thirty minutes.
We take out the oven and cover with quesadilla cheese and add any cheese that has been left over.
Put in the oven uncovered for five minutes or until you gratine or melt the cheese on top.
Remove from the oven and let stand for five minutes before serving, so that it does not slip.
Benefit!