Like many Latina moms and dads, I know Vicks VapoRub since I was a child, I can't remember exactly when it was the first time I used it, but it's one of those products that can't be missing in my house medicine cabinet, a medicine from Grandma as they say out there. 
This is a sponsored conversation written by me on behalf of Vicks VapoRub and Latina Bloggers Connect. However, all opinions expressed are all mine.
What I remember, is that every time my brothers or I started coughing or had a congested chest, my mom or my granny, (depending on the one at home, because my mom worked) he would give us a smudgwither with Vicks VapoRub.
My granny said: The best remedy for "the trancazo" (as she called him to the muscle aches of the flu) is the Vaporu and gave us a good sobada on the chest, neck and back with the famous aromatic inguento, which as we know contains alcanfor, eucalyptus oil and Menthol.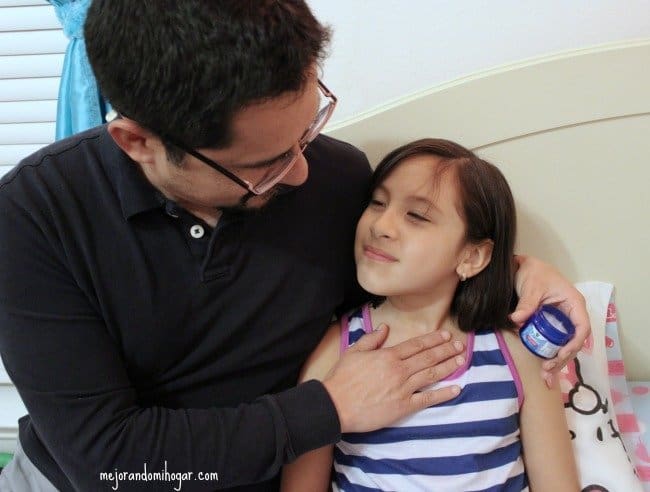 Talking to my husband, she told me that at home she was the same, as soon as her mom was already praising Vicks VapoRub.
To date, we continue to use it at home with confidence, just like our moms and grannies; We use it ourselves and with our children; every time we catch a cold or get sick with a cough, we apply it to the chest and throat so that the fumes help decongest the airways.
Take advantage of Vicks VapoRub product savings coupons on this link, you could save up to 3 dollars!
Vicks VapoRub is a topical topical topic that also serves to relieve muscle aches, my children like to be joined, I think they also feel protected and loved, just as my husband and I felt when we were children.
Personally, Vicks VapoRub vapours make me feel quick relief when I have cough and congested chest, it gives me confidence to use it, I know it's safe and effective; it should be remembered that it can only be used in adults and children over two years of age and we must use it following the instructions on the package.
Did you ever get soaked with Vicks VapoRub?
What memories does it bring you? 
Vicks VapoRub comes in two aromas: Regular and Lemon. It is available in three different sizes: 1.76 oz (rRegular and Lemon), 3.53 oz and 6 oz (Regular only).
Learn more about Vicks VapoRub in www.vicks.com or facebook.com/VicksVapoRubUS