The Tequila Herradura Event in Dallas featured a video tour, tequila tasting, an authentic Jimador, we met about the fascinating process and elaboration of The Herradura Tequila.
The distiller Casa Herradura, located in Amatitán, Jalisco, is one of the most historic and renowned tequila producers in Mexico, was officially registered in 1870 by Ambrosio Rosales and Aurelio López and in 2007 was acquired by the producer and in 2007 was acquired by the producer and Brown-Forman Corporation of Louisville, Ky. Brown-Forman, also founded in 1870.
Casa Herradura continues to use traditional and artisanal methods for the production of tequila, using only the most mature hearts of blue agave, taking them to a slow ccoz in the traditional clay ovens and fermenting the naturally juice of the blue agave agave with air yeast created by the fruit trees and agave plantations that surround the hacienda, distilled twice and aged to perfection in barrels of American white oak.
At the sixty Five Hundred event there was a tequila tasting with Ruben Aceves, a direct descendant of the Herradura family, tequila historian and Tequila Herradura's Master Taster, we learned that tequila is the same, the difference is the time of aging, which gives a characteristic flavor and color to each of the tequilas:
Silver. Made with 100% blue Agave, Light color. Aging time 45 days in American white oak barrel. Aroma of herbs, cooked agave, fruits with touches of vanilla and wood. Soft taste.
Reposado. It is the first tequila rested in the tequila industry, aged in American oak barrels for 11 months. Copper colour, with gavae aroma and notes of anise, fruit and spices.
Stale. It is the first aged tequila in the tequila industry, Selección Suprema, is aged in American oak barrels for four years. The color is dark Amber, with an intense cooked aroma of agave, specicies and floral notes.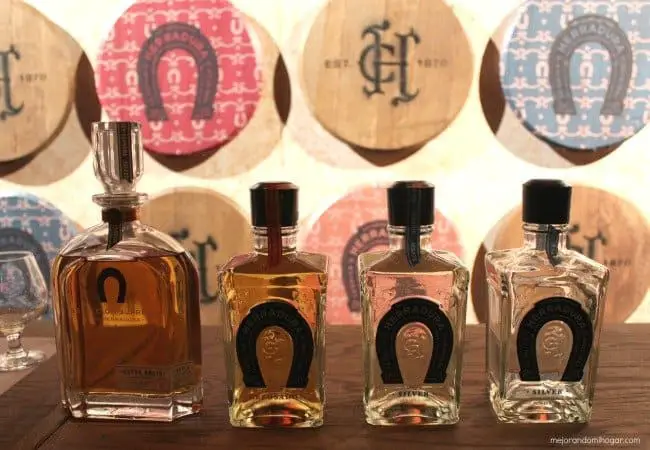 At the event we had the opportunity to see an agave harvest demonstration, with José Cortes, a third generation Jimador, we tried some drinks with Herradura tequila and also some churros flamed with tequila that are delicious!
And you could not miss the music, Mexican snacks and the palette cart to give a more Mexican touch to the event!
We learned that Herradura is a Tequilera Industry Innovator and has Master Distiller Maria Teresa Lara, the only female Master Distiller in the Tequilera Industry.
Surely you have tried one of the brands that Sells Casa Herradura:
Herradura Tequila.
Supreme Selection of Horseshoe.
Tequila El Jimador. Launched in 1994, it is the Number 1 tequila sold in Mexico.
Old horseshoe
Don Eduardo Tequila
New Mix
Pepe Lopez Tequila
Casa Herradura is located in the land of tequila and is part of the world heritage of UNESCO.the third largest producer of tequila in Mexico and its tequila brands are available in more than eighty countries.
Follow Casa Herradura on social media to find out about events (for over 21s), news and offers.
Twitter @HerraduraTeq
Facebook HerraduraTequila
Instagram Herradura Teq
Hashtag #Herradura