Visit the Perot Museum in Dallas with your family and explore mysterious tombs, an underworld cavern, examine huge temples and more in the Maya exhibition: hidden worlds uncovered, from February 11.
Come and see the fascinating Mayan civilization in the largest traveling exhibition the United States has ever had. The Maya Exhibition: Hidden Worlds Revealed, covering 10,000 square feet brings together more than 200 authentic artifacts and multisensory environments to explore the incredible achievements of one of the indigenous civilizations mesoamericans, which today still has millions of descendants.
The exhibition will open at the Perot Museum on February 11 and ends on September 4. Go with your family to learn how the Maya built elevated temples and created a complex calendar system, explore together what archaeologists have discovered from the once hidden ancient Mayan culture and unanswered questions about why these ancient cities declined so rapidly.
You'll find sensory activity stations complemented by video and simulations, decipher hieroglyphics, learn cultural and architectural techniques, explore an underworld cavern, an ancient cemetery, a mural hall, and more .
The exhibition is bilingual, presented in English and Spanish, will have an additional cost for members and non-members of the museum. Presented by Highland Capital Management, Maya: Hidden Worlds In the Open will be on display until September 4, 2017 at the Perot Museum.  The pre-opening days for members are February 9 and 10.
Highlights from the Maya Exhibition: Hidden Worlds In the Open include:
• More than 200 authentic artifacts showing spectacular examples of Mayan art created by master craftsmen, along with everyday objects. Artifacts include an inkwell made of seashell that still possesses the colors of dry pigment preserved for hundreds of years after active use, numerous vessels and statuettes, among others.
• Dozens of manual activities that deepen Mayan life during the Classic period. Visitors will have the opportunity to decipher hieroglyphics, decode the Mayan calendar, build arches with brackets, explore tombs, investigate the Maya understanding of mathematics and astronomy, and more.
• An exploration of Mayan architecture, from its impressive temples to the simple homes of ordinary people. Attendees will see a huge recreated portion of a frieze or portion of an ostentatiously ornate exterior wall from the pyramid El Castillo in Xunantunich, mayan civic ceremonial center. Guests will marvel at its size and detail, and then appreciate how modern technology is used to see the vivid colors of the frieze emerge again with its original intensity.
• Several replicas of large-scale engraved monuments, or stelae, which were erected in the large squares of Mayan cities. His inscriptions have given researchers a valuable understanding of ancient Mayan history, from royal succession to political conflicts and great battles.
• A recreation of the elaborate royal tomb of the Great Decorated Skull of Santa Rita Corozal, a Mayan site in Belize. Visitors will see a full-tumba nhade, showing jade, jewellery, pottery and more, and explore the fascinating history revealed by artifacts about the politics and economy of that Mayan city.
• An investigation of the concepts of ritual and human sacrifice that allowed the Maya to transcend the earthly world and speak to the gods of the underworld. During the exhibition, visitors will see the concepts of death and rebirth, which were fundamental to the Maya.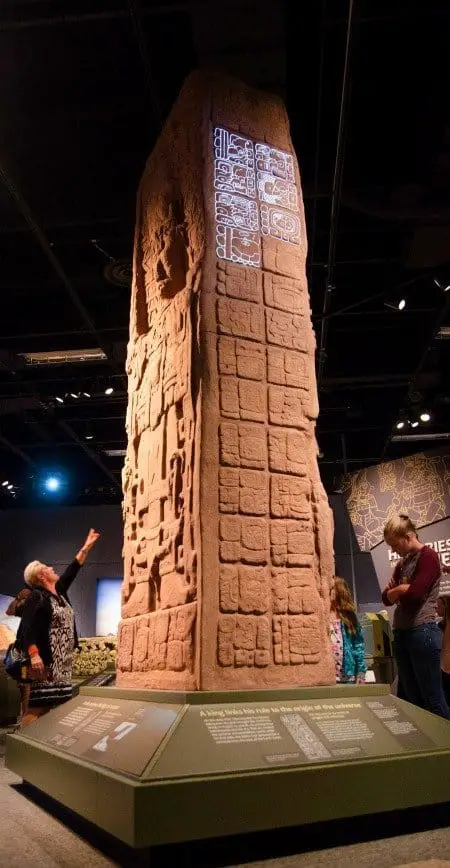 PROGRAM EXTENSIONS.
The Perot Museum will offer countless programs and events related to the Maya exhibition: Hidden Worlds Uncovered, including:
First Thursday Night: Archaeology on May 4, Social Sciences: Patterns (Social Science: Patterns) for adults only, and Family Fun Days of Discovery: Architecture on 8 July.
Schedule.
The general operating hours of the Perot Museum are 10 a.m. m. 5 p.m. Monday to Saturday and 12 p.m. 5 p.m. the Sunday.
On the first Thursday of the month, the museum will remain open until 9 p.m. for their public events First Thursday evening. From Memorial Day to Labor Day, the museum will remain open until 6 p.m.
Mornings for members. 9 to 10 a.m. m. every Saturday and 11 a.m. m. 12 p.m. Every Sunday, members can enjoy exclusive access to the Perot Museum and Maya: Hidden Worlds In the Open.
Tickets.
General admission to the museum is $19 for adults (18 to 64 years).
$12 for minors (2 to 17 years).
$13 for seniors (over 65 years old).
Free for children under 2 years old.
General admission to the museum is free for members.
Maya: Hidden Overt Worlds has an additional cost, with a total admission of $29 for adults (18 to 64), $20 for minors (2 to 17), $21 for seniors (over 65) and free for children under 2 years old. Member tickets are $5 for all ages.
The Perot Museum is located at 2201 N. Field Street in Dallas, Texas. For more parking information and other details, please visit perotmuseum.org or call 214-428-5555.