Motivated Mom Retreat, an event with conversations and inspiring experiences to empower and pamper moms or aspiring moms.
I'm a Motivated Mom Retreat Influencer and they have provided me with free registration and compensation for this event. All thoughts and opinion expressed are my own. #MotivatedMom
When I was invited to Motivated Mom Retreat and I saw the agenda, It seemed like a good event to motivate moms, but I couldn't imagine how well I was going to have a good time during those two days of motivation, inspiration and learning.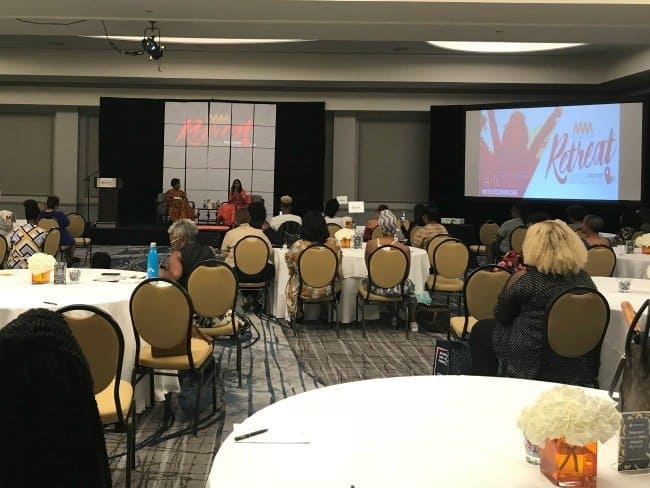 The Motivated Mom Retreat was at the Hilton Dallas/Rockwall Lakefront hotel, there were very interesting talks about finance, motivation, fatherhood, etc. It was an event hosted by La Toyia Dennis and Christine St Vil.
I found it an excellent opportunity for moms of all cultures, to learn to pamper theself and to take care of theself. because most of us always think of others, whether family or business; rather than in ourselves. Most speakers emphasized that we should spend time on ourselves, take care of our health, exercise, sleep well, meditate and do something we enjoy.
After receiving a massage that was included in the event; super relaxed, I enjoyed the speakers' talks.
I share some of the recommendations they gave us:
Start your day before the others, take time to meditate, so you're not in a hurry. Sabrina Watkins.
Do something for yourself every day. Lalanii Wilson.
If you want something, go out and work to get it. Cookie Johnson.
Reduce multitasking, don't do the same things over and over again, challenge your brain. Alycia Huston.
Like moms, we're always giving. We have to withdraw (disconnect, participate in retreats) The Toyia Dennis.
About divorce: A happy family is better than two unhappy families. Nancy Salas.
Share your story, don't be ashamed of what you've been through. Bring something back to the community. Dorinda Walker.
Apart from the talks, there was a sales section; a movie night jammed with pajamas that they gave us, they consented to us with popcorn, sweets and drinks and we saw "I feel pretty",I feel pretty; it is about insecurity and low self-esteem, if you haven't seen it I recommend it, I found it great to see with our kids!
There was also a panel of dads that included Jorge Narvaez, Myron Butler, Antar Muhammad, and Flex Alexander sharing stories, experience and opinions about parenting, moderated by Rock T.
That same night was the Converse cocktail and soirée, a fun reception where we were dressed as cocktails, but using Converse.
LaToyia Dennis closed the event with an emotional talk, sharing his story; she created the Motivated Mom Retreat to inspire the breasts, to be the mom she never had.
Motivated Mom Retreat visits several cities in the United States, if you have a chance to go, don't miss it!