Take part for the chance to win tickets to visit the EYE OF THE COLLECTOR exhibition at the Perot Museum in Dallas, which showcases all sorts of rare and spectacular Collections never before seen in public, from cultural gems, historical artifacts to pop culture curiosities.

If you've visited the Perot Museum of Nature and Science in Dallas before, you should know that it has 11 permanent exhibits, a children's museum, interactive exhibits and exciting temporary exhibits such as the newest, Eye of the Collector, open to the until September 5 of this year.
Randy Best and his collection on display Photo: Perot Museum
Where else can you find PEZ candy dispensers, African-American dolls, items from the world's largest collection of Star Wars memorabilia, Dallas Cowboys items, dress-up art made from unusual materials and Folk Ballet costumes, along with the first hominin and paleontological specimens, pre-Columbian artifacts, magnificent weapons, minerals and more, all in one place?
The self-curated Exhibition by the Perot Museum, Eye of the Collector presented by Highland Capital Management, invites visitors to explore the reasons that lead people and museums to collect, whether out of curiosity, connection, emotion, nostalgia and to create a Legacy.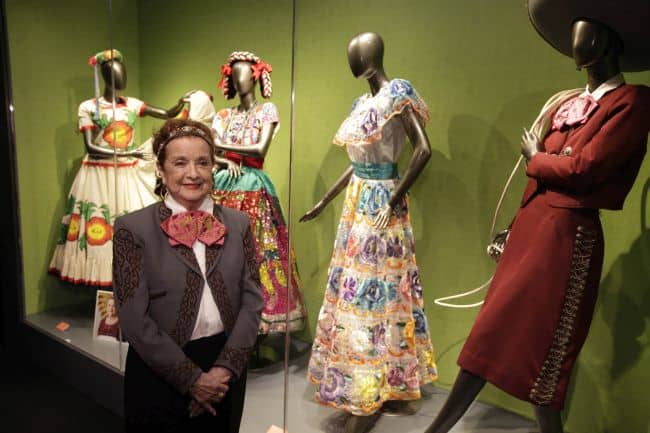 Anita Martinez with her Ballet Folklorico dresses Photo: Perot Museum
Eye of the Collector brings together spectacular personal collections of very different people, each item transports you to a different era in history.
"First of all, it is important to understand that collections are the existence of museums. Without them we wouldn't be here," said Colleen Walker, Eugene McDermott Chief Executive Officer of the Perot Museum.
Do you have any collection and would you like to be part of the exhibition?
Eye of the Collector at the Perot Museum invited the public earlier this year to present their precious possessions for the opportunity to be a part of this exhibition and will continue to accept tickets, until September 4, 2016, in perotmuseum.org/submit.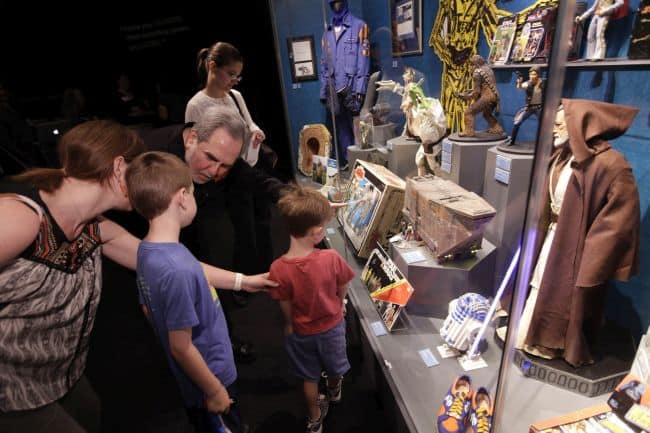 Steve Sansweet and visitors with his Star Wars display Photo: Perot Museum
There will be different Eye of the Collector-themed programs such as:
First Thursday Late Night: Collecting on May 5.
Family fun on Discovery Days: Invention on June 11.
And adults-only Social Science: Curiosities on June 24 and Social Science: Material on August 5.
Ticket price
Perot Museum membership shoppers will be free to log in to Eye of the Collector.
Non-members pay general admission to the Museum plus display, a total of $24 for adults (18-64), $15 young people (2-17), $18 seniors (65+), and free for children under 2 years old.
It is recommended to buy tickets online to avoid rows.
Visit perotmuseum.org or call 214-428-5555 for more information, addresses, times, etc.
More about the Perot Musuem of Nature and Science.
It is a tourist attraction located downtown, in the Dallas Arts District, for the whole family, It has 11 permanent exhibits, a children's museum, a state-of-the exhibition hallway; and The Hoglund Foundation Theater, a National Geographic experience.
Future scientists, mmamsalmatians and engineers will find inspiration and enrichment in the spectacular collections, interactive exhibits, multimedia presentations and vivid contextual exhibitors that will expose visitors to ideas and concepts of the world in your hands.
The Perot Museum of Nature and Science is in no way affiliated with, authorized or endorsed by Lucasfilm Ltd., Dallas Cowboys Football Club, Ltd. or PEZ Candy Inc. The trademarks displayed herein are the property of their respective owners. All rights reserved.
Draw! (Closed)
2 tickets to enter the Perot Museum, including the Eye of the Collector exhibition (4 Winners)
To participate first answer the question (Who would you take to the Perot Museum?) leaving your comment on the blog, then follow the instructions in the box below.