Participa para la oportunidad de ganar boletos para visitar la exhibición EYE OF THE COLLECTOR en Perot Museum de Dallas, que muestra todo tipo de Colecciones raras y espectaculares jamás antes vistas en público, desde joyas culturales, artefactos históricos hasta curiosidades de la cultura pop.

Si has visitado antes el Perot Museum of Nature and Science en Dallas, debes saber que cuenta con 11 exhibiciones permanentes, un museo para niños, exhibiciones interactivas y emocionantes exhibiciones temporales como la más nueva, Eye of the Collector, abierta al público hasta el 5 de Septiembre de este año.
Randy Best and his collection on display Foto: Perot Museum
¿Dónde más puedes encontrar dispensadores de dulces PEZ, muñecas afroamericanas, artículos de la colección más grande del mundo de recuerdos de Star Wars, artículos de los Dallas Cowboys, arte para vestir hecho de materiales inusuales y trajes de Ballet Folklórico, junto con los primeros especímenes homínidos y paleontológicos, artefactos precolombinos, magníficas armas, minerales y más, todo en un solo lugar?
La Exhibición auto-curada por el Perot Museum, Eye of the Collector presentada por Highland Capital Management, invita a los visitantes a explorar las razones que llevan a la gente y museos a coleccionar, ya sea por curiosidad, conexión, emoción, nostalgia y para crear un legado.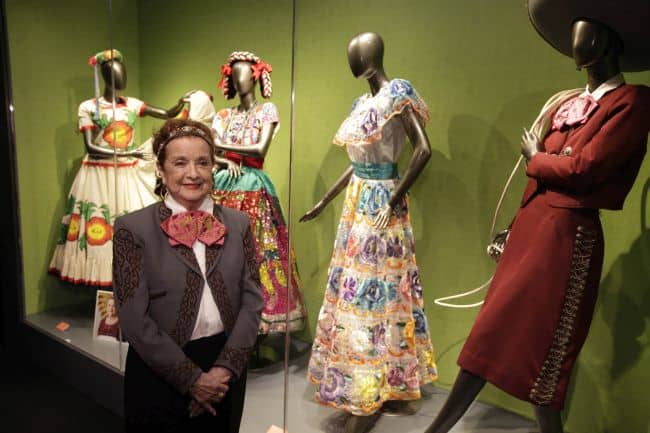 Anita Martinez with her Ballet Folklorico dresses Foto: Perot Museum
Eye of the Collector, reúne espectaculares colecciones personales de gente muy diferente, cada objeto te transporta a una diferente época en la historia.
"En primer lugar, es importante entender que las colecciones son la razón de existir de los museos.Sin ellas no estaríamos aquí," dijo Colleen Walker, Eugene McDermott Chief Executive Officer of the Perot Museum.
Tienes alguna colección y te gustaría ser parte de la exhibición?
Eye of the Collector, en el Museo Perot invitó al público a principios de este año a presentar sus preciosas posesiones para tener la oportunidad de ser parte de esta exhibición y seguirá aceptando entradas, hasta el 4 de Septiembre 2016, en perotmuseum.org/submit.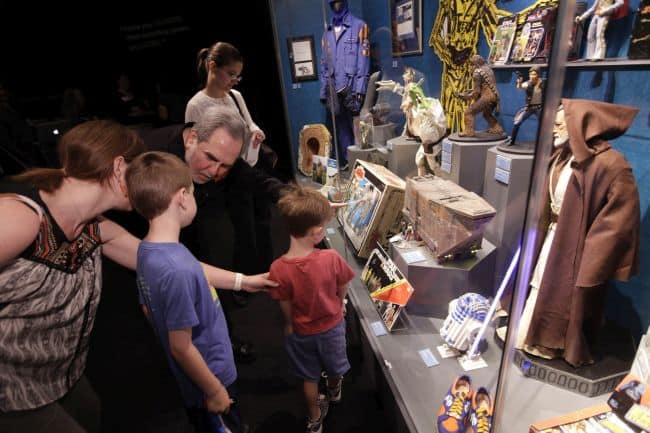 Steve Sansweet and visitors with his Star Wars display Foto: Perot Museum
Habrá diferentes programas con el tema de Eye of the Collector como:
First Thursday Late Night: Collecting el 5 de Mayo.
Diversión familiar en Discovery Days: Invention el 11 de Junio.
Y de solo para adultos Social Science: Curiosities el 24 de Junio y Social Science: Material el 5 de Agosto.
Precio de los Tickets
Las personas que tienen membresía del Perot Museum pueden entrar gratis a Eye of the Collector.
Los no-miembros pagan la entrada general al Museo más la exhibición, en total $24 para adultos (18-64), $15 jóvenes (2-17), $18 adultos mayores (65+), y gratis para niños menores de 2 años.
Se recomienda comprar los tickets en línea para evitar filas.
Visita perotmuseum.org o llama al 214-428-5555 para más información, direcciones, horarios, etc.
Más sobre el Perot Musuem of Nature and Science.
Es un atractivo turístico localizado en el centro, en el Dallas Arts District, para toda la familia, Cuenta con 11 exhibiciones permanentes, un museo para niños, un pasillo de exhibición state-of-the; y The Hoglund Foundation Theater, una experiencia de National Geographic.
Los futuros científicos, mamtemátios e ingenieros encontrarán inspiración y enriquecimiento en las espectaculares colecciones, exhibiciones interactivas, presentaciones de multimedia y vívidos exhibidores contextuales que expondrán a los visitantes a las ideas y conceptos del mundo en sus manos.
The Perot Museum of Nature and Science is in no way affiliated with, authorized or endorsed by Lucasfilm Ltd., Dallas Cowboys Football Club, Ltd, or PEZ Candy Inc. The trademarks displayed herein are the property of their respective owners. All rights reserved.
SORTEO! (Cerrado)
2 tickets para entrar al Museo Perot, incluyendo la exhibición Eye of the Collector (4 Ganadores)
Para participar primero contesta la pregunta ( A quién llevarías al Museo Perot?) dejando tu  comentario en el blog, después sigue las instrucciones del recuadro de abajo.