Fernanda Castillo and Mauricio Ochmann visited Dallas, promoting the comedy "YA WE'll SEE" by Pantelion Films. We had an interview with the actors, check out what they told us and don't miss it this August 31st in cinemas!
We had a chance to watch "YA WE" before the interview and let me tell you that it is the ideal comedy to enjoy as a family. I thought it was touching, but at the same time very funny. The film reminds us that we must enjoy every day and that the family is very important to face the difficult times.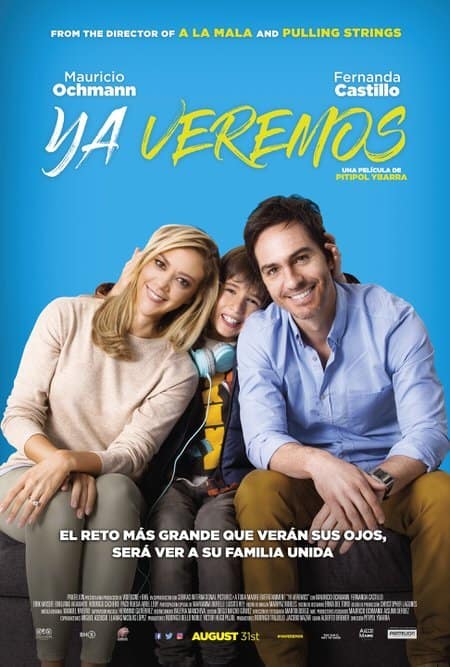 Fernanda Castillo (Alejandra) and Mauricio Ochmann (Rodrigo) are the protagonists of Ya Verina, where they are a couple of divorced parents who spend their time fighting or "throwing each other"as we would say in Mexico. Alejandra has a brand new boyfriend, Enrique (Erik Hayser current couple from Alejandra) who Rodrigo can't stand.
The son of the couple of divorced parents is Santi (Emiliano Aramayo), who after realizing that he might lose his sight, writes a wish list he wants to make before his surgery; the only requirement: to do it with mom and dad together.
Santi's list includes exciting, fun and some hard-to-follow activities; But his parents, trying to put up with each other; help you fulfill your desires, aside with phobias and prejudice.
The film is completely familiar and as I tell you in the interview, you may have times when you have a lump in your throat, but at the same time it has very funny moments. The characters are very real, so you feel identified with them, either by the way they speak, by customs or by the activities that they develop in the film.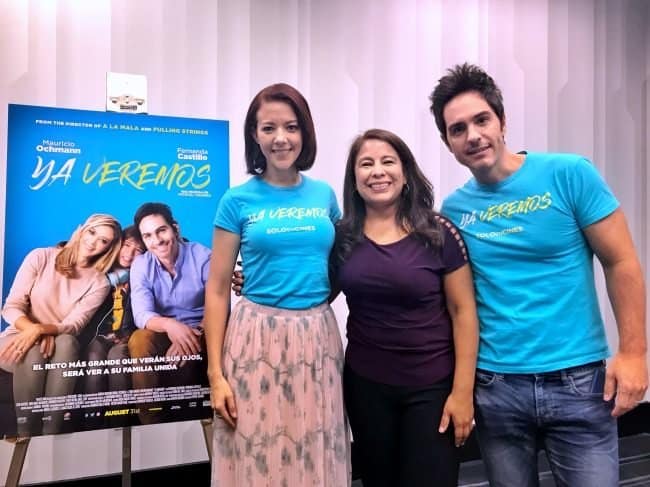 The director of this comedy is Pitipol Ybarra (Pedro Pablo Ibarra), who has directed numerous hits such as "Pulling Strings" and "A la Mala". Check out the interview with Fernanda Castillo and Mauricio Ochmann.
Ya We'll have the official soundtrack includes Reik's "Ya We'll See," Elsa and Elmar's "Explorera," Christian Castro's "It's Better So," Jafu's "No More Lives," Fonseca's "Come To Pick You," A Little Part of You, and Mario Bautista's "Come Dance."
We'll see
Synopsis
From the director of "Pulling Strings" and "A la mala" (Pitipol Ybarra), "Ya we will see" tells the story of Santi (Emiliano Aramayo), a dream child who has had to deal with the separation of his parents, Rodrigo (Mauricio Ochmann) and Alejandra (Fernanda Castillo). To them, Santi is the light of their eyes, and they are obliged to see each other from time to time, as they share their son's time. One day they receive the news that Santi must have surgery that can completely change his life. So he makes a wish list to fulfill them together with his two parents, before the operation. Thus, Rodrigo and Alejandra will be forced to learn to live together again, embarking (without suspecting it) on a journey full of adventures, which in the end, will make it very difficult to separate again and see the panorama in a different way.
"Ya Ver" premiered at the beginning of the month with great success in Mexico, where it was ranked in the #1 with 1,394,406 attendees and with a gross of 73,103,601 pesos at the box office. "Ya We'll See" is the second-best Mexican premiere ever.
This highly anticipated Pantelion Films film premieres in the US. On August 31, 2018, you can see it in Spanish and with English subtitles. Check out the trailer
Support Mexican and Czech cinema Ya We will see this labor Day weekend, don't miss it!
Twitter and Instagram: @PantelionFilms
Facebook: @YaVeremosMovie
#YaVeremosMovie