Now that we're home, there are many sites that are offering free activities to do at home during quarantine to have fun and learn!
We have to take advantage, what they offer us on the internet to make quarantine more bearable. Free classes, virtual tours, story counts, videos, coloring sheets, printable activities and more are part of this list.
For my part, in the blog I share free activities to print from various films, such as Onward, The Little Mermaid, The Pirates of the Caribbean and others. Check out what more you can do these days to make the most of the time, learn and have fun!
free activities to do at home

DALLAS CITY OF LEARNING'S DIGITAL EXPLORATIONS PLATFORM
Big Thought and Dallas City of Learning have just launched an online platform that offers hundreds of educational programs for families to access while learning to stay home.
Includes content from Boeing, the Perot Museum, the Dallas Holocaust and Human Rights Museum, Dallas ISD and the State Fair of Texas.
Families interested in Dallas City of Learning Explorations programs can visit the Dallas City of Learning website and search for age and topic activities.
KERA TV
Launches a new line of educational programs on television to support home learning from preschool through grade 12. In kera.org/learn, parents and teachers can find a Home Learning Toolkit, which includes a well-documented list of educational resources and a weekly calendar with fun and engaging KERA Kids activities for the whole family.
It also adds a free streaming platform with TEKS-aligned programs for students in more than 120 school districts across the region
Institute of Contemporary Art Los Angeles (ICA LA)
You are presenting Virtual ICA LA — Interactive virtual reality that captures and shows your space and exhibits. Experience a self-guided museum tour of the Ree Morton: The Plant That Heals May Also Poison and Ann Greene Kelly and the Los Angeles Artist Census Project in their field workshop space.
Virtual Reality (VR) delivers simulated experiences of the world in a 360-degree digital capture. ICA LA has documented exhibits using this technology. ICALA #MUSEUMFROMHOME
https://www.theicala.org/en/learning/20-digital-projects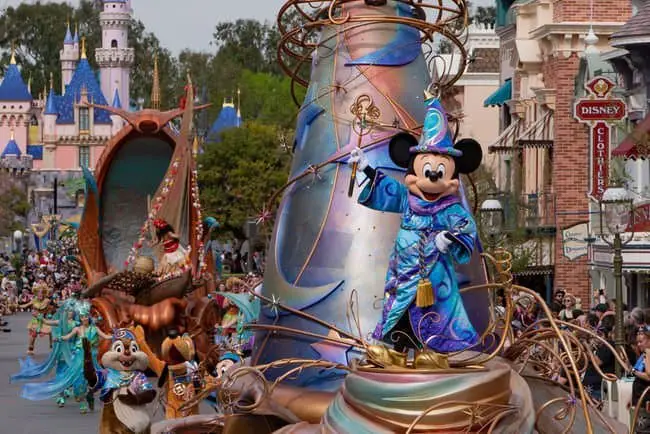 Disneyland Resort
Disneyland Resort invites you to take a virtual seat on Main Street, U.S.A. and sign up to watch their parades on their Facebook and Twitter accounts! Check out the Magic Happens Parade here and follow the hashtag #DisneyMagicMoments from time to time to watch the new videos.

mouth mouse museum of arty
Boca Raton Museum of Arty and campus Art School teachers are offering a series of free Keep Kids Smart with ART online programs that will help parents and their children who are at home, along with other online digital visual arts programs for all including seniors or older adults who are holding social distance and could feel alone. https://www.bocamuseum.org/
Perot Museum of Nature and Science, Dallas
Perot Museum launches Amaze your brain, a free online program with science activities, fun facts and more for the family now that we're home. While people adjust to maintaining social distance and studying at home, Perot Museum is on the quest to inspire minds through nature and science. Did you know the North Pole has a sunrise once a year?
They also have videos with experiments for kids, my daughter loves this section. Look at the bird feeder he made with a roll of cardboard with the instructions he saw there.
Smithsonian – National Postal Museum (Museo Nacional de Estampillas)
Explore this museum's online exhibition collection that includes a variety of different themes. Check out the Women in Stamps exhibition.
Happy Fox Books has activity sheets for kids that could help families spend time at home, you need to add your email to receive activities by email. Includes coloring sheets and fun puzzles.
https://foxchapelpublishing.com/news/kids-resource/
PJ Library
PJ Library, is offering daily activities and lots of ideas in its special Quarantine section "Resources for Quarantined Families", including storytelling, games for children, printables and more.
Three times a week, he has the live storytelling session, "read aloud" by the staff of PJ library, some parent or inlcuso by the same actors! The stories are at 11am, 1pm and 4pm ET, and storytime can be accessed via the PJ Library Facebook Page and their official Instagram account.
SeaWorld San Antonio
Sea World San Antonio provides free classroom resources to help teachers, students, and parents virtually explore the wild world of animals and nature.
The resources they have developed are aligned accordingly for grades K-12. They include classroom activities, teacher guides, animal information books and video series to save species, many of which are Chuck Cureau. Visit SeaWorld.org or SeaWorld San Antonio Education
San Francisco Symphony and Michael Tilson Thomas (MTT)
Nine free one-hour documentaries with the episodes "Keeping Score" with Michael Tilson Thomas (MTT) are available. The program tells the lives of eight influential composers from around the world.
Each episode is accompanied by a one-hour concert by the San Francisco Symphony. Available in the cane; San Francisco Symphony https://www.youtube.com/channel/UC0wRztEPtQWDXUybBpYRpaA YouTube
San Francisco Museum of Modern Art (SFMOMA)
It offers a series of 300 interviews with artists of our time who share their stories, creative processes and how they bring their visions to life.
Some artists interviewed include Dawoud Bey, Judy Chicago, Olafur Eliasson, JR, Ellsworth Kelly and Kara Walker, among others.
SFMOMA also offers resources for teachers, lesson plans, graphic organizers and worksheets, interviews, animations, and more.
The TURFMUTT FOUNDATION
The TurfMutt Foundation reminds families that nature starts right outside your home, offering free resources to encourage you to have moments of reconexi'on and de-stress through nature and green spaces. Check out these free activities, aligned with the STEM curriculum standards that families can do right now, right in their backyard. (Go with your kids outside!)
Contemporary Jewish Museum (CJM)
This museum is sharing its exhibition "Levi Strauss: A History of American Style" with a virtual tour.
In addition, the CJM provides a seminal agenda of online content and activities such as CJM Homeschool, Creativity prompts, Zenday, Todah Thursdays, Art for Lunch, Sunday Stories, Facebook Live chats, archived readings, blog posts, etc. https://thecjm.org/
Fine Arts Museums of San Francisco
Fine Arts Museums of San Francisco – the young and the Legion of Honor – offers exclusive content on its YouTube channel and Blog part to see the behind-the-scenes of its exhibits and collections. To see the full collection featuring American, African, European Oceania art and more visit art.famsf.org.
Asian Art Museum
Look for 13, 205 art items from every corner of the Asian world with the Asian Art Museum collection. Download the museum app to enjoy tours of the collections, as well as activities such as meditative art tour or "Meditative Art tou
r." You can also take a virtual tour of "Awaken: A Tibetan Buddhist Journey Toward Enlightenment." Here you can print some coloring sheets.
The exploratorium
The Exploratorium has launched an online learning tool that helps you get an idea of various topics and provides general science support for virtual classes or to learn together at home.
Food science brings science to cooking, from dry freezing to pressure cooking. Science Snacks are science activities to do with simple materials. Share with #ScienceSnacks. https://www.exploratorium.edu/learn
Stay tuned for more virtual activities, which we will be adding every week in this same article, for the duration of quarantine!
Take care and wash your hands!