Now that we are on vacation visiting my family; my daughter and niece have been following the three-step regimen of JOHNSON'S® NO MORE TANGLES to keep hair nourished and looking healthy. My daughter has straight hair, my niece curly hair and this line makes it easier for girls to do hairstyles. 
* Compensated Campaign in Collaboration with JOHNSON'S® NO MORE TANGLES® and Latina Bloggers Connect.
We love summer and all the activities we can do, but bringing loose hair can get us hot and even in the way, if we bring it in our face, especially girls. That's why we prefer easy hairstyles, for the diary with the hair out of the face. My mom is delighted with the no more JOHNSON'S knot spray® NO MORE TANGLES®, for curly hair, as my niece's Chinese are easily untangled.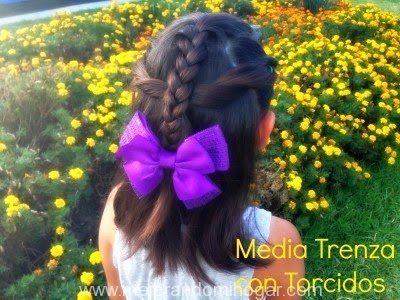 In my case, it serves me a lot when it comes to combing my daughter's hair, which by walking from top to bottom, often comes full of knots in her hair. My daughter likes to go to the park, to swim, to skate, finally a little bit of everything. 
In the following video I show you one of the easy hairstyles I do to my daughter in the summer, a half tgrenza with tails or crooked chonguitos.
In addition to hairstyles for girls, it is also important to nourish and protect the hair in this season of pools, sun and sand, another of the hairstyles I do to my daughter, is the headband of chonguitos.
JOHNSON'S® Baby has an exclusive three-step hair care nutritional regimen, JOHNSON'S® NO MORE TANGLES formulated with hair conditioners that moisturize delicately, while cleansing to nourish hair as it grows.
Step 1: Wash Hair. JOHNSON'S® NO MORE TANGLES® Shampoo & Conditioner leaves hair beautiful and easy to handle, with a fresh smell, features the formula NO MORE TEARS® as delicate for eyes as pure water.
Step 2: Nourish. JOHNSON'S® NO MORE TANGLES® Non-Rinsing Conditioner controls frizz and tangled hair by providing silky, shiny hair;  helps children's hair stay soft and strong to help keep it from breaking.
Step 3: Beautify. JOHNSON'S® NO MORE TANGLES® Deentening Spray instantly untie difficult knots in wet or dry hair. It contains the delicate formula NO MORE TEARS®, helps lubricate the hair and keeps it strong.
I invite you to watch hairstyle videos for girls with step-by-step instructions, visit:
youtube.com/user/baby