Did you know that car accidents caused by not driving responsibly are the leading cause of death among the Latino community?
* This is a campaign sponsored by LATISM.
The safety of my family is the most important thing, surely for you too, that's why you drive responsible and join Responsibility.org to help prevent accidents among the Hispanic community.
It was six in the morning, two years ago and it had rained all night, I drove like every day to take my son to his swimming practice at six in the morning; I stopped when the traffic light changed to red, when suddenly I felt the blow from behind; the driver was distracted and did not have time to brake.
Luckily nothing happened to us, it was just the scare, but the van was total loss. It's the first time I've been involved in a traffic accident, the scare lasted a while and I had to accept how little car insurance gave me for my truck. All because of a distraction.
My son was with me and that accident left us a lesson: We must be cautious and drive defensively, responsibly, for our safety and that of others.
I invite you to watch the following video:
More than 1 in 3 fatal deaths of Hispanic drivers are caused by drivers in a drunken state. We Latinos love the party. The problem is if we take, it is better to be prepared and bring a designated driver. Even when we drive, if it gives us sleep, you better find a place to park and take a nap.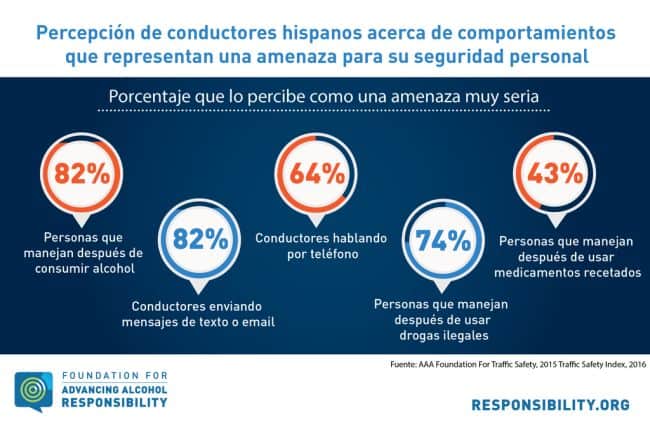 Alcohol affects the brain's ability to control the body's behavior and functions. Drivers need this ready to react at all times. In 2013, there were 2,148 Hispanic drivers who died in traffic accidents. (Source: NHTSA, FARS 2015).
You should also know that traffic acids are the leading cause of death among 1- to 34-year-old Hispanics. Source: Center for Transportation Safety (CTS).
Car crashes or accidents can go through different causes : Distractions, driving over the influence of alcohol or drugs, driving with sleep, driving after taking sleep-causing medications, talking on the phone or sending texts.
Unfortunately driving distracted or under the influence (impaired driving) is more common than you think, lately I have noticed that most drivers come distracted, whether talking on the phone or texting, we have to avoid doing this; flipping to our phone even for a few seconds is enough to cause an accident.
Now that my son starts driving, I try to teach him by example and drive responsibly, avoiding all of the above, to keep me safe and influence those around me to do the same, responsibility begins with me #StartsWithMe every time the opportunity presents I talk to him about the subject.
Together we can avoid accidents, and what are you doing to #ManejaResponsable?