As good Mexican mitoteros, we love the party and this time we better than Celebrate Cinco de Mayo, with ideas from several Latin bloggers.
Some will say that in Mexico we do not celebrate muc
h the Cinco de
Mayo, but as the saying goes:
"Where You are, Do what you see" so
, that if it is the party we will
celebrate the Cinco de Mayo,
like many gringos around here, with daisies and the whole thing!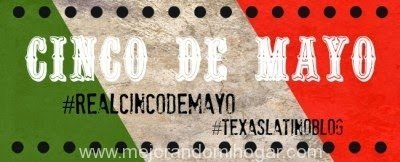 In Mexico, every 5th of May, we celebrate the Battle of Puebla, with parades, danceable at school, with the typical sensitch song of Cinco de Mayo and of course, the infallible bridge, day when there are no classes and in some places i do not work either. If you like to celebrate, I invite you to read my previous posts with Ideas to Celebrate Cinco de Mayo and other Tips that can serve you for the party. Below I share ideas from other Latin bloggers who also celebrate may 5, with crafts, books, recipes, stories, etc.
I invite you to visit the blogs of other blog friends who will be celebrating May 5, we have a hop blog with the hashtag #REALCINCODEMAYO
In my Case I share the Recipe of Flamed Cheese, Melted or Choriqueso, whatever you want to call it, with video.
TejanaMade made some very nice Stung Paper Necklaces.
Momma of Dos recommends some Children's Books on May 5
Family Love in My City tells us how to celebrate May Five with Children
Your Sassy Self shares Five Ways to Celebrate May 5
And you?
How Do You Celebrate Cinco de Mayo?