Interview with Scott Derrickson Director of Doctor Strange: Supreme Sorcerer who opens in theaters in IMAX and 3D this Friday, November 4, 2016.
When Scott Derrickson walked into the room at the Montage Hotel in Beverly Hills where we expected the bloggers to greet us with a compliment "it's the best panel in the history of the panels," he told us.
Speaking of doctor Strange's special effects he told us:It took a long time to develop them, but it was one of the most creative parts of the whole process. The idea was to use visual effects for a new reason that what is usually seen in big movies, even in Marvel movies, special effects are used to destroy things. I felt I could use those visual effects for something newer, interesting, and weirder to give the audience an unexpected experience.
Did you try to update the details of the original 60's comic to the modern audience?
Stan Lee and Steven Dick's comics were the main influence for the film Doctor Strange, the film's quirky images are heavily based on Steve Ditko's art from that era.
Almost all the music I heard while working on the script was psychedelic rock of that era. That's why there's one of the tracks from Pink Floyd's first album in its psychedelic days.
I didn't want to make a memory or nostalgic movie. I didn't try to recapture the feeling of revolution of the 60's, but I wanted to be open-minded, open your mind, see new things, explore possibilities.
That was the goal, to take the mindset of the '60s and bring her to a modern superheor movie, with a character that I hope is significant said Derrickson.
Why did you choose a woman, Tilda Swinton, for The Ancient One?
For two reasons, the first because I was trying to find creative and positive ways to escape the racial stereotypes of the original comics.
The Ancient One and Wong were characters with fairly offensive racial stereotypes, by modern standards. I was able to completely reinvent Wong's character. Instead, The Ancient One had to remain a magician, mystical, dominant and martial arts mentor for Doctor Strange.
So the first thing I thought was to make it female to get away from the cliché and stereotype.
Who could bring the enigmatic, mystical qualities of The Ancient, from the comics that were good?
And that's when I thought of Tilda. I started bringing the character to life, writing the script without her knowing anything about the film, or that i was interested in him doing so. I took it to Kevin and said, "This role is very good, but it has to be Tilda Swinton who gives her life, if it's not her, I'm going to have to rewrite it.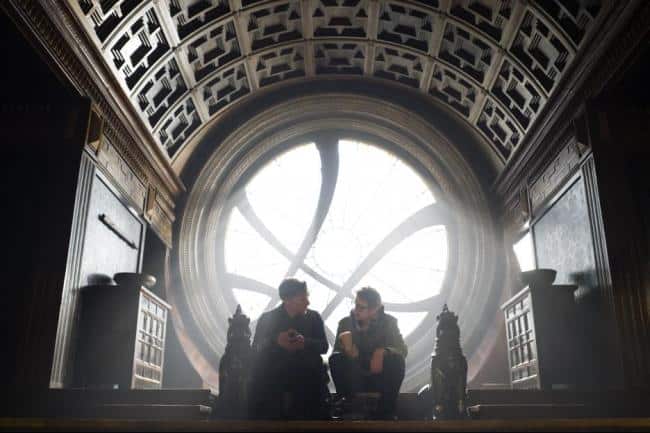 About the message from Doctor Strange: "My biggest personal motive for making this movie, it's my two 10- and 13-year-old kids, big Marvel fans and I wanted to make a movie that would surprise them, that would leave an impression on what I think things are most important in life."
We know you're a big fan of comics, how did it happen that you wrote and directed Marvel's Doctor Strange?
I worked very hard, I grew up with the Marvel comics, Doctor Strange is my favorite comic and when I knew they were doing it, I felt like I was the only one who was extraordinarily qualified to make this comic book character.
Don't miss my review of Doctor Strange on the blog and theater premiere on November 4, 2016!
Follow the conversation on social media with #DoctorStrangeEvent