Now that the return to school is here, you've probably thought about buying a Tablet, Laptop or Computer for your kids, with so many options many times we don't know where to start.*We receive Product as part of the Verizon #VZWBuzz Program.
Speaking of Tablets, even the youngest children bring; to watch movies and videos on the internet, play video games like Minecraft, use educational apps like Brain Pop, listen to music, etc but sometimes parents don't know if tablets work for something else, even some adults like my mom, they just use the Tablet to play Candy Crush and check facebook.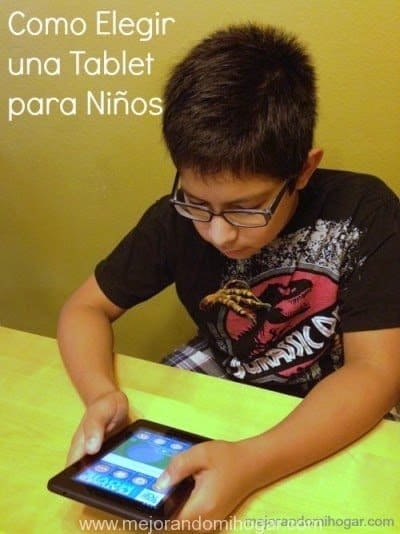 Most of the time children are the ones who teach adults how they work, so that's where I give you the security that is very important, install a free prenatal control application on your child's tablet with which you can control the search and downloads of the internet , the access time, etc.
In the case of children, most of the time you don't need a very sophisticated tablet, or very expensive, my kids have been using the Tablet Verizon Ellipsis™ 7, it has good processor, memory and 7" screen enough to watch videos, play games, read books and more.
When purchasing a Tablet for your children, consider:
Child's Age and Maturity. It is of no use to the best Tablet, just because it is fashionable, if the child is not careful and will bring it around the floor or will not make good use of the features offered by the Tablet.
Internet access. Where the tablet will be used, if you only need wist or some 3G or 4G internet plan like Verizon's The MORE Everything Plan which for a limited time comes with free educational apps, games and other internet resources for children of all ages.
Memory.

Apps, videos and video games need good memory capacity, which is what kids use the most tablets, I recommend that your Tablet has at least 1Gb of RAM so that movies or video games do not stop.
Operating System.

Tablets with the most advanced operating system, are the ones that will be able to use more applications.
The Chamber. Here it depends on how important your child is to the camera, but it's usually not something children require, or use as much as an adult.
Screen. The size if you import, choose a small 7" that the child can easily transport and use, in case you are going to use it alone at home, it would be convenient a larger screen.
The Battery. Although this depends more on the use, you have to know if the Tablet will last all day, my children leave it charging all night, so the next day will be ready to use.
After choosing and buying your children's Tablet it is best to buy a hard-staycase case or case that stamina falls, bumps, scratches, etc.
Also remember that to avoid monetary scares and for children to buy apps without your permission, you need to enable your Google Play password, if not there I'll charge you the account, kids when they're playing they think they need all the accessories they offer video game apps and they definitely try to buy them.
And your kids use the Tablet for?