This is a sponsored post by JCPenney.
Mother's Day is almost here and many of us not only give our mom, but also aunts, grannies, mothers-in-law and even a little detail for friends, but, do you know how to choose the best gift for MAMA?
Like many of you, I've spent several mothers' days away from my mom, watching on social media as a party with my brothers or their friends, but this year she and my aunt are coming to celebrate with us, so I'm going to pamper them with a nice gift , a rich meal and take them for a walk.
I went shopping to buy the gifts with my husband to JCPenneyJCPenney, because I like the wide variety of styles and brand, plus the prices are very accessible.
We saw everything from perfumes, jewelry, handbags and even accessories that are becoming indispensable, such as this pendant pom pom, or tassel that by the way are very trendy and brings a hidden cell phone charger, can be hung in your bag or used as keychain.
My husband didn't decide to buy me a mother's day present, he told me it would be easier if I chose it; so I listened to him, below I tell you what I bought and here I share some tips I gave him to surprise the next one with a surprise gift.
How to choose the best gift for MAMA and other maternal figures
Make a quote for what you want to spend on the gift. Remember that many of the time you have to make expenses apart from the gift, such as buying a cake, dinner, flowers, walk, etc.
Think about the tastes of the person you are going to give, their hobbies, what they do for fun etc. If you think you'd like something for the kitchen, clothes or accessories?
Before going out to the shops, visit the website and find out about the new trends, offers and take advantage of the specials that they put on these dates.
Remember if you have any parties early, like a quinceañera or graduation; you may need some jewelry set or a purse.
They can also buy the gift among several brothers, so you make sure it won't be repeated and will be a bigger gift!
To optimize your spending, check to see if you have store rewards, points, coupons like JCPenney rewards and use them to buy your gifts.
My husband told me it would be easier if I chose my gift, so I took the floor and after seeing several options, I decided on two things: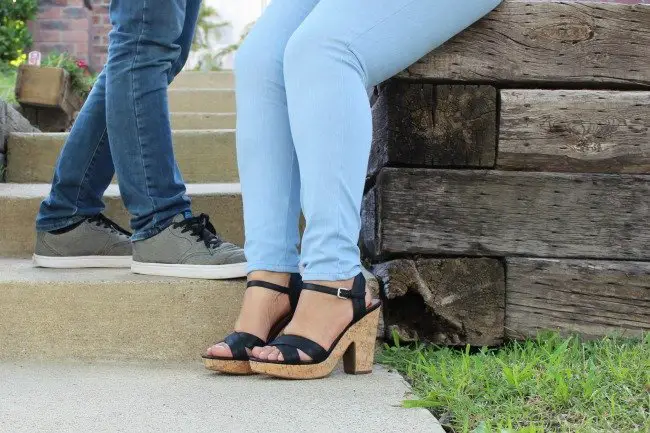 An exclusive JCPenney brand heeled sandals, Arizona Under Womens Heeled Sandals that I loved, are easy to combine with dress or jeans, but the most important thing is that the heel is very comfortable.
A T-fal pan® 5-qt. Nonstick Jumbo Cooker I needed was downgraded from $60 to $34.99, many will say it's for the whole family, but I really love cooking and I really needed a frying pan this size, plus it serves to prepare the recipes of the blog.

An a.n.a Button Front Shirt that was $44 to $22.99 and a white blouse embroidered and shoulders uncovered a.n.a Off The Shoulder Embroidered Peplum Blouse also at that price.
My husband chose a perfume for my beloved mother-in-law at Sephora inside JCPenney, there are perfumes and makeupfrom well-known brands and also from the store's exclusive brand. I'm going to give my mom a bag, and for my aunt, I liked two blouses that I know she's going to love.
If you don't find something to your liking or time is up, give a Gift Card, so that it buys something nice at JCPenney yourself, it can be cosmetics or perfumes at Sephora Inside JCPenney or if you prefer to get your hair done or give yourself a cat hand at JCPenney Salon.
Whatever your gift is, give it a personalized touch, add a nice thought, remind her of an anecdote or just tell her how much you love it.
I invite you to participate in the draw of a JCPenney gift card worth $25 dlls!
#SoWorthIt