Recipe to prepare some rich beans from the pot using the slow-cooked pot without soiling it.
The Slow Cooking Pot has saved me time by leaving cooking some dishes while I'm busy on other things, what I didn't imagine was that one day I was going to save myself the task of cleaning it.
I used Reynolds cloths® Slow Cooker Liner, liners made of a heat-resistant material that keep ingredients warm, inside the clean pot and pot without food waste!
Last few holidays I've been trying Reynolds® Slow Cooker Liner to keep my slow-cooking pot clean while cooking different types of dishes, such as pozole, b
eef barbecue
and charra beans, which can't be missed at home, like good Mexicans.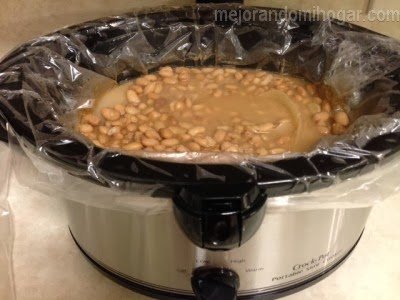 To cook the beans in the slow cooker I leave them in the evening, so in the early morning they are ready for lunch, just like when I'm going to be busy in the day, I leave any dish cooking and in the afternoon we already have the food ready , easier? Well, with The Reynolds cloths® Slow Cooker Liner, because now I don't even have to wash the pot.
I leave you the basic recipe for preparing beans from the pot or in the ball, in the slow cooker; Using Reynolds cloths® Slow Cooker Liner, whether you have the beans cooked you can prepa
re some charra bea
ns or refrieds, sure your family or guests will love them.
If you don't have the cloths, it doesn't matter they cook the same way, you just have to wash the pot.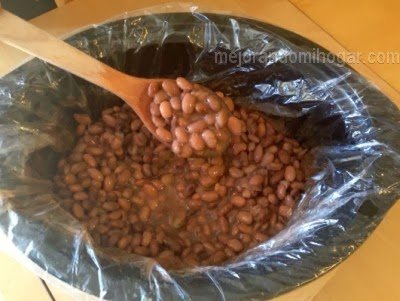 Beans (in the Slow Cooker)
Ingredients
1 kgs (2 lbs) clean beans
4 litres of hot water
1 tablespoon salt
2 garlic
1/4 onion
We cover the slow cooker with the Reynolds® Slow Cooker Liner.We add all the ingredients to the Pot.We turn on the pot in High.
We wait four hours, the firjoles must be cooked in this time.
If you prefer to leave them cooking for longer, set the button low, so they take six hours to cook (you can do it at night).
Ready! We serve beans in the pot or in "ball" to accompany soups, stews, etc. or prepare them as charror beans or refried for toast, depending on as you prefer.
Reynolds® has different products to make our lives easier, such as aluminum foil with its multiple uses, for example if you're going to bake some cupcake for your party, use Reynolds Wrap® Non-Stick Foil and line the oven tray; so it doesn't stick and you save yourself cleaning the tray.
Another good idea for the holidays is to share your guests with meals for the overheated, wrapped in Reynolds Wrap foil® Heavy Duty Foil, so you don't miss your vases