Exclusive interview with MADS MIKKELSEN the villain Kaecilius in Doctor Strange.
While Mads Mikkelsen saw the toy figures in the film he claimed that he would collect the figure of his own character, or that of a Super Hero said "Any good hero or villain has to be interesting, having both sides of the coin and I think it is exactly what Marvel does"
The actor who plays Kaecilius in Doctor Strange: Supreme Sorcerer told us that he had several scenes that were his favorites at the time of filming, especially when he meets Benedict Cumberbatch and they have the first fight.
About her characterization and makeup she told us "It was fantastic, when we did the makeup tests, I insisted on putting on the costume to see how it all looked together.
In the end it looked fantastic and I said this is, between two and three hours a day, it's really worth it." Mads used the makeup time to prepare the scene she would make that day, "it's a transformation she needs preparation," he said.
What's it like to have your name not only in the Marvel Universe but also in the Star Wars Universe?
"It's fantastic, I started working late, twenty years ago and I never imagined I'd work in America, let alone work on a Marvel movie. I feel lucky," he said.
Do you feel typecast as a villain because of your extraordinary performance in Hannibal?
If there's no alternative, I'll stay with the villain. Luckily I do a lot of different things in Europe, so if it's this kind of villain, I'll take it any day.
Is there anyone in particular who influenced you in your villainous roles? You have more than one.
"Yes, I don't think I should compare at all because some of my favorite actors have played villains as well. Christopher Walken is one of my heroes and I think he has the ability to somehow make his villains sympathetic.
About Doctor Strange's most physical, physical and emotional challenge scene:
"The scene of the fight for three weeks and it's not two hours, it's probably eight to ten hours, fighting each other, every day. And the next wounded day, it's a long sequence and we can have doubles, but
If you have things that break down, it takes time to rearrange everything, there is no risk and everyone is fine; that takes time." 
How did you prepare for your Kaecilious character?
"We had a lot of preparation from the beginning with the people who do the dubbing. They taught us some basic martial arts and moves that would be repeated over and over again in the film, we did the best we could, it was a long period of preparation." 
About his favorite superhero as a kid, he remarked that he did meet Doctor Strange, "he was too young to understand that he was quite intellectual", but Spiderman was very approachable, young, funny and can do great things; it's easy to identify with him when you're a kid.
Mads Mikkelsen told us that he is currently promoting doctor Strange and in the coming weeks comes the Star Wars thing.
He also said he immediately accepted the role when Director Scott Derrickson called him and told him that his character would have some Kung Fu scenes "When I was a kid I always wanted to be Bruce Lee" and had to wait until I was 51 to make a somewhat old version of him L.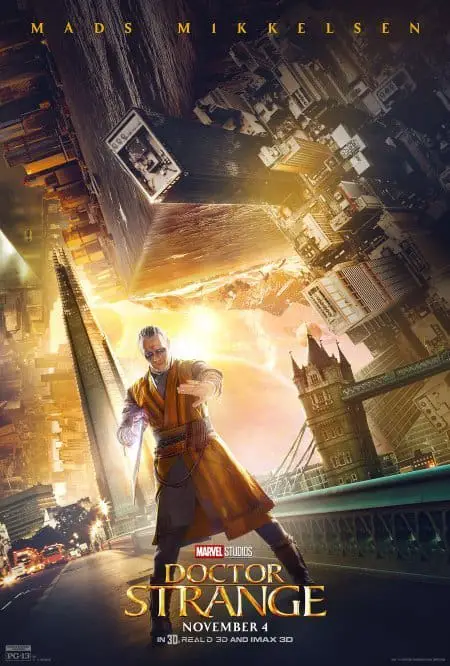 About the mirror-like scenes the film commented that they had to spend time in front of the computer before filming each shot to understand where everyone located was going.
Mads told us that Kaecilious's wardrobe was a bit heavy, but they got in shape, "every day the more you use it. You get stronger." At first it was like "you really want me to jump with that? But the more exercise we did with it put it on, the more sense it made." 
When we told him he has many fans on Twitter, he thanked us and told us he loves them back!