Since they first announced Maleficent, I've been waiting for her just like many. Maleficent (Angelina Jolie) is one of my favorite Disney villains, just as Sleeping Beauty is of my favorite princesses, I was very interested in learning the story behind the villain's life, and the
curse on Princess Aurora (
Elle Fanning).
We saw Maleficent in 3D. It's the untold story of this villain. Surprises come from the beginning of the film, with a girl Maleficent, not evil, is a fairy with wings that protects some magical creatures from the forest.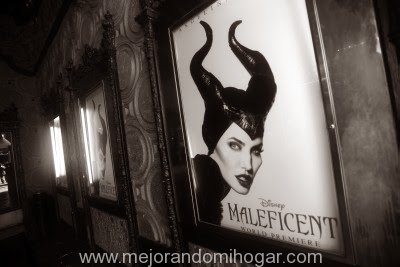 Photo: Disney
Everything was fine, until she met a human, Stefan, who was alone, just like her, without family, becoming friends, in adolescence comes romance and Stefan gives Maleficent a kiss, which she believes is the first kiss of true love.
Stefan disappears from Maleficent's life, and goes to work with the King. Maleficent realizes that it is not well-seen by humans. He faces off in some battles against the King, who fails to harm the fairy. 
Later the thirst for power, he leads Stefan to the rationing of Maleficent, who trusts him fully, unaware that he will betray her and hurt him in order to become King. Maleficent is devastated by betrayal, which makes her a bitter and resentful being.
After Maleficent learns that Stefan is getting married and will have a welcome party for Princess Aurora, her newborn daughter and that's where Maleficent makes her appearance with the curse we all know from the Sleeping Beauty story.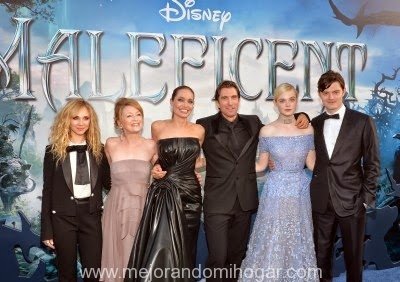 The King, to prevent the curse from taking place, commands his princess to be hidden in the forest, while she is filled with bitterness and hatred against Maleficent, unaware that she develops a relationship with Aurora, the princess, during her growth that will make her repent of the ma tion, a curse that can only be broken with a kiss of true love, which maleficent says does not exist.
Maleficent has suspense, fiction, comedy and adventure. It has some battle sequences, between humans and magical creatures of the forest commanded by Maleficent, you can not miss the dragon typical of princess fairy tales.
Angelina Jolie is perfect in her role of Maleficent, will make you feel her sadness and desolation when she suffers the betrayal of Stefano and her wings are stolen; you will be touched to the bone as she tries to stop the curse on Princess Aurora, played by Elle Fanning, Vivienne Jolie-Pitt daughter of Angelia Jolie, makes her Maleficent debut playing Aurora in her early years. I loved the theme of the movie "Once Upon a Dream", a song performed by Lana del Rey. 
From my point of view Maleficent is a film for the whole family, with some action but not enough to scare the children or at least with which children who were with us to watch it no, the ages went from 3 years to 11 , everyone came out happy and the biggest ones talking excitedly about the movie, just like their moms!
Have you seen her yet? Did you take your kids?
What did you think? Did they get scared? We want to know, leave your comment.