At the weekend we saw Disney's Mc Farland USA, there was my husband and my two youngest children, the oldest, I wasn't going to see her. Minutes after i started I heard the song De America, I Am" my son the eldest came with curiosity and stayed…
* This is part of a sponsored campaign with DiMe Media and Buena Vista Home Entertainment. However, all opinions expressed are my own.
I was thrilled to learn that Mc Farland is a film based on a true story, on Latin culture, when I recognized the Song of the Northern Tigers, I found it more interesting. This month we celebrate ten years of living in the United States; when we arrived in this country, my eldest son entered first grade, without knowing anyone and without speaking English; At first it was very difficult as many of you must know, but little by little, with the support of the family and the Latino community in our city, we have been adapting; Now my eldest son is in High School, like the guys at Disney's Mc Farland USA and it feels like fish in the water!
My son belongs to the swimming team of his High School, as a family we support him, his brothers (who have other activities) go to watch their matches and we as parents give him what is necessary for his training, but we also get up very early (some of us 5:00 am to take you to practices and matches, which can be right here or in some other city.
In my case, my family gives me the inspiration to outdo myself and supports me when I have to finish a job, they encourage me to participate in activities or events in which I have sometimes felt intimidated by being the only Latina; they also help me when I need to take some pictures or videos or my husband when I have to go on a trip stays with the kids; even my mom has come to support me from Mexico when I have to attend an event outside the city.
As popses, we try to support our children by helping with homework every night, taking them to activities, getting involved in school, among other things.
We identified a lot with the Mc Farland USA film, I loved it because it is about a group of Mexican immigrants, with the same culture and traditions of my family, such as the great family meals, the quinceañera party, the screaming mom, like me and like mine; it's an inspirational film, where kids feel relegated to being Mexican, for being poor, for working on the pinch, but in the end all these setbacks lead them to meet their goal.
The film is set in 1987, in Mc Farland USA, a very poor California town, where Hispanics and Mexican imigrantes who work in the pinch live, trying to achieve the famous American dream. Due to certain circumstances and supported at the same time by his American family, Jim White (Kevin Costner) arrives to work as a coach of the town's High School.
White gets to know his students, he realizes the difficulties, shortcomings and obstacles that they have to spend every day in order to attend school. Within the obstacles he sees the potential of the boys and encourages them to form a team of cross country or cross country runners.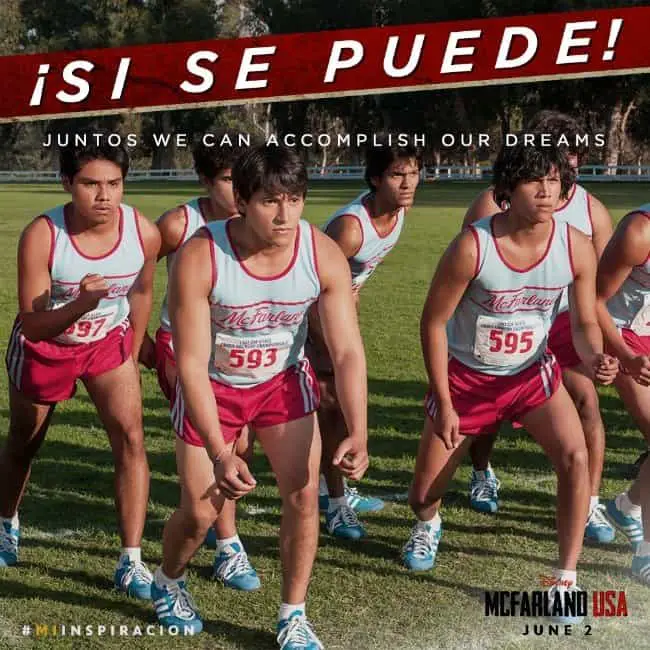 The whole town gets excited when they see the neighborhood boys trying to be better and win the State Cross Country Championship; families unite to help; the people's characters show Mexicans how we are, partyers, struggles, friendly, generous; they show that in faith, even if there is no money, (and sometimes no education) much can be achieved.
https://instagram.com/p/3e-1RDJpxZ/?taken-by=mejoramihogar>
Seeing Mc Farland USA, I reaffirm that to achieve our goals, we need the desire to overcome ourselves, courage and to have the motivation and support of the family.
#McFarland USA is now available on Blu-ray, Digital HD and Disney Movies Anywhere, including the video for the song "Juntos". For more information follow Mc Farland on Facebook.
Disclosure: No purchase necessary. Void where prohibited. Giveaway ends on June 10th, 2015. Sole Sponsor: Improving my hogar.com. The prize was provided to me by Buena Vista Home Entertainment and I have been paid to blog and promote the film. Buena Vista Home Entertainment is not a sponsor, administrator, or involved in any other way with this giveaway. All opinions expressed in the post are my own. I am disclosing this in accordance with the Federal Trade Commission's 16 CFR, Part 255 'Guides Concerning the Use of Endorsements and Testimonials in Advertising.'"
Draw
I invite you to the Sweepstakes of the new MCFarland USA DVD, so you don't stay without seeing it!
To participate:
1. Leave a comment on the Blog : How does your Family support you to achieve your goals?
2. Follow Rafflecopter's rules.