Visit the Favorite Area Attraction in Houston, Texas and Take advantage of the Moody Gardens discount coupon, plus meet the new Nickelodeon's SpongeBob SubPants Adventure!
Whether you're looking for fun or going to work; Galveston Island is an ideal tropical destination for families and groups alike.
* We receive product, my opinion is personal.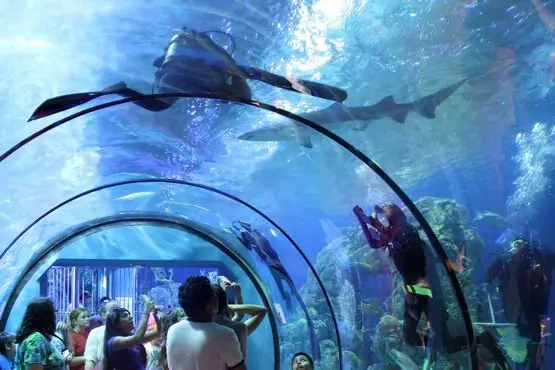 At Moody Gardens, you can experience Rainforest Pyramid offering a variety of exotic and endangered plants and animals from the world's rainforests.
Discover the Pyramid Aquarium where you can meet a real penguin on the Penguin Encounter.
Then continue with the traveling exhibitions at the Discovery Museum and dive into the MG3D, 4D and Ridefilm theaters.
Enjoy the beautiful Galveston Bay on the colonel paddlewheel boat and more summer fun on the new lazy river on beautiful Palm Beach.
Finally, visit the Moody Gardens Golf Course and escape to the four-diamond Moody Gardens Hotel, Spa & Convention Center. Visit Moody Gardens and get ready to experience life!
Moody Garden's newest newest opens this Memorial Day Weekend 2015:
SpongeBob SubPants Adventure.
New immersive experience at discovery pyramid.
Immerse yourself in the adventure on an underwater trip along with SpongeBob and all his friends from Bikini Bottom in this wild and fun expedition on the high seas, choose fate and interact with your hapless captain Patricio Estrella!
In Nickelodeon's SpongeBob SubPants Adventure, you'll be able to immerse yourself in a world of 3D immersion, a torrent of special effects and a whirlwind of non-stop surprises! With an impromptu real-time interaction with Patrick Star and different destinations, including Jelly Fish Fields, Goo Lagoon, Rock Bottom and Sandy's Tree Dome, your adventure is never the same twice!
This attraction, the first of its kind, premieres this Memorial Day weekend, only at Moody Gardens.
Save up to $12.00 dlls ($2.00 per person, up to six people).
Present this coupon at any Moody Gardens Ticket Booth and you will receive a $2.00 adult discount at the regular entrance fee, or enjoy even greater savings with $2.00 off Day Pass admission to all Moody Gardens attractions. Coupon valid for a maximum of six people. Code: 964