One in five Texas car crashes is due to the driver being distracted. This is why I am participating in TxDOT's "Heads Up, Texas" campaign – to raise awareness about this problem, and I want also share with you the most dangerous distractions while driving.
This post was created in partnership with Texas Department of Transportation (TxDOT). However, all opinions are my own.
Every time I drive, I find most of the other drivers distracted. I've seen everything from people talking on the phone to people shaving!
If you follow me on Instagram you will surely have noticed that I am participating with a series of
photos in TxDOT's "Heads up, Texas" campaign.
This campaign is a call to action encouraging drivers to avoid distracted driving by keeping their heads up and paying attention when behind the wheel.
My older children are drivers now and I already feel like my mom. I'm always reminding them to
drive responsibly and not be distracted, but above all to drive defensively.
Because when you drive a car, you not only have to drive carefully but, you also have to be aware
of any external situation that may arise. Take care of your life. Avoid fines and crashes. If you
crash, your car insurance increases.
Texting while driving is illegal in Texas, yet one in five car crashes are caused by distractions while driving. Talk. Text. Crash.
All distractions while driving are dangerous, let's identify them.
The most frequent distractions while driving
Talking on the phone (even hands-free)
Texting and sending electronic messages
Daydreaming
Reading
Applying make up
Adjusting radio or music
Shaving
Watching videos
Eating and drinking
Programing the navigation system
Taking pictures
Distracting yourself with the other passengers
 If you can't wait to do any of these activities, you better pull off the road entirely and come to a stop.
In the case of texting you can look for an app to send an automatic reply when you are driving.
Web-based AR game "Dart Those Distractions"
Furthermore, TxDOT is inviting people to participate by playing their new, free, web-based augmented reality (AR) game "Dart Those Distractions."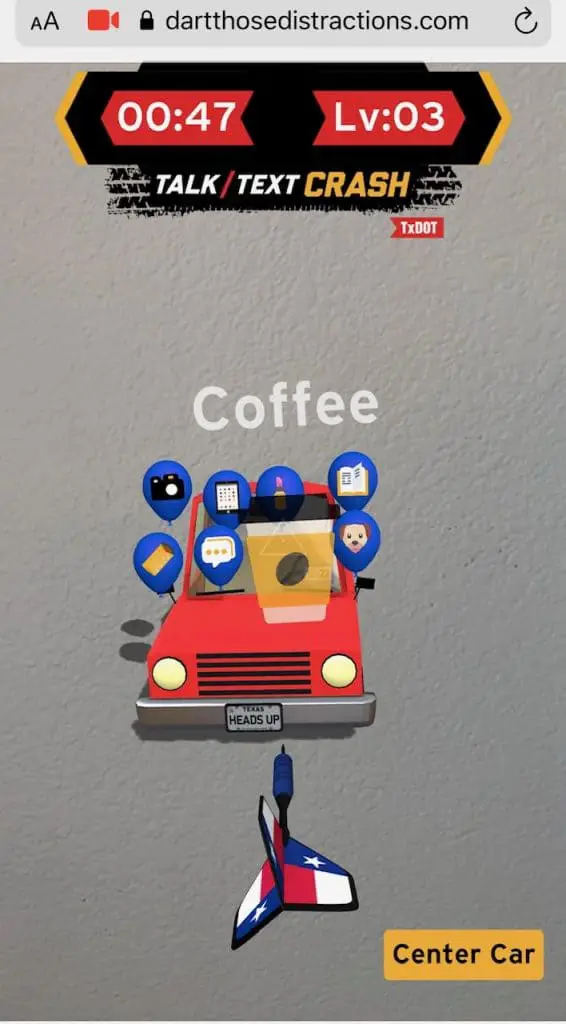 As shown on the screenshot, in this game you can see a car surrounded by distraction balloons. The objective is to eliminate them all before it's safe to drive by throwing darts at balloons that represent distractions like texts, coffee, cellphones, etc. I had a good time playing and eliminating distractions. I invite you to try this game to see what level you reach! I reached level 7.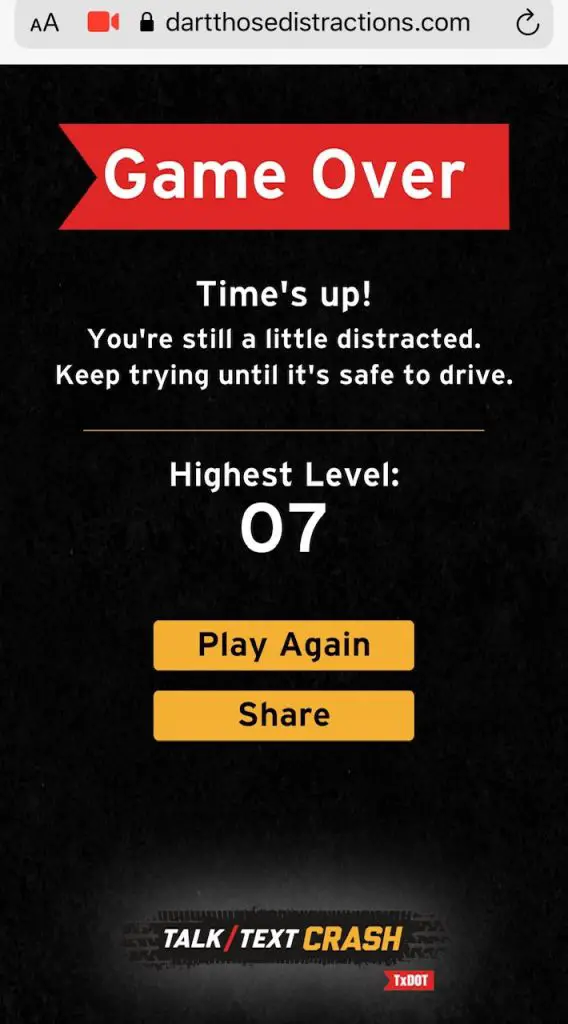 To play "Dart Those Distractions," visit dartthosedistractions.com and accept the camera and motion sensor. Then position your phone so that you see a flat, well-lit surface, such as the floor, your bed sheet, or a wall.
And voila, a car will appear along with some distractions. You will see a triangle that you have to place on top of the distractions. Click on the dart and that will make you pop the distraction.
I invite you to drive responsibly, do not risk your life, everything can wait. Drive without distractions and keep your head up!
And remember: Talk. Text. Crash.