We receive product.
Consent and protect the skin of your face and body with the new AVEENO Active Naturals products for 2018. There is one for every skin type and every need.
As you may know, I have been a fan of AVEENO products since I had my first child, almost nineteen years ago. At the time I only knew the original line to moisturize the body, but now there are a wide variety of products for every skin and need.
Check out the tips of aveeno ambassadors or Brand Ambassadors Adamari Lopez, Kika Rocha and Jacquie Marquez, click on the photo below and you will also see jacquie Marquez's Crocante de Moras recipe.
Some of the new AVEENO Active Naturals products for 2018: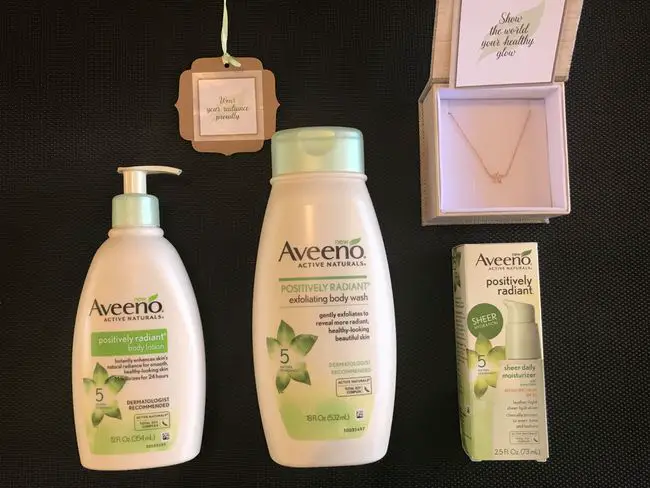 AVEENO Positively Radiant Daily Moisturizer Broad Spectrum SPF30
This is the moisturizing cream that I have been using every day for more than two years; Contains 15 or 30 sunscreen as you choose, is clinically proven to match the tone and texture of your skin in four weeks and leave skin fresh and luminous. It's soft and absorbing I have no complaints. This year includes the new legend that says "Sheer Hydration" (pure hydration).
AVEENO Positively Radiant Exfoliating Body Wash
It is a body cleanser with natural scrubs that contains Active Naturals Soy Complex to leave your skin radiant, fresh and luminous. It is soap-free, dyes-free and hypoallergenic, and leaves your skin moisturized.
AVEENO Positively Radiant Body Lotion
It is a moisturizing cream for the body, for the whole family of the same line as the previous cleanser and the previous face cream; so it is formulated to combat the 5 factors to make the skin look radiant: tone, texture, swelling, dryness, brown spots.
AVEENO Absolutely Ageless Pre-Tox leave-on day mask lotion SPF30
To keep skin younger and fight pollution and environmental aggressors. It is a light cream or lotion for the face, with SPF 30 sunscreen that protects with UVA/UVB rays, contains Active Naturals Cranberry Complex an exclusive formula with vitamins and powerful anti-aging ingredients, among others and is formulated to work under makeup.
For irritated, reddish and dry skin:
AVEENO Ultra-Calming Nourishing night cream
It is a moisturizing night cream for sensitive skin that tends to be irritated, reddish and dry. Include active oats Active Naturals Oat and feverfew two clinically proven natural ingredients to soothe skin irritation. The cream promises to reduce the reddish and dryness of your skin in a week. Worth a try!
AVEENO Ultra Calming Makeup Removing Wipes
Also for irritated, reddish and dry skin; these wipes remove makeup, impurities and dust. They leave skin soft and balanced.
AVEENO Ultra Calming Hyrating Gel Cleanser
It is a facial cleanser with an exclusive formula for sensitive skin, which removes impurities, makeup and powder; can be used daily, without leaving it irritated or dry.
I hope you try what's new from AVEENO Active Naturals for 2018 and visit its website to know all the lines it offers for body care, anti-ageing face, bb cream, baby cream, hair and to protect you from the sun.