OLAF'S FROZEN ADVENTURE joins Walt Disney Studios Holiday Specials' Special Christmas Celebration during abc's '25 Days of Christmas'.
As you may know, the short from the frozen adventure "Olaf's Frozen Adventure" was opening before the COCO movie. It's a Christmas adventure, featuring the well-known and beloved characters of Frozen, an Oscar-winning film in 2013.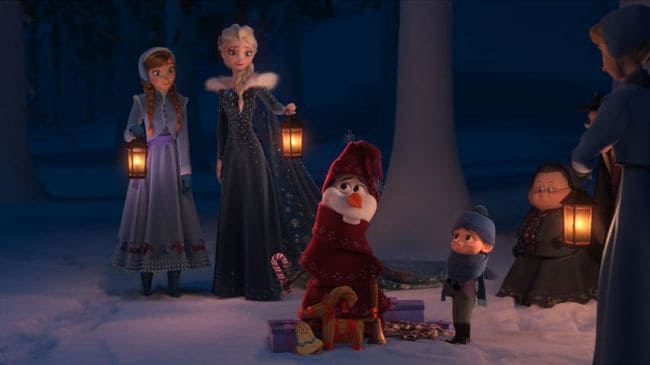 This time the princesses debut a costume with many spectacular details and open for the first time the doors of the castle to celebrate the festivities with all the inhabitants of Arandelle.
Join Disney's "25 Days of Christmas" Christmas Celebration ABC Television's this Thursday, December 14 at 8:00 pm EST on ABC Television Network
Olaf and the princesses are very excited to celebrate with them, but very soon each family will celebrate their own tradition. That's when Anna (voiced by Kristen Bell) and Elsa (voiced by Idina Menzel) realize that they have no tradition.
That's when the Olaf (voice of Josh Gad) adventure begins together with Sven together they will seek out the best tradition to celebrate Christmas with the princesses.
"Olaf's Frozen Adventure" shows Arendelle's original characters, including Olaf, voiced by Josh Gad ("Marshall," "Book of Mormon"); Anna, voiced by Kristen Bell ("Frozen," "Bad Moms"); Elsa, voiced by Idina Menzel (Broadway's "Wicked," "Rent" and "If/Then"; Fox's "Glee"); and Kristoff, voiced by Jonathan Groff (Broadway's "Hamilton," Netflix's "Mindhunter").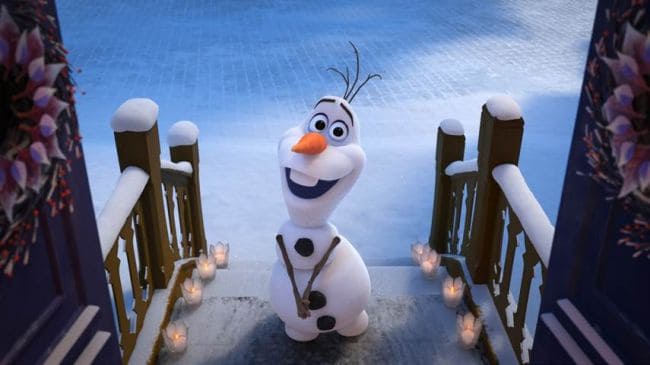 "Olaf's Frozen Adventure" is directed by Emmy winners, filmmakers Kevin Deters and Stevie Wermers-Skelton ("Prep & Landing") and is produced by Oscar winner Roy Conli ("Big Hero 6"). The short or featurette includes a screenplay by Jac Schaeffer and four new and original songs by Elyssa Samsel and Kate Anderson.
We were in a question-and-answer session with the Directors of "Olaf's Frozen Adventure" Stevie Wermers-Skelton & Kevin Deters, Producer Roy Conli and Composers Elyssa Samsel & Kate Anderson.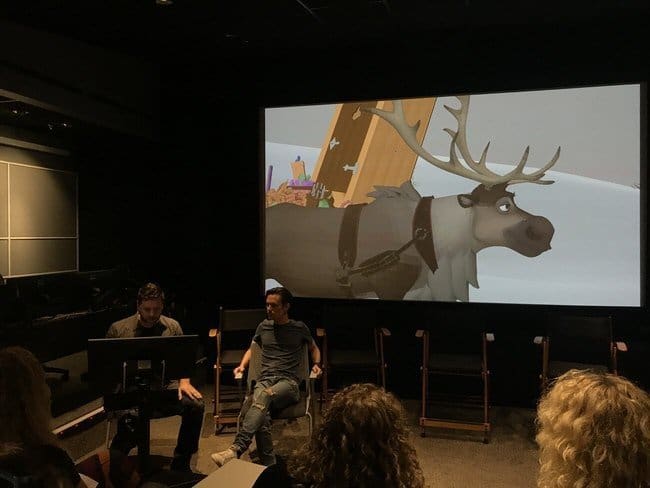 We also had a demo to draw "Olaf" with Animator Michael Franceschi and Animation Supervisor Chad Sellers.
They told us that one of the most difficult scenes, was to create each character and the background of the sequence where we see them in an embroidered type or scarf, were painted in a predefined grid pattern, then they were assembled and animated in sync with the music frame by frame. By the way, they gave me an equal scarf!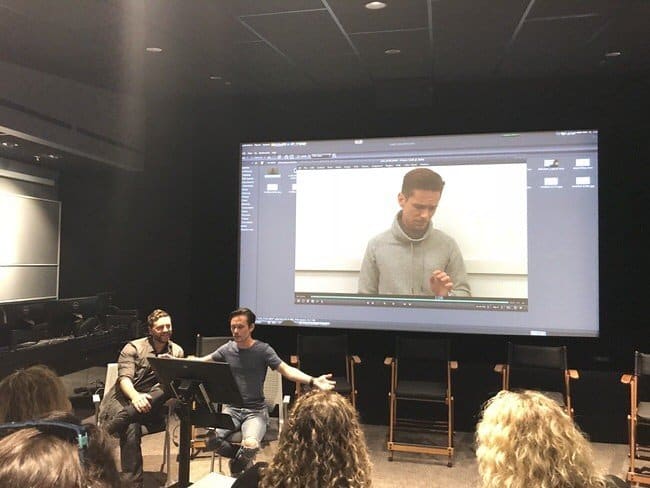 We were watching how they animated several of the scenes in the short, including how emotions convey to the characters, time, expressions etc and then take it to the computer to start moving the puppet or cartoon.
Don't miss Olaf's Frozen Adventure this December 14th at 8:00 pm EST!