La Aventura Congelada OLAF'S FROZEN ADVENTURE se une a la Celebración especial de Navidad de Walt Disney Animation Studios Holiday Specials durante los '25 Days of Christmas' por ABC.
Como debes de saber, el corto de la aventura congelada "Olaf's Frozen Adventure" estuvo abriendo antes de la película de COCO. Es una aventura navideña, nos presenta a los conocidos y queridos personajes de Frozen, película ganadora del Oscar en 2013.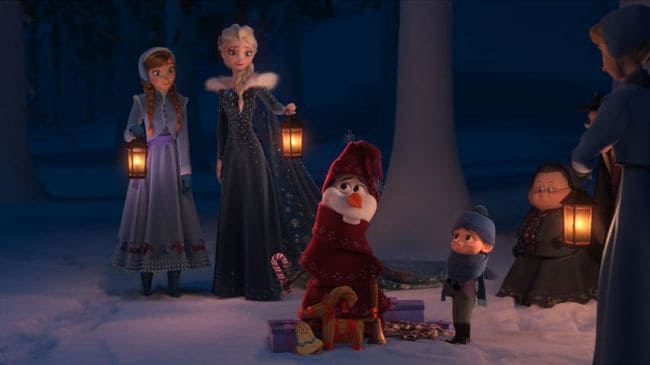 Esta vez las princesas estrenan un vestuario con muchos detalles espectaculares y abren por primera vez las puertas del castillo para celebrar las fiestas con todos los habitantes de Arandelle.
Únete a la celebración de Navidad "25 Days of Christmas" de Disney|ABC Television's este Jueves 14 de Diciembre a las 8:00 pm EST por ABC Television Network
Olaf y las princesas están muy emocionados por celebrar con ellos, pero muy pronto cada familia se va a celebrar su propia tradición. Es entonces cuando Anna (voz de Kristen Bell) y Elsa (voz de Idina Menzel) se dan cuenta de que ellas no tienen ninguna tradición.
Ahí es cuando comienza la aventura de Olaf (voice of Josh Gad) junto con Sven juntos se van a buscar la mejor tradición para celebrar navidad con las princesas.
"Olaf's Frozen Adventure" muestra a los personajes originales de Arendelle, incluyendo a  Olaf, con la voz de Josh Gad ("Marshall," "Book of Mormon"); Anna, voz de Kristen Bell ("Frozen," "Bad Moms"); Elsa, voz de Idina Menzel (Broadway's "Wicked," "Rent" and "If/Then"; Fox's "Glee"); y Kristoff, con la voz de Jonathan Groff (Broadway's "Hamilton," Netflix's "Mindhunter").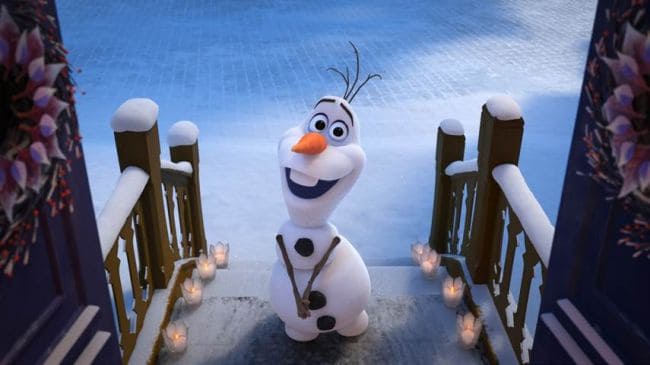 "Olaf's Frozen Adventure" es dirigida por los ganadores del Emmy, cineastas Kevin Deters y Stevie Wermers-Skelton ("Prep & Landing") y es producida por el ganador del Oscar Roy Conli ("Big Hero 6"). El corto o featurette incluye un guión de Jac Schaeffer y cuatro canciones nuevas y originales de Elyssa Samsel yKate Anderson.
Estuvimos en una sesión de preguntas y respuestas con los Directores de "Olaf's Frozen Adventure" Stevie Wermers-Skelton & Kevin Deters, Producer Roy Conli y Compositoras Elyssa Samsel & Kate Anderson.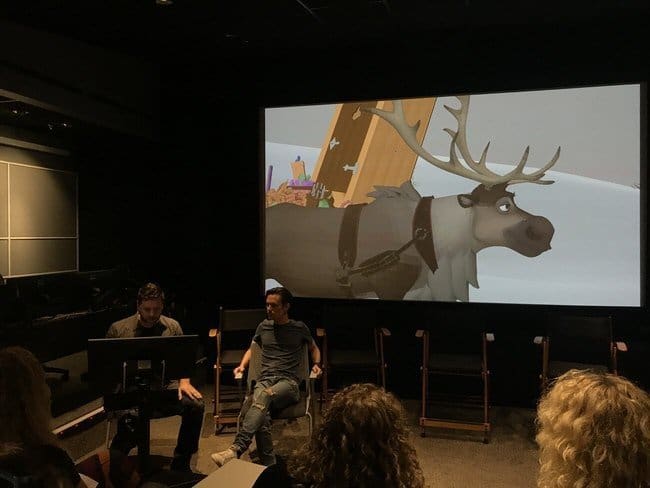 Además tuvimos un demo para dibujar a "Olaf" con el Animator Michael Franceschi y Animation Supervisor Chad Sellers.
Ellos nos contaron que una de las escenas más difíciles, fue crear cada personaje y el fondo de la secuencia donde los vemos en un tipo bordado o bufanda, fueron pintados en un patrón de cuadrícula predefinida, después se ensamblaron y animaron sincronizados con la música frame by frame (fotograma por fotograma). Por cierto, me regalaron una bufanda igualita!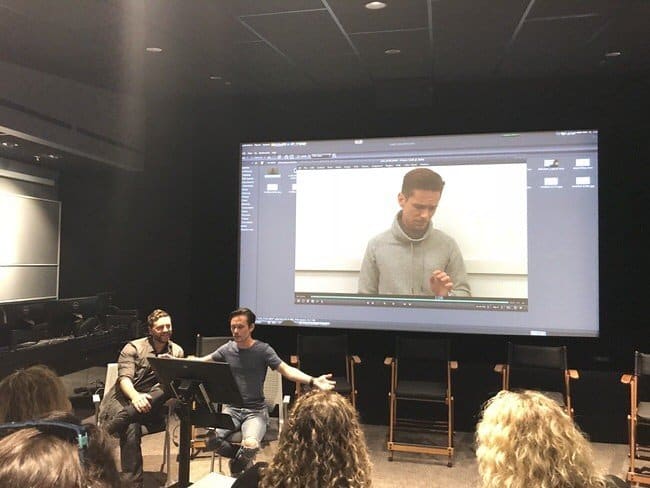 Estuvimos viendo como animaron varias de las escenas del corto, incluyendo como transmiten las emociones a los personajes, el tiempo, expresiones etc para después llevarlo a la computadora para empezar a mover la marioneta o caricatura.
No te pierdas Olaf's Frozen Adventure este 14 de Diciembre a las 8:00 pm EST!