Did you know that more than 250,000 Latinos in the US have HIV? Let's stop HIV among Latinos, speaking openly, A Conversation at a Time!
*Collaboration paid in conjunction with LATISM. My opinion is personal.
Are you sorry to talk about HIV and AIDS? If you follow me on social media, you may notice that we are promoting the campaign #UnaConversacion at the same time; this bilingual campaign is trying to get Latinos to talk openly about HIV and AIDS with our family, friends, partner and in our community.
The campaign is part of The Centers for Disease Control and Prevention's (CDC) Act Against AIDS (AAA) initiative and is providing practical tools and tips for Latino families to start or continue to talk about prevention, testing and treatment HIV.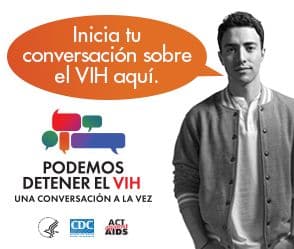 The first time I was tested for HIV (HIV) was in this country before I had Brendita, to tell the truth I was afraid, because in Mexico they never did it to me; but then I felt a great relief to know that my result was good. After that I became curious and started reading about the disease, I really learned a lot, better to be informed.
Now that my children are growing up (the oldest is 17 and the one in the middle of 12 years) I am starting to bring the subject up little by little, so that they are learning about this Virus. I need you to be well informed, to know how to prevent it, and not to be sorry to talk about these issues.
You talk to yours too, here you can find out about HIV. Share the "No Verguenza" videos on your social networks using #UnaConversacion or #OneConversation.
You knew that…

In 2013, 23% of new diagnoses of HIV infection (HIV) in the US occurred among Hispanics.
Hispanics account for 17% of total US problastation; but 21% of 1.2 million people infected with HIV in the US and 23% of new contagions are Latino.
It is estimated that only 56% of Hispanics discuss HIV with their family or friends over the past year.
Young people between the ages of 13 and 26 were 26% of all new HIV infections in the US in 2010.
Gays, Bisexuals and men who have sex with men are the ones who have the most contagion in the 13-24 age group, especially African Americans and Latinos.
A 2013 survey reported that 34% of high school students claimed to have had sex in the previous three months and 41% of them did not use a condom.
50% of young people with HIV do not know they have the virus.

For some, it may not be easy to talk about this, but talking about HIV (HIV) and AIDS (AIDS) has been shown to lead people to report on the prevention of the virus, use a condom, and increase the number of HIV tests, all of which results in fewer infections.
. Join the conversation on social media and find out how to reduce HIV, follow ActAgainstAIDS on Facebook Twitter @TalkHIV, using hashtag #OneConversation #UnaConversacion