We are already with the preparations for the Halloween party, this year will be more fun because it will fall on Saturday, we went shopping at Walmart, we did the shopping without spending much and I tell you my experience. 
* We receive compensation.
We went to Walmart to look for what we need for Halloween, they have a great variety of costumes of all kinds, for all ages and tastes; Among those I saw are the most popular licenses like the Ones of Avengers, Ant Man, Disney and the most popular costumes this year are the Star Wars with the premiere of the new film coming up; In addition, there is no shortage of popular Disney Princesses and other classic superheroes like Spider Man and Batman.
My daughter had asked me for a Star Wars costume, I thought she could only dress up as Princess Leia, but we found StormTrooper for girls and she's delighted; I also bought one of Captain America's Avengers for my nephew and got him the candy container just like it!
In my case I prefer to make my costume and I saw very good accessories that will help me like dark makeups, wigs, hats, leggings of all colors, etc. And for my dog Lex I also loved costumes, especially hats of different type at a very good price.
I recommend you buy your costumes in advance and if you don't have time to go to buy the costumes, take advantage of that for the first time ever, Walmart.com will have 200 costumes available through the Pick Up Service – including licenses on most popular costumes such as Avengers, Star Wars and Ant Man.
As hostess I like to do parties always within the budget, so in the same return take advantage, I took some coupons that I printed off the site of Walmart.com and I got sweets of the season at a good price, there are exclusive sweets with flavors of the season such as M&Ms of walnut pie, Candy Corn and Ghirardelli Pumpkin Spice Caramels.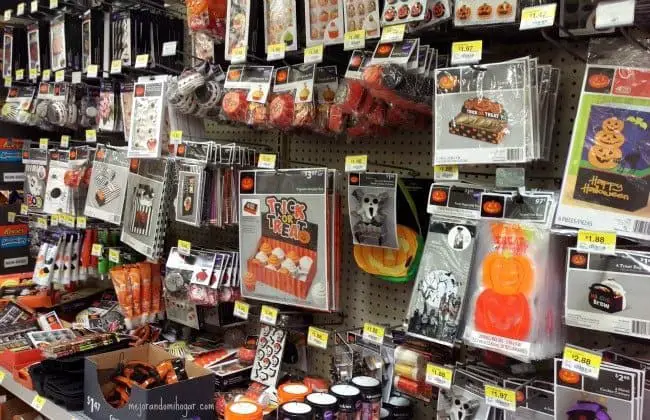 I found some decorations at a good price, inside and outside the house; to accommodate a cute landscape or tables of sweets and snacks and material to make some creepy and fun snacks for the Halloween party, there are some already made as gummies with different figures that can help you to decorate your cake or cupckaes of Halloween.
Get ready for your Halloween Party at Walmart and buy a lot, spending little, have fun!