When I arrived in the USA I was funny to see the chariots and "trocas" of Hispanics with decals from Alacranes, Cerro de la Silla, Sombreros, Charros, Legends of Made in Mexico and others showing something typical of the states of my country and other Latin American countries …
I thought, well, if you're so proud of your country, why do you live here, on the other side?
Anyway, the years passed; nine to be exact and here i am, just like the Hispanics I saw when I arrived, now my car
bring a sticker of my favorite equipment (from Mexico), in my fireplace I have my hill of the chair, my house is full of Mexican things, in my parties I offer sweets, piñata and Mexican food; nothing to see when you lived in Monterrey, when you're there you want your house decorated with American stuff, your parties with sweets on the other side, etc … What an irony, isn't it?
Well now I understand that here in the Yunaites we emerge the Pride for Our Hispanic Heritage, as we value more the treasures of our country being away, we feel the nostalgia of being where we grew and lived, where we leave our family and so many memories , the dishes with Grandma's recipe, the remedies of the mother when we got sick…
This Mexican Frog welcomes you at the entrance of Mi Casa
Now I can answer myself, because I live here, if I am so proud of my country?
To begin with, I never thought of leaving my country, let alone my family and my people, the main reason for my husband's work, then for the children to learn English; months after arriving here, insecurity began in Mexico, one more reason to stay and so little by little more reasons have emerged to settle here, but that does not mean that we do not like or miss our country, our customs and our people.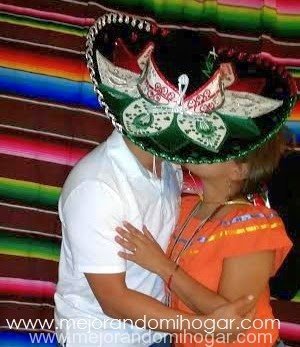 Celebrating The Scream with My Mexican
Personally I love Mexican Culture and Folklore, Mexican coffers, ranch music, our festivals and celebrations, mariachis and serentas, in short, I would not finish writing it.
What I miss nothing and I think I will be right about is the corruption of our governments, which leads to everything we don't like about our countries, that we don't even want to mention it.

I am proud of my country, even though I live in the Yunaites, but we go (the ones we can) as often as possible, whether to visit the family or to visit some tourist place to enjoy the natural beauty of our Latin Countries.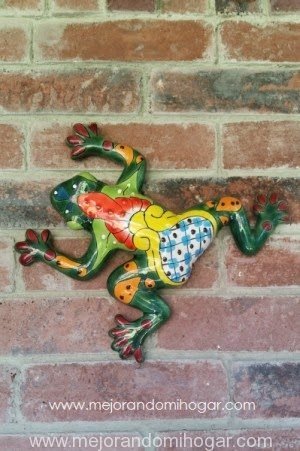 Talavera lizard in Mi Patio
And if we can't go, we try to follow our lives with our Latin customs, cooking our food, teaching our values to children, making parties as it is customary in our countries, dancing and listening to our music.
Proud of my Hispanic Heritage, but also grateful to this country, which in nine years has given us very good opportunities as to so many people and full of achievements and satisfactions, which in my Mexico Lindo y Querido are so difficult to achieve.
The National Hispanic Heritage Month is held in the Usa from September 15 to October 15 each year since 1988, the family recognizes the contributions of Hispanics and Latino Americans to the US and We Celebrate Hispanic Culture and Heritage.
And you're why you're proud of your Hispanic Heritage?
I invite you to read more articles about Hispanic Heritage Month using #TxLatinoBlogs #HHM14