The new Dreamworks Home A Home 3D film opens in Cinemas on March 27, 2015.
Take your kids to watch this fun alien adventure, featuring the voices of Rihanna, Jim Parsons, Steve Martin and Jennifer Lopez.
We attended the Premier in Plano, Texas, where Rihanna and Jim Parsons performed to promote the film and support the #feedjustone campaign. I share some photos of screening and invite you to watch music videos from Jennifer Lopez's film Feel the Light and Rihanna, Dancing in the Dark.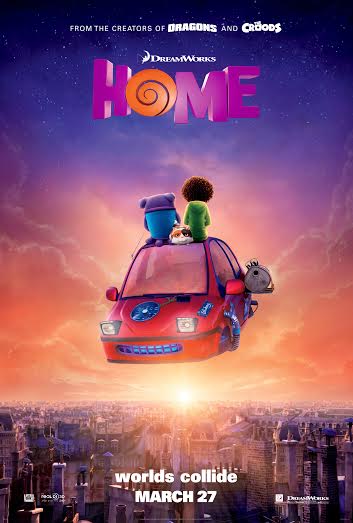 HOME is a fun comedy full of adventures, recounting the friendship that forms between an Oh (Jim Parsons) a friendly Alien and a pre-teen named Tip (Rihanna), when Oh arrives on the planet and finds himself fleeing from his own people. Oh understands that being different and having mistakes is part of being human and as he changes the planet and she changes her own world, they discover the veradero meaning of the word HOME.
Dreamworks HOME movie printables click on the links:
Party Kit (Invitations, Tags, Banner, etc.)