This Christmas will be different, as will the gifts. Kids and teens need to be entertained, play, and learn away from screens. Check out this screen-free educational gift guide.
This is a sponsored blog post. You can also check out this gift guide in Spanish.
Our lives have taken a turn with the pandemic. We have had to learn to work and study from home, glued to the computer, and zoom meetings.
Now we have to find time to unplug. That is why I have wanted to recommend some ideas of educational gifts for children, to encourage them either playing with siblings or individually.
Some of these educational toys allow children to learn something; either: work individually or in a team; create or build, manage time, discover clues, solve puzzles, and use imagination!
The list includes toys for different ages and budgets.
SCREEN-FREE EDUCATIONAL GIFT GUIDE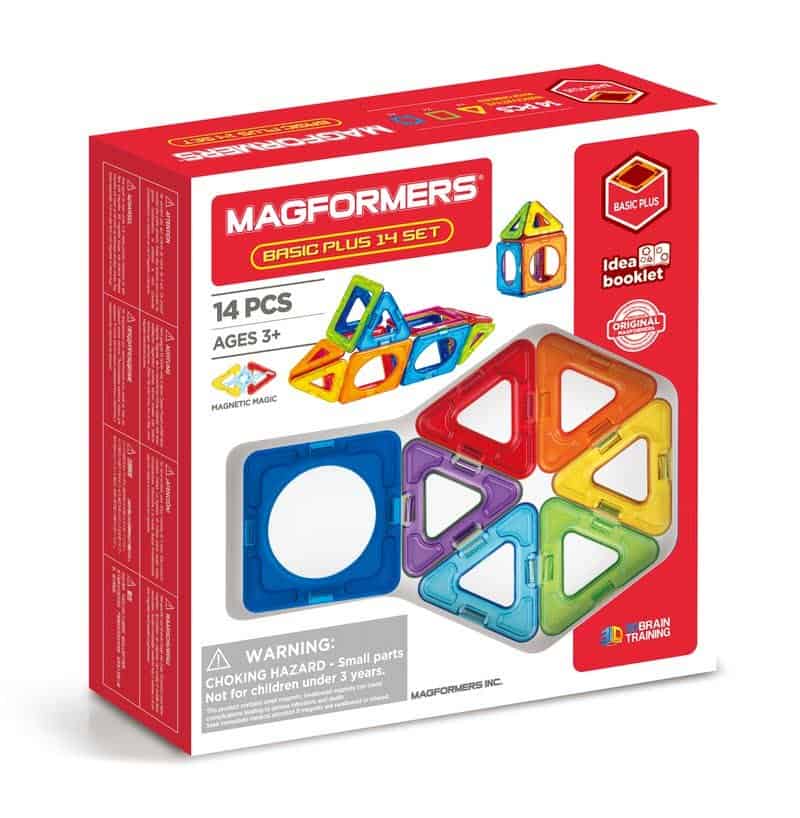 MAGFORMERS BASIC PLUS 14PC SET
Keep your toddlers screen-free with this colorful learning toy. They can create 3D structures from 2D nets with Magformers Basic Plus 14Pc Set. Build with 4 Squares, 8 Triangles and 2 Inner Circle Square shapes. Create houses, towers, and our 'magic ball'. Learn to build using combine, roll and pull-up techniques and see what your imagination can create!
Build along with the step-by-step instructions and develop color and shape recognition, fine motor skills and problem-solving ability. The original and authentic Magformers. Perfect for brain development, critical thinking and STEM education. Follow the Step-by-step educational idea booklet for ideas and instructions.
Each geometric shape contains magnets that never reject, so you'll always hear the Magformers click. When playtime is over, use the magnetic power to simply stack and store. Ages 3+.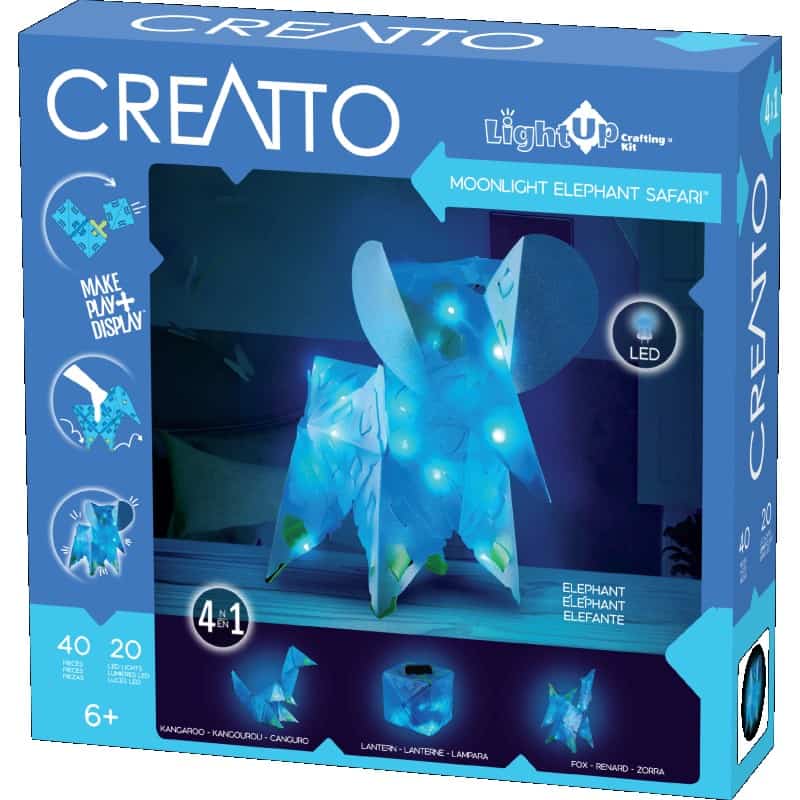 CREATTO™ Light-Up Crafting™ Kits – from Thames & Kosmos
Creatto™ is a simple yet versatile building system that consists of just two primary components that can be woven together into countless 3D creations. The flexible yet durable plastic tiles interlock quickly and easily for all skill levels; no additional materials or hardware required! Each Creatto kit includes assembly instructions for four different configurations, but the possibilities are limited only by your imagination.
Add strings of colored LED lights to illuminate your works of art from the inside out. Creatto is available in 3 fun sizes: mini, medi, and maxi. Kids can choose to build: Moonlight Elephant Safari: Ages 6+ MSRP: $9.95; Magical Moose & Forest Friends: Ages 6+ MSRP: $9.95; Starlight Kitty & Cutie Crew: Ages 8+ MSRP: $19.95; Shimmer Shark & Ocean Pals: Ages 9+ MSRP: $29.95; Sparkle Unicorn & Friends: Ages 9+ MSRP: $29.95.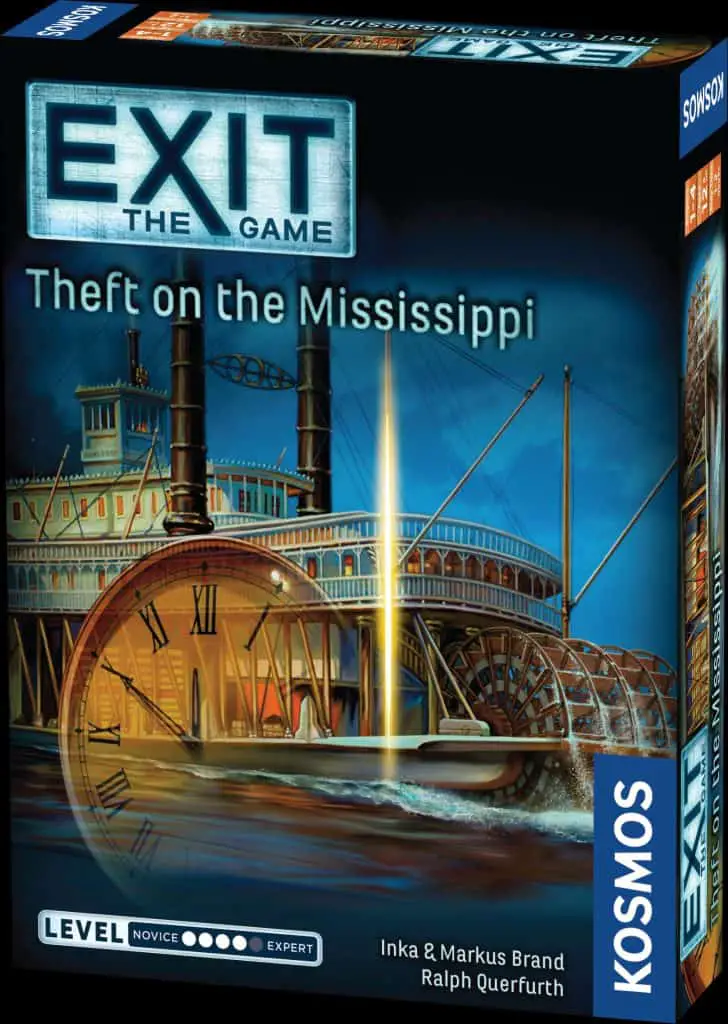 EXIT – from Thames & Kosmos
EXIT: The Game is a series of party games for up to four players that offers a unique, unforgettable gaming experience. These games allow you to bring the excitement, intensity, and team spirit of an escape room to your living room. In each EXIT game, your team starts out locked in an imaginary room, or trapped somewhere.
You must solve a series of riddles and puzzles in order to unlock doors and reveal new riddles. Each correct solution brings you to another riddle and eventually to freedom. EXIT is constantly expanding with new stories. AGES 10+ MSRP: $14.95.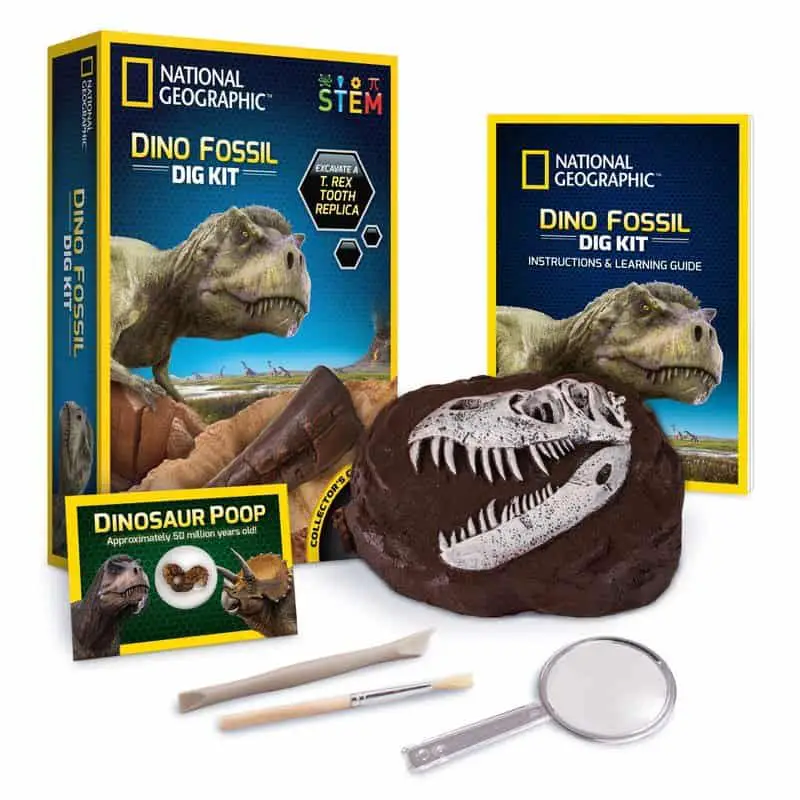 National Geographic STEM Kits
Dr. Cool
Category: Gifts Under $25
Available: Now
MSRP: $10.00-$15.00
There is a wide variety of National Geographic STEM kits. Some include exploring real fossils, shark teeth, creating a volcano, building a catapult, a solar-powered moon buggy, and lots of experiments according to your child's taste.
Children and teens can learn engineering, science, chemistry, exploration, biology, and more.
THE GAME OF LIFE DISNEY PARKS THEME PARK EDITION
Let's go to the Disney parks! The Game of Life Disney is the traditional "Game Life" but in a new version adapted to Disney parks. This is an excellent game to play as a family. Featuring the beloved characters and attractions of the Disney parks.
The Game of Life Disney Parks theme Edition is like a day in the parks! In Game of Life games you learn to take turns, math, make decisions, solve problems, etc.
LEGO® DOTS Desk organizer
For kids who like to create toys themselves, this drawer desk organizer can be redesigned as many times as they like. With the LEGO® DOTS sets children have the opportunity to use their imagination, they learn to build and assemble in a fun way. This helps them increase their creativity and self-confidence.
The pieces can be interchanged and arranged with pieces from the other bedroom decoration sets of the same brand! For children 6 years and older.
Lotería or Mexican Bingo
The Mexican lottery is a typical Mexican game that entertains young and old alike. It is excellent for family play and children can enrich or reinforce their vocabulary in Spanish by reading and associating the words with the pictures in each deck. There are 54 decks in the lotería.
Children can also learn skills such as concentration, memorization, and math. You can buy it on Amazon, in Mexican stores and bazaars. I couldn't leave this Mexican toy out of my screen-free educational gift guide.
solar ballon
This 50ft solar balloon only needs sunlight to soar into the sky! This demonstrates buoyancy, convection, thermodynamics and solar energy while teaching the principles of Bernoulli and Pascal.
Perfect for science projects, the package includes a 50-foot long x 20-inch diameter solar balloon and 400 feet of string. Comes with instructions and a science learning guide. It is for people over 14 years old.
maxusee children's telescope
This telescope and monocular for kids and beginners is easy to use, with high-quality optics that make your eyesight brighter, clearer and provide sharp images.
The 400mm focal length refracting telescope with the 5 X18 finder makes locating objects quick and easy. Telescope includes two interchangeable eyepieces, a Moon mirror and a Compass built into the telescope tube, star map, and moon map. Children learn about astronomy by seeing the stars, planets, constellations. It is a perfect learning toy for bird watching, camping, and viewing wildlife. For ages 8 and up.
why parents should balance screen time
Dr. Pamela Hurst-Della Pietra, President and Founder of Children and Screens: Institute of Digital Media and Child Development shares why parent's need to limit children's screen time:
"Although screens are an attractive way to spend hours relaxing during the holidays, it is important to set limits and strike a balance between "personal growth" screen time, such as researching a topic, watching a documentary or educational program, or socializing and connecting — and "entertainment" screen time.
Every minute doesn't have to be educational, but too much time watching YouTube videos or scrolling through TikTok isn't great, either.
A research study in 2019 of over 6500 adolescents showed that more than three hours a day on social media resulted in higher levels of anxiety and depression.
Furthermore, increased screen usage can lead to decreased sleep duration and sleep problems, which has been associated with problem behaviors. Parents can encourage children by deliberately planning plenty of screen-free times into your family routine".
I hope you enjoyed my screen-free educational gift guide.
What's your favorite toy form the list?