Go to the movies with your family and friends, we have free passes for Early Man advance screening in Dallas, an animated movie about cavemen and dinosaurs!
Early Man an animated comedy by Lionsgate, comes from the creators of Chicken Run and Shaun the Sheep.
Let your family and friends know that we have free movie tickets to watch Early Man www.EarlyMan.movie in Dallas, as you should know it is recommended to arrive very early to get to place!
Subscribe to our emails so you don't miss these opportunities! 
Click here to subscribe to the blog, check your email and check it out!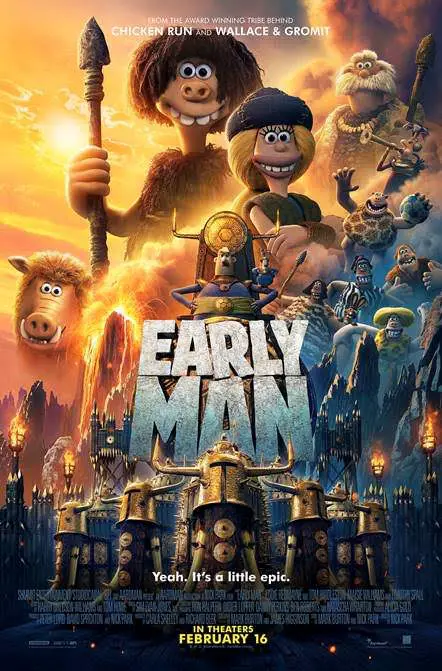 EARLY MAN
Synopsis: Set at the dawn of time, as dinosaurs and unwieldy mammoths roam the earth, EARLY MAN tells the story of how a brave caveman unites his tribe against a powerful enemy and saves the day!
Directed by Nick Park
Screenplay: Mark Burton & James Higginson
Story: Mark Burton & Nick Park
Gender: Animated
Rating/Rating: PG (by rough mood and some action)
Duration 89 min
Play with Early Man from your phone, use the movie frames for your photos, meet the movie characters and print Early Man activities, click here or the poster photo!
Order your tickets on this link: http://www.lionsgatescreenings.com/MejorandoMiHogarConEARLYMAN
The EARLY MAN function will be:
Saturday, February 10, 2018 at 10:00 a.m.
Location: Cinemark 17 Webb Chapel.
11819 Webb Chapel Road
Dallas, TX 75234
Check out the Trailer:
Facebook facebook.com/EarlyManUS
Twitter: twitter.com/EarlyManUS
Instagram: instagram.com/EarlyManUS
Hashtag: #EarlyMan
Early Man opens in theaters February 16, 2018.
You need an email or email to order your free passes. It is recommended to arrive very early to reach place in the cinema. The quota is limited. We are not responsible in case of any setbacks with the agency or the cinema.