Shrimp cocktail, the recipe may vary, depending on where you live, but this my traditional Mexican shrimp cocktail recipe made with raw shrimp, enjoy it!
Mexican shrimp cocktail is one of the seafood snacks my family enjoys the most. My kids love it, I remember when I was a little girl, going to seafood restaurants with my family, (by the way, we always went to the same two or three restaurants, some along Calle (Street) Villagrán de Monterrey) and I always ordered shrimp cocktail or breaded tilapia and my children are the same now.
For this recipe we will use raw shrimp, if you prefer to make it with frozen shrimp you can see this recipe of shrimp cocktail easy.
You will need some time (one hour) because we are going to cook the shrimp and then have to cool down in order to make the cocktail.
The typical hot sauce for this type of dish is the habanero chili sauce, if you think it's very spicy you can use your favorite hot sauce.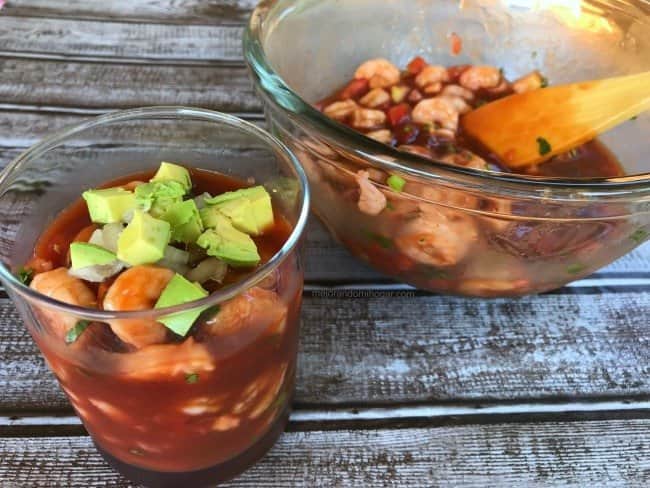 Shrimp cocktail made with raw shrimp
Ingredients
2 lbs (1 kg) small raw shrimp
2 lts water
1/2 cup ketchup
1/2 cup Clamato juice
2 avocados, chopped
1 chopped tomato
1/2 onion, finely chopped
1/2 onion (for shrimp cooking)
3 lemons, (juice)
1 teaspoon Maggi or English sauce
4 cilantro branches
Salt and pepper to taste
Tostadas, nachos or crackers
Habanero chili sauce (or Tabasco, Valentina, o Viuda de Sanchez)
Chopped serrano chile (optional)
1 garlic clove
Wash the shrimp, remove the peel, tail and vein. Rinse.
Place the shrimp in a saucepan with the water, onion and salt.
Let the shrimp boil for a few minutes, remove from the water when they turn pink.
Turn off the fire. Remove the shrimp from the water and reserve one or two cups of the broth.
Cool the shrimp under cold water. Allow shrimp and shrimp broth to cool. (if you want to speed up this step, put them in the refrigerator for a while).
When the shrimp and broth are cold, place the shrimp in a deep bowl, add the onion, cilantro, tomato, a cup of cold shrimp broth, catsup sauce, lemon juice, English sauce or Maggi, salt and pepper.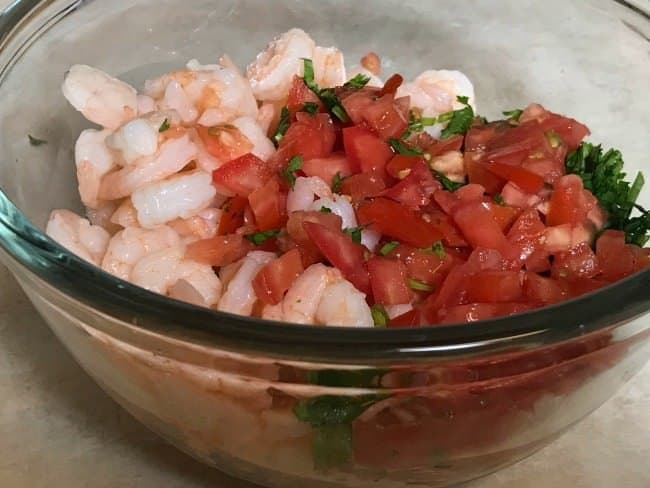 Mix all the ingredients, you can add more cold shrimp broth gradually if you wish.
Put in the fridge for a few minutes, so the flavors are mixed.
If you prefer a spicy shrimp cocktail, you can add serrano chili or chopped jalapeño or some of the sauces I mentioned above.
Serve in small plates or cups and add avocado on top.
Serve with tostadas or crackers and a fresh michelada like this one!