Keep your skin hydrated for 24 hours, without the annoying greasy feeling left by some lotions and creams.
This is a post compensated as part of the aVEENO ambassador group®, my opinion is real and has not been edited by third parties.
It's no secret that in my house we used Aveeno, since I had my first baby sixteen years ago, when she was recommended to me by a dermatologist from Mexico because my son was suffering from eczema. I still take care of my skin and that of my family with the lotions and creams of this brand.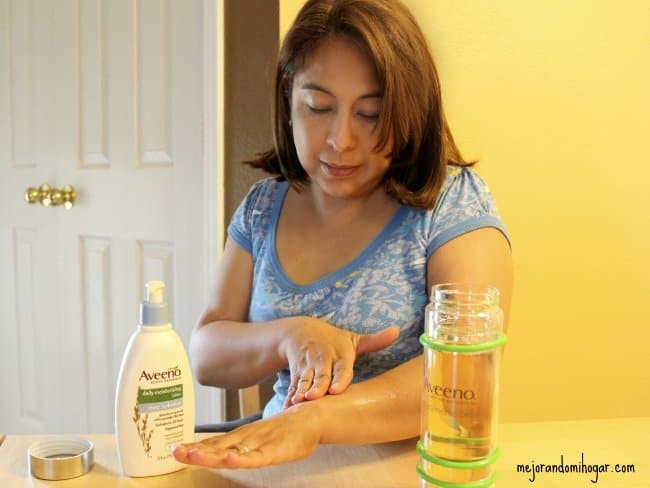 My children often complain when I ask them to apply moisturizing cream, they do not like that they have greasy skin, so they loved the new AVEENO® Daily Moisturizing Sheer Hydration Lotion, now that they tried it; This cream is formulated with ACTIVE NATURALS®Colloidal Oatmeal moisturizes and revitalizes the skin for 24 hours, for a skin with a beautiful and healthy appearance.
I like that my skin and that of my family looks hydrated, I hate the white elbows and knees of the dry; that's why now that it's season of shorts, skirt and sleeveless blouses, I insist so much on my children to apply cream before they go out, they no longer have pretexts, the AVEENO® Daily Moisturizing Sheer Hydration Lotion, is ultra light is absorbed in seconds and provides the nutrients needed to leave skin fresh and refreshed.
My husband also uses it as part of his daily routine, his skin is very delicate and he was recommended by the dermatologist, this lotion like all aVEENO®, is non-comedogenic, contains no fragrance, no oils.
I invite you to perform the "Handkerchief Test" so that you compare this new lotion with the one you normally use, it is very easy, follow these steps:
https://instagram.com/p/2lp7S6pp3j/?taken-by=mejoramihogar>
Apply AVEENO® Daily Moisturizing Sheer Hydration Lotion in your hand.
Massage for 15 seconds.
Lightly press a tissue or paper towel and you will see how it slides easily, it does not stick!
Result: Waste-free skin, which stays hydrated for 24 hours.
After sending my family with well-protected skin to their duties, I like to have a tea to relax and recharge batteries to continue writing on the blog; AVEENO® sent me a personalized tea infuser that I love to make my tea, it is always good to dedicate a little time to pamper us!
The AVEENO ® Brand, one of the brands of the Johnson & Johnson Consumer Products Company, a division of Johnson & Johnson Consumer Companies, Inc., uses ACTIVE NATURALS ingredients® which are resources extracted from nature to deliver real benefits for healthier and more beautiful skin and hair.
Draw!
We have a pack with two creams from the AVEENO collection® Sheer Hydration Moisturizing Lotion, to participate answer the question on the blog and follow Rafflecopter's options.