This is a sponsored post in collaboration with General Mills and Walmart.
Make some chocolate and cereal skulls for Day of the Dead with your children, while you talk to them about this date and its traditions.
I like that my children know and participate in Mexican traditions, especially now that they are young and that we live far from my country, so that they get used to it and do not forget them.
To observe the Day of the Dead we have made altars for deceased relatives, chopped paper, we have written skulls, all those activities you can look at in the blog.
This time we came up with a few marshmallow and cereal skulls, very colorful, inspired by Mexican sugar skulls, are very easy and economical; The best thing is that we use ingredients that kids love, like General Mills' TRIX cereal that we easily find in the Walmart cereal area, right where you find Cocoa Puffs, Cinnamon Toast Crunch and Lucky Charms.
I hope you make the marshmallow or chocolate and cereal skulls with your kids.
Chocolate and Cereal Skulls for Day of the Dead
Ingredients
Big chocolates
Medium Chocolates
Cereal TRIX or Cocoa Puffs
Sprinkles, or fine colored beans
Food scissors
1/2 cup warm water
Palette sticks (optional)
Brush
Vegetable coloring
Waxed paper
Marshmallow or meringue cream
Take a large chocolate or marshmallow and trim your eyes, making a deep cut with food scissors, you can dip the tip of the scissors with warm water to make it easier.
Insert the big chocolate, followed by a small one on a paddle stick.
This step is optional: You can cover the two chocolates to join them with marshmallow cream or meringue or leave them as they are.
Add fine colored beans to eye sockets, then insert a TRIX Big G cereal ball into each basin.
Make a triangle-shaped cut to form the nose and paint with vegetable dye.
For the mouth we have two options, you can make four small slots with the scissors and then put some vegetable dye or you can make a hole just like the eye sockets and put a TRIX cereal ball.
Place the skull on a plate and sprinkle sprinkle slas or colorful beans on top of the face and head.
You can add Frida flowers using TRIX cereal, placing some marshmallow cream or meringue to stick the cereal balls.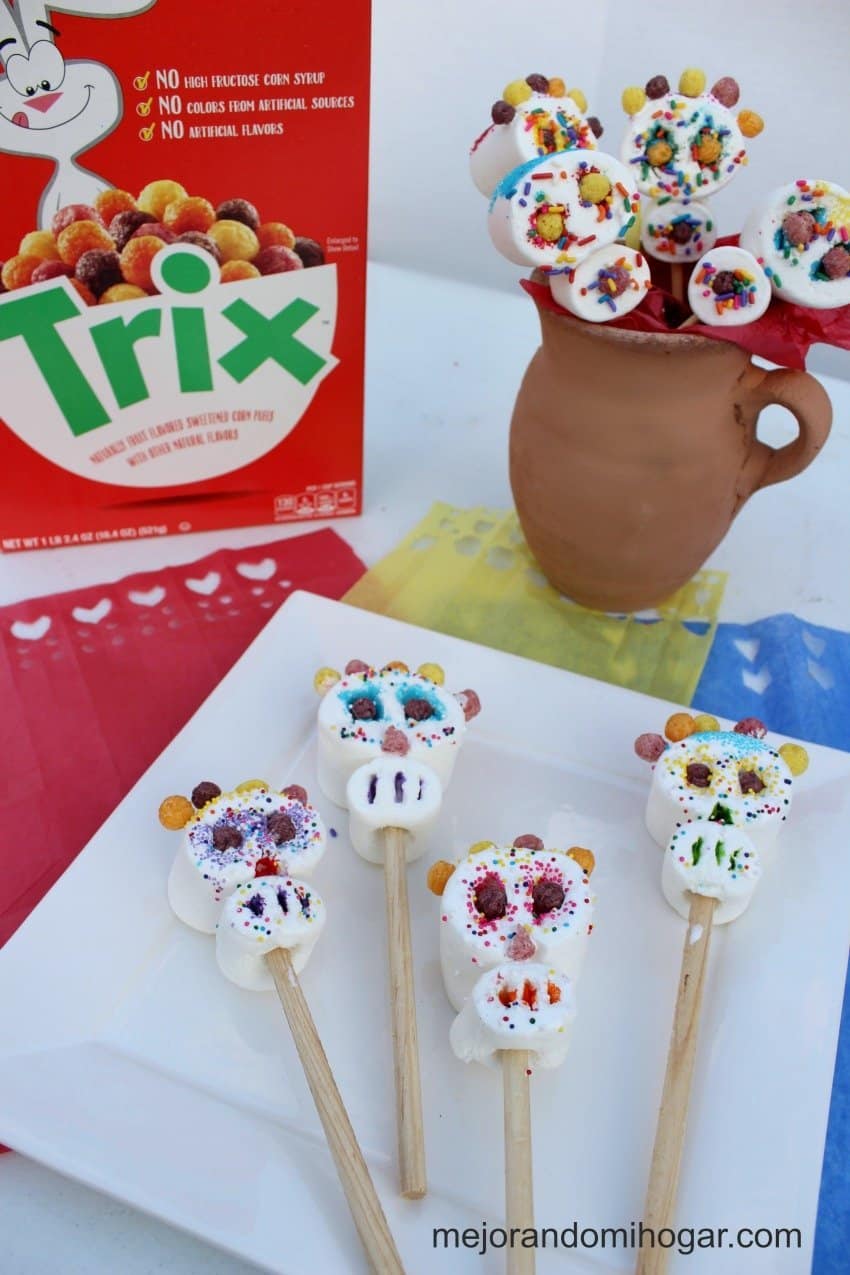 Place on a plate and spread TRIX cereal around.
Enjoy them!
Check out other Items about the Day of the Dead:
Decorate the candles for your day of the dead
Altars or Offerings of the Day of the Dead