These days we have been testing two different ice blenders; The Hamilton Beach Smoothie Smart and the Hamilton Beach Single Serve Blender are both for smoothies or smoothies, but one is for family use and the other is for personal use.
* We receive products.
The Hamilton
Beach Smoothie Smart blender
is special for making smoothies or smoothies with excellent ice when it comes to serving your family or if you have a party or guests and want to prepare them some iced drink, has an automatic cycle to make smoothies with just press a button and it takes only 45 seconds; let me tell you that with my smoothies it takes only 30 seconds, that's why the log
o "the perfect shake in a touch"
.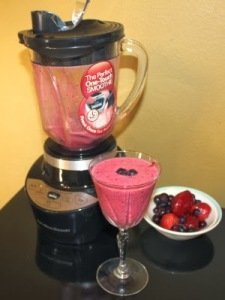 In addition to this function, it has other keys for malting, frapee, puree and for chopping or crushing ice.
El Vaso de la licuadora Hamilton Beach Smoothie Smart de vidrio, tiene un diseño especial para que los ingredientes se mezclen fácilmente, sin necesitad de batir con alguna cuchara; it has short knives, but very strong.
Now if the smoothie is for one person I recommend the Hamilton Beach Single Serve Blender, this blender is small but powerful, in it you can prepare smoothies, frappes, smoothies, shakes, malts and more, I like for young people who are in college or live alone , it is easy to use, only has a button and takes up little space, in my house used by my husband in the mornings when he goes out very early to work, he prepares a fruit smoothie and ready!
Another feature of the Hamilton Beach Single Serve Blender is that the glass has a travel lid, so you can drink directly from the glass, without having to mess more, it has a capacity of 14 oz.
The cup, lid and knives, of the two blenders can be washed in the dishwasher. Both have a space to store the cable.
My family loved the smoothies I prepared, I invite you to see My Smoothie Recipe or Champurrado Smoothie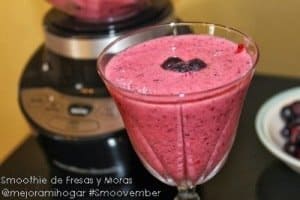 Strawberry and Blackberry Smoothie
Ingredients
1 Ice cup
1 Cup of condensed milk or half and half
1 Strawberry cup
1/2 glass maraschino cherries with juice
1/2 cup blueberries
Sugar to taste
Mix all the ingredients in the blender, sweeten to taste. We serve instantly, decorate with blueberries or cherries.
I invite you to visit the Hamilton Beach Site, there you can find all the products they offer, as well as spare parts, accessories and recipes.