We continue with mystery Tuesday, this time it's the turn to The Phantom Girl, surely many of you will have a little girl in your house, but this one is special, we do not know where it came from and what you want, but better read the story and tell if you have any tenant of this and guy living in your house.
This story takes place in San Nicolás de los Garza, N.L.; It was told her recently by one acquaintance, her name is Paty, she told me that for several years, in addition to living her, her husband and their daughters in their home, they also share it with the ghost of a girl.
She is a medium-sized girl, between 10 and 12 years old, who is wearing a white dress. Sometimes it is seen, sometimes of redirection you can see its silhouette lurking around the house, sometimes you only feel her presence, always, all the time, at night or out of the day, she always walks around.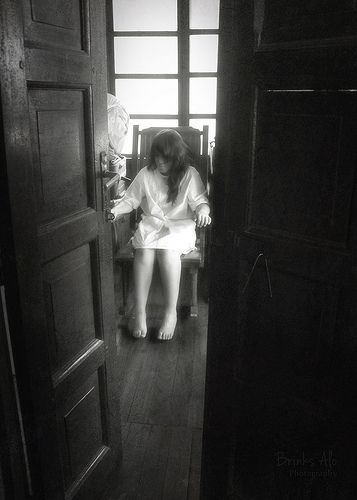 The first time Paty saw her, it was a night preparing to sleep, she brushed her teeth in front of the sink mirror, when she suddenly felt watched, turned her gaze to the left side of the mirror and was where she could clearly appreciate the face of a neither who looked at her attentively, with a calm, white-skinned appearance, with her dark hair half long.
At that time she was not afraid because she thought she was one of her daughters, because the mirror overlooked the stairs of the room and she thought that her eldest daughter was standing there, because they had the same physical characteristics, her height, complexion and hair shape.
As he went to the rooms where his daughters slept, he realized that they were all fully asleep, i went there where he felt the blood coming from his feet. It soon became common for Paty and her eldest daughter, Paola, to notice the girl's presence no matter the time of day.
It did not inspire great fear, but it was always surprising that when they least imagined it, there she was standing there, just observing, without moving or making any noise.
On one occasion, the girls were playing with a digital camera they had just been given, when they took a photo, the girl's body came perfectly behind an armchair where another of her daughters was lying, for which the flashing.
Her surprise was very large, realizing that it was not a thing of her imagination, the mysterious entity of the girl if she existed, was completely real and appeared in photography.
Paty says that to date the ghost girl continues to haunt the whole house, without hurting anyone, she explains that she does not understand who she is and because she lives in her home, she has ever asked her but has had no answer.
And you? Have you been through something similar?
photo credit: Week 35/52: Rock-a-Bye Baby via photopin (license)
I invite you to read the other Mystery Tuesday stories.