The Nutcracker is a timeless story that has been told in various ways over the years. Bring your family to The Immersive Nutcracker: A Winter Miracle holiday experience!
From the producers of the original Immersive Van Gogh Exhibit comes The Immersive Nutcracker: A Winter Miracle! The exhibition is visiting San Antonio, Dallas, and more US cities!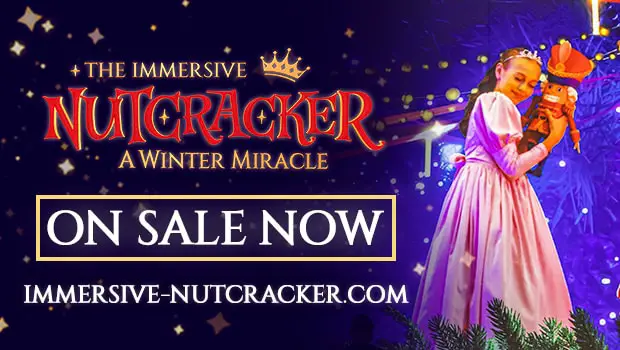 What is The Immersive Nutcracker: A Winter Miracle?
The Immersive Nutcracker: A Winter Miracle is an indoor exhibit featuring whimsical animated characters alongside footage of professional ballet dancers. An ideal family outing for all ages.
The joyful 30-minute immersive experience is a great way to introduce young children to the art of ballet and the captivating storytelling that often accompanies it.
Set to the sweeping music of Peter Ilyich Tchaikovsky, Immersive Nutcracker encompasses visitors in over 500,000 cubic feet of projections composed of over 1 million frames of video, curating a grand immersive display that relays the tale of The Nutcracker from opening to the finale.
This Christmas season get ready to enjoy the exhibition that features beloved scenes set to their classical scores like "The March of the Toys," "The Dance of the Sugar Plum Fairy" and more.
Discount for The Immersive Nutcracker
The exhibit will be available in 11 cities including San Antonio, Dallas, Boston, Chicago, Denver, Las Vegas, Los Angeles, Phoenix, Detroit, Kansas City, and Nashville.
The Immersive Nutcracker, A Winter Miracle from November 19th, tickets start at $29.99 and are now on sale.
Save 10% off per ticket when purchasing a family pack in bundles of four tickets.
The San Antonio exhibit will be at Lighthouse ArtSpace San Antonio at 211.
Visit https://www.immersive-nutcracker.com/ for more information and tickets.
Follow them on Facebook and Instagram @nutcrackerimmersive