Contains affiliate links.
You know all three Universal Orlando Resort parks™? Check out what we've learned and buy your tickets here.
We have had the opportunity to visit the parks of Universal Orlando Resort several times as a family, I share some things I would have liked to know before my first visit.
First of all, for you to plan well, you should know that at Universal Orlando Resort™ you can find three theme parks: Universal Studios Florida™, Universal's Islands of Adventure™ and Universal's Volcano Bay™; in addition to Universal CityWalk ™, an area open to the public.
Personally I loved Universal's Islands of Adventure™ I feel like my kids enjoyed it more, but they're all very good. I think it depends on the age and tastes of our children.
But UIniversal Orlando parks aren't just for kids, teens and adults enjoy them a lot, especially if they like movies and rides, which is what these parks are all about.
Read more tips for visiting Universal Studios here.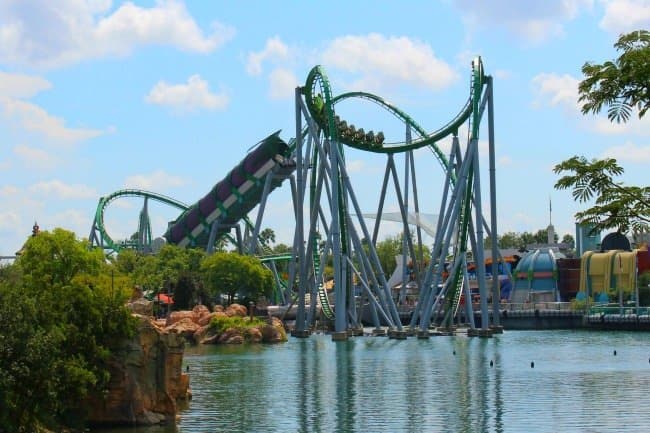 I recommend that before your trip you download the official Universal Orlando App, it has a lot of information, maps and you can even see the waiting times at each attraction or game and so you can decide with your family which games they like the most or if you have a chance to visit the three parks are even better!
Universal ORLANDO RESORT's three parks are very close to each other, in fact Universal Studios Florida™ and Universal's Islands of Adventure™ are opposite each other, you can change parks by walking. Universal's Volcano Bay™ and The Universal Orlando City Walk are approximately a mile and a half from the parks.
Universal Studios Florida™
Personally, I think this is Universal Orlando's most famous park. At Universal Studios you can find classic attractions such as:
Despicable Me Minion Mayhem™
Revenge of the Mummy™
Fast & Furious – Supercharged™
E.T. Adventure™
MEN IN BLACK™ Alien Attack™
TRANSFORMERS: The Ride-3D
Harry Potter and the Escape from Gringotts™
Hogwarts™ Express and more!
The Hogwarts™ Express is a train that connects these two parks, so you need a Park-to-Park admission ticket, to get on, i.e. a ticket for the two parks, you get on one and get off in the other. While you're on the train, you watch scenes like you're in the Harry Potter movie.
You can board the Hogwarts™ Express either at King's Cross Station in London at Universal Studios Florida™ and travel to Hogsmeade™ Station at Universal's Islands of Adventure™, or hop up and forth the other way for a different experience.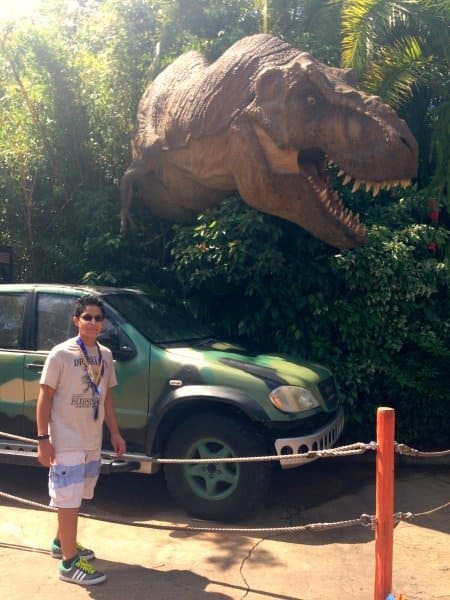 Universal's Islands of Adventure™
My youngest kids love dinosaurs, so maybe that's why we really enjoyed this park. The elder likes Harry Potter and was already getting on The Incredible Hulk Coaster®.
Here you can find attractions such as:
Jurassic Park River Adventure™
Hogwarts™ Express: Hogsmeade™ Station
The High in the Sky Seuss Trolley Train Ride!™
One Fish, Two Fish, Red Fish, Blue Fish™
The Amazing Adventures of Spider-Man®
Skull Island: Reign of Kong™
The Incredible Hulk Coaster®
Popeye & Bluto's Bilge-Rat Barges®
In addition to the attractions, in all parks you can find super heroes, food areas, shows, entertainment, shops, play areas for younger children, etc.
Universal's Volcano Bay™
If you prefer to have fun on the water, I recommend Universal's Volcano Bay™, is the universal Orlando water park, here you can enjoy exciting attractions for all ages, rent a cabin or relax in its pools.
In this park, you can use the TapuTapu™ a waterproof bracelet designed to be used in this park, so that you "line up" virtually on the Virtual Line™ for one attraction at a time.
If you want to visit this park, I would leave it for in the middle of the holidays so you grab strength for the next park or to relax on the last day before returning home.
My kids, like a lot of kids, love to walk in the water, so I think it's a good option you shouldn't let go. There are slides and themed games for all ages. Don't forget your sunscreen!
Some of the games at Universal's Volcano Bay™ are:
Kala & Tai Nui Serpentine Body Slides™
Kopiko Wai Winding River™
Krakatau™ Aqua Coaster
Tot Tiki Reef™ and more
Universal CityWalk ™
Apart from universal Orlando parks I recommend you go to Universal CityWalk™, an area open to the public where you can find restaurants, shows, attractions, souvenirs
You don't have to leave a special day to visit, take advantage in the evenings when the park is already closed to go for a walk, dinner or buy souvenirs.
If you have only a few hours to walk (for example the day you arrive or the day you leave) go to Universal City Walk, it's very similar to walking in the park, if you have to pay for a ticket (if you're just going to walk).
There are a variety of restaurants, but I recommend making a reservation so you avoid wasting time waiting for your turn, especially in high season.
One of the shows you can find there, is the Blue man show, a mix of comedy, theater, very good concert. It's a family show and you need a separate ticket to get in.
I hope you enjoy your trip to Universal and if you've already gone, which of the three Universal Orlando Resort parks is your favorite?