Did you get the snack for the soccer team after the game? Bring them something nutritious to replace energy and nutrients. I share some tips that have served me over the years with my children in America. #quikwins
This is a compensated campaign in collaboration with Nesquik and Latina Bloggers Connect.
Participating in some sport is very good, no matter if it is in an organized team or just a game or face with neighbors. My kids like to play soccer, right now they're waiting for the season to start, but they're playing with their friends in the afternoons.
During the soccer season, after each workout or as we say here "practice" and match, the coach and the potatoes take turns to bring drinks and a snack for all the children of the team, some prefer not to give them snacks until we get to eat at home , but it's best to give them something nutritious with protein and carbohydrates like Nesquick chocolate milk for the first 30 minutes after a workout or game to nourish our children's muscles and replace what they lost in sweat.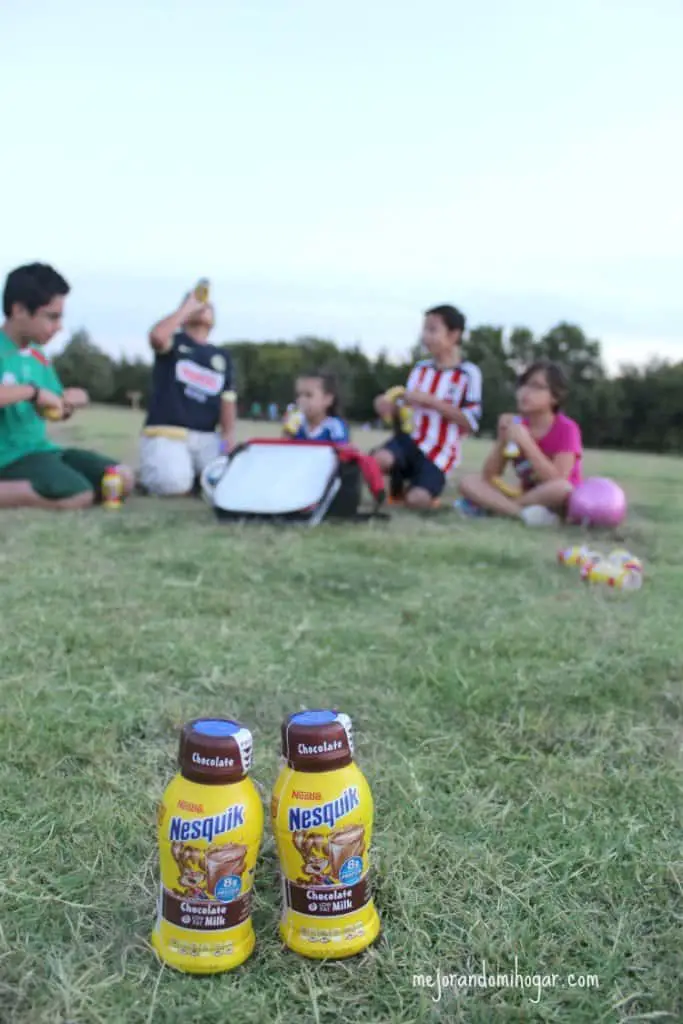 If we offer our children healthy snacks, they will learn how to follow a healthy lifestyle from a young age; instead of offering them processed food and post-exercise chatting.
Also let them relax after the intenment, my kids like to talk to their friends for a while after the snack, or play in the playground near the football fields.
Some tips I've learned when bringing the snack for my kids' soccer team are:
First of all, check to see if there are children with allergies on your child's computer, so they know what to offer them.
Regarding the amount, a drink and a snack is enough, usually the children then go home for lunch or dinner.
Some Ideas for Nutritional Snacks:
– Easy-to-eat fruit such as banana, grapes, oranges, mandarins, apples, blueberries. (preferably you don't have to handle, like a fruit slob or kabob, a lot of people don't like very-handled food).
– Trail mix or Raisins whether you're making a few bags or looking for small packages ready to be dealt. Easy-to-eat vegetables or vegetables such as baby carrots or celery sticks from those who sell ready-to-eat, offer them in plastic sachets or cups. Granola bars, etc.
To take them Nesquick chocolate milk instead of juice or soda I provided 59% of daily values of electrolytes, calcium, potassium and sodium compared to 1% of what was provided by juices, this makes Nesquick the smartest post-game option.
Water (although normally each child carries their water bottle).
If it's in your ability he takes some extra snacks for the players' little brothers, most of the time they get close and it's ugly to leave them without snack after they've been waiting for their siblings.
In my case I prefer to bring prepackaged food such as cheesesticks for example; ready to eat for the children of the team, nothing homemade, of course unless the game is among the children of my friends that we already have confidence, in that case, I can carry up sandwich trigulos for example.
Nesquick Chocolate Milk is available in packs of 10 8 oz bottles the size is excellent for children, full of nutritious benefits and with a rich flavor they will love, it is perfect to share on the soccer team, after their activities or for the lunchbox of our children.
Nesquick chocolate milk is the official chocolate milk post game or for after the game of the American Youth Soccer Organization and Us Youth Soccer, it is a reliable choice among potatoes and team coaches. Follow the conversation on social media using #quikwins
Follow Nesquick on social media Facebook and Twitter.
This is a sponsored campaign in collaboration with Nesquik and Latina Bloggers Connect. The opinions and text are all mine.