This is a sponsored post. Sponsored article, but my opinion is personal.
It's chronic childhood disease number one. Follow the tips below to avoid tooth decay on your return to school!
The return to school is already near and we all know that we are waiting for stiffer schedules, going to bed earlier, healthier meals and maintaining a healthy dental routine.
In my case, we took advantage of the summer to visit the dentist, www.jeffersondentalclinics.com as you should know, a dental cleaning is recommended every six months.
In honor of the back-to-school season, Jefferson Dental prepared an infographic on how to establish a back-to-school routine to prevent tooth decay is the number one chronic childhood disease in America.
Prepare your kids for back-to-school with these simple tips to help them raise awareness of healthy cavities to keep cavities "at bay."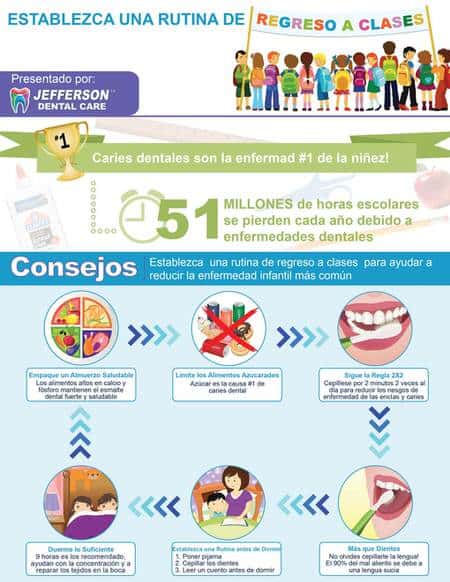 Tips to avoid tooth decay on back-to-school
Pack a healthy lunch or lunch for your kids. Help them keep their tooth enamel strong and healthy with foods rich in calcium and phosphorus.
Limit sugary foods. Drinks, sweets and high-sugar fruits can cause cavities, try to limit your intake, or look for some less sweet options.
Rule 2 X 2. Teach your children that it's best to brush their teeth twice a day for two minutes to avoid cavities and gum disease.
Get enough sleep. It is recommended that children sleep nine hours to allow tissues to be repaired in the mouth and to improve concentration.
Establish a bedtime routine. Try to get your kids to learn the following routine every night:
Put on your pajamas.
Brush your teeth.
Read a bedtime story.
We have to clean more than teeth. Brush your tongue! Remember that 90% of the causes of bad breath is caused by a dirty tongue.
Help your kids keep a cavity-free mouth!
Follow Jefferson Dental on social media to keep you informed of tips and promotions!Facebook.com/jeffersondentalTwitter.com/JeffersonCaresInstagram.com/jeffersonsmiles