The cold, the heat, the adolescence, those difficult days of the month and sometimes also age, affect us in every way. Some of us can hide them but when they start to notice it's then when we need a good treatment for acne.
It is difficult to find products that really serve us to treat acne, besides I have teenagers at home who are getting blackheads and if it were not enough to my husband in those days of stress at work also comes one to the other outbreak.
I don't want to spend on products for everyone, that's why I was happy when I found the Neutrogena Oil-Free Pink Grapefruit Line acne treatment line, we can use it all and it fits my budget. And we use it at bath time, so we can't forget.
In addition to this line, I found that one of the makeups of this brand, helps to uncover the pores and fights the pimples and blackheads, before they appear.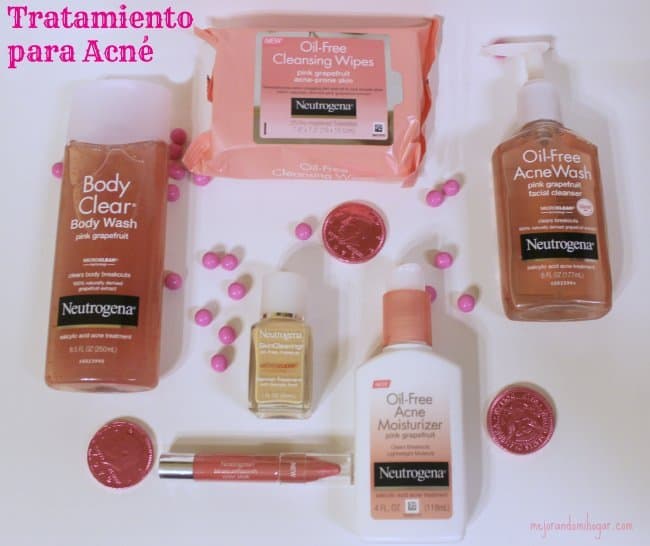 I recommend the following Neutrogena acne treatment products ® :
1. Neutrogena® Oil-Free Cleansing Wipes Pink Grapefruit for Acne-Prone Skin.
Ultra-soft wipes have superior technology so effective that it eliminates even waterproof mascara.
Fat-free formula, ideal for acne-prone skin.
100% grapefruit + vitamin C extract
Suggested sale price: $6.99 / Contains: 25 wipes.
2. Neutrogena® Oil-Free Acne Wash Pink Grapefruit Facial Cleanser.
Gentle and effective cleansing that treats, controls and prevents acne without drying or irritating the skin.
So soft that it can be used every day.
Contains 100% natural grapefruit extract and Vitamin C.
Suggested retail price:: $6.99/ 6.0oz.
3. Neutrogena® Body Clear® Body Wash Pink.
Treat steers and prevents outbreaks in the body with a revitalizing explosion of pink grapefruit.
This exclusive formula contains the highest potency acne medicine recommended by dermatologists, salicylic acid; reinforced by MicroClear technology that eliminates grease.
It is specially developed to treat breakouts in the body such as those of the back, shoulders and chest without drying out.
The foam formula contains natural grapefruit extract and vitamin C.
4. Oil-Free Acne Moisturizer Pink Grapefruit.
Daily face lotion or cream moisturizes and fights buds, with a soft pink grapefruit fragrance, for smoother, acne-free skin. Combine it with your favorite cleanser or scrub.
Treatment for acne with salicylic acid.
Light wetting.
It doesn't clog pores.
Non-greasy formula.
5. NEUTROGENA SKINCLEARING® Oil-Free Liquid Makeup w/ MicroClear®
Soft and lightweight liquid makeup base that glides easily to instantly match skin tone and provide natural-looking coverage.
Treat visible imperfections and also work under the surface of the skin to uncover pores and fight pimples before they appear.
Help control brightness during the day with oil absorption technology.
Available in 12 natural-looking shades.
This dual-function base creates breathable coverage that looks fabulous all day long.
Suggested price: $11.99/1 fl oz.
To complement your look after acne treatment, I recommend one of my favorites:
MoistureSmooth Color Stick Lipstick.
Moisturize your lips instantly and condition them continuously so they're softer in just 3 days, without having to make them up. Its formula is similar to a balm, it is made with fruit extracts, in addition to mango butter and shea. It glides easily, to achieve a translucent and moisturizing color that stays for hours. Besides, you don't need sharpeners. Available in 8 shades.
Neutrogena has a whole line of products for all skin types, it fits the budget and we don't have to spend a lot of time for skin care. We can pamper ourselves and pamper our family. Find more opinions about these products on social media channels using #MisMomentosNeutrogena .
If you like the smell of grapefruit the smell will not become strong, if you are not familiar with the smell it may at first become a little strong.