October is the ideal time to tell those stories or legends of terror that many of us like to hear from the mouths of older people, who tell us their own experiences or anecdotes they heard from other people. Every Tuesday we will share them on Mystery Tuesday horror stories in Improving My Home.
There are many typical stories, many places with legends, such as La Llorona, The Woman in Black, appearances of ghosts, witches, etc.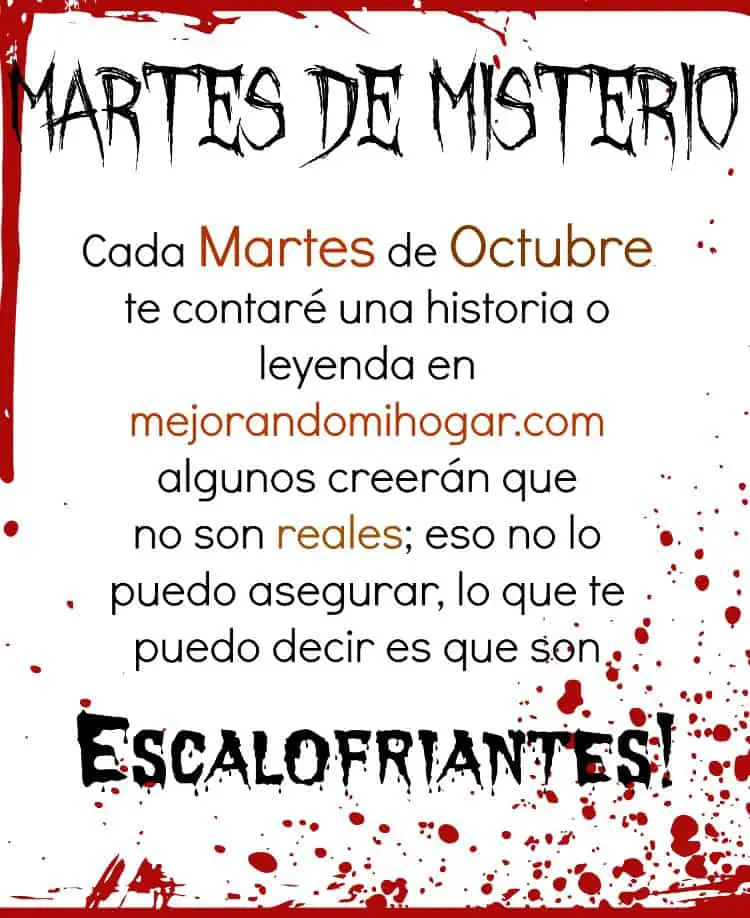 For many people, they are just stories and inventions of some people with too much imagination, even sometimes mocking and ignorant callers, for believing that these things exist.
For the skeptics there will always be a logical explanation within the environment where the paranormal event happened.
I share the first story or horror story and invite you every Tuesday to read a mystery, legend or story story and share them on social media with #MartesdeTerror
THE MOVIE THEATER
I met a lady, her name, Avelina; She told me the story that I then told you, told me that she was born and raised in a ranch outside a municipality located in the south of nuevo León state.
She lived in that ranch with her family. Her life was simple and very humble, she and her little brothers had fun with anything, with the animals in the pens, climbing trees, getting into the river, etc.
Their innocence did not allow them to see any evil in what was going on around them, perhaps because there really wasn't, but what they played was not normal at all.
Mrs. Ave says that among her many ways of playing, was the game of going to the movies. Obviously, in those years and in the middle of a ranch there was no cinema.
The cinema for them was to lock themselves in one of the rooms of the old house in which they lived, a large house, wide walls and a very high ceiling, with a large porch. She and her little brothers would gather at noon, almost to nightfall, light a candle in that dark room, and cover themselves with a sheet, letting out only their eyes, to see the great function.
They waited patiently and very still the moment, that the fun would begin. Suddenly from an old closet that stood in the corner, a couple of old people came out, and their shadow crossed that room, walking very slowly from side to side; when they returned, they entered again in that closet from which they had come out, that was the long-awaited "film function", which they witnessed and amused them a lot, they were not afraid to see those shadows go through the walls of that room.
Avelina says that when the couple of old people came out, the room was filled with a smell of old clothes, and that same smell was fired by that mysterious wardrobe.
I think if I saw any of the rooms in my house pass by, the shadow of two old people, I would come out of fear for fear of the unknown; but their innocent mind, as children, only let them see one more game that they spent their days with on that ranch, and that was just one of so many things that she says they lived when she was little on that little ranch.
Tell us your opinion!
Do you believe in these stories? Something similar happened to you?