Last week was the day of taking the kids to work and as I work at home, but I didn't want to cook, I took them to lunch and work with me to Olive Garden, I share our experience. 
We received compensation, but this doesn't affect my opinion.
We have an Olive Garden near the house and we go every now and then to eat there. All our visits have been good experiences, this time we were my children, my weasel (which is not pictured) and me. We also went to celebrate my birthday which was a day before.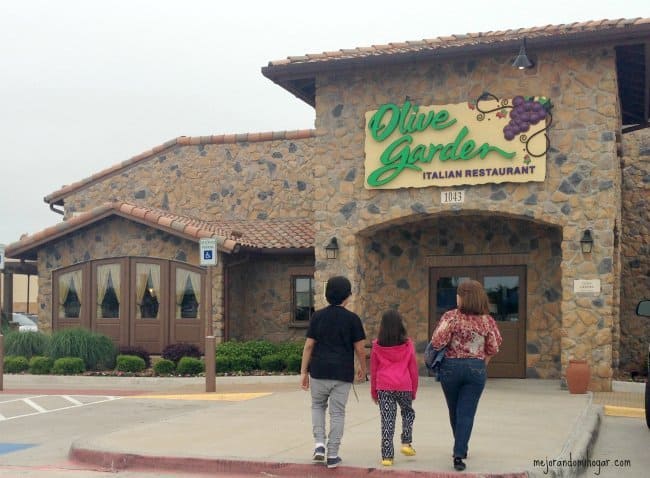 My children are used to my work as a blogger and like to enjoy the benefits, so they also contribute with me helping me take pictures, like this one I asked my eldest son to take, while I walked in with the little ones at the Italian restaurant.
We enter, order refescos and order an alfredo sauce to accompany the breadsticks or warm breads that serve as an aperitif.
Remember that Olive Garden salad or soup is unlimited with some dishes.
After seeing the menu we made our order, my daughter still enjoys the children's menu and ordered a pasta made to taste, this is a good choice because they themselves or their potatoes, choose the type of pasta and sauce, and the topping they prefer as meat balls , chicken or alone.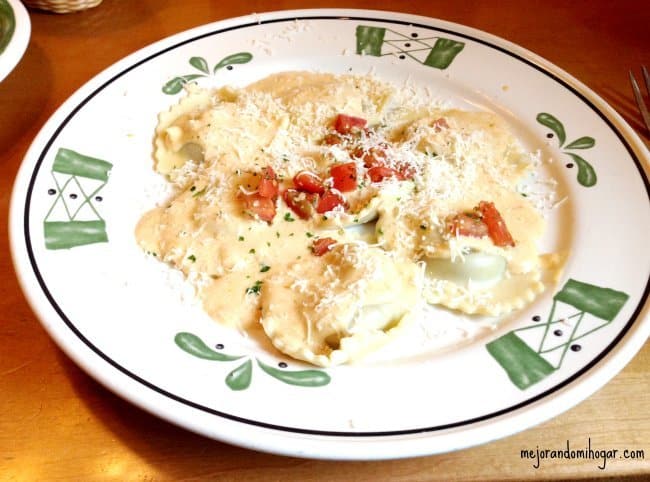 In my case, my favorite dish in Olive Garden is the traditional Chicken Parmigiana or Chicken Parmesan, but this time I preferred to try something new, so I ordered some Ravioli di Portobello, which are ravioli or pasta sandwiches, stuffed with portobello and bathed with a creamy cheese sauce and sun dri tomato, I didn't regret, the ravials were delicious. My weasel asked the Cheese Ravioli, very similar but stuffed with cheese.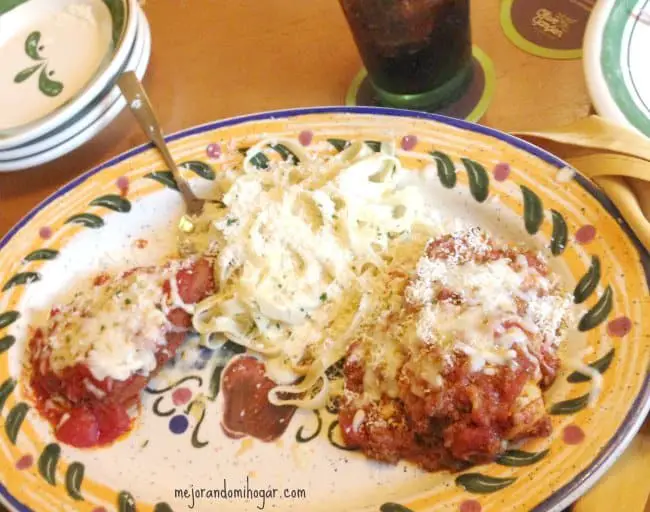 My eldest son asked for one of his favorites the Tour of Italy is a trio of traditional dishes: Chicken Parmigiana, Lasagna and Fettuccine Alfredo, this dish I love because you can enjoy different flavors at the same time.
My youngest son loves seafood and always asks for something that includes them, this time ordered seafood Alfredo, a pasta with the creamy sauce, with shrimp and axe callus or scallops.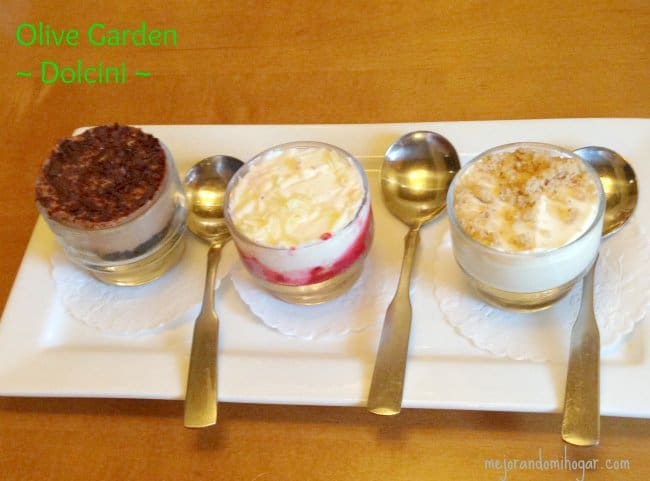 To close the night with a gold brooch, they brought us Dolcini, excellent-sized desserts containing cake, mousse, whipped cream and berries, come in different flavors like amaretto, chocolate, strawberry and can be compared individually or in a package of three .
We had a great time, the atmosphere is quiet and you can chat at ease, the children are entertained coloring; highly recommended to take the family, join your friends for a while or hold an event.
Visit OliveGarden.com and subscribe to their emails to receive special offers and coupons.