Would you like to know more about the new film Disney Pixar's coco? Send your questions to the Director, Writer and Co-Director and producer!
*We were invited to the event, we received no compensation.
I am very excited to tell you that from 2 to 4 August I will be visiting Pixar Animation Studios for the first time in San Francisco, California on a mini tour and at an event to learn more about the film COCO Disney Pixar.
Disney Pixar's COCO is a colorful and wonderful story that we will learn from in a few days. If you have questions about the film, comment and I'll send them to you in the interviews. Follow the conversation with the hashtag #PixarCOCOEvent 
If you had the opportunity to interview the creators of

C

O

C

O

, What would you ask them?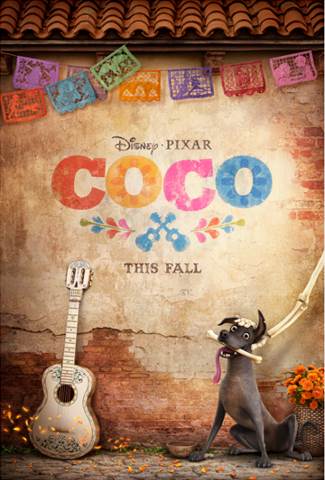 Activities we're going to do in the #DisneyPixarEvent
See a COCO footage or preview that will be presented by Director Lee, writer and Co-Director Adrián Molina and producer Darla K. Anderson.
Demonstration of COCO music with Michael Giacchino (Composer), Germaine Franco (Orquesta), Camilo Lara (Consultant) and Adrián Molina (Writer and Co-Director).
Presentations with COCO filmmakers.
Learning how coco's production team was inspired to investigate specific traditions and how they were soaked on the set of their fantastic Day of the Dead story.
See how the expansive worlds of the living and the dead were created through research and imagination. Participants include Harley Jessup (production designer), Danielle Feinberg (DP-lighting), Chris Bernardi (Systems Supervisor).
Learn how the skeletons were imagined, designed, animated and dressed in the land of the dead. Participants include Daniel Arriaga (Character Art Director), Gini Santos (supervising animator), Byron Bashforth (Character Shading Lead), Emron Grover (Technical Director of Simulation).
In the land of the dead, Miguel and his faithful companion Dante find not only their ancestors, but also their loyal guard Pepita, a magical creature based on Mexican folk art. Hear about how they were designed and brought to life. Participants include Alonso Martínez (character artist/rigging), Nick Rosario (directed animator), Christian Hoffman (Character Supervisor).
COCO press conference with Director Lee Unkrich, Writer and Co-Director Adrian Molina and Producer Darla K. Anderson.
Learn the art of alebrijes and see how they brought them to life at COCO.
Visit the "Awaking Beauty: The Art of Eyvind Earle"
Guided tour through "Leave View: The Art of Andreas Deja" exhibition.
Guided tour in the exhibition "Awaking Beauty: The Art of Eyvind Earle".
If you had the opportunity to interview the creators of COCO, what would you ask them? 
Check out the trailer for Disney Pixar's COCO !
About COCO
Despite his family's generations-by-generation ban on music, Miguel (voiced by Anthony Gonzalez) dreams of becoming an important musician as his idol Ernesto de la Cruz (voiced by Benjamin Bratt). Desperate to prove his talent, Miguel finds himself magically transported to the colorful and wonderful Land of the Dead following a mysterious chain of events.
Along the way, he meets the charming but very cheating Hector (voiced by Gael García Bernal) and together, they set off on an extraordinary journey to solve the real story behind the story of Miguel's family.
Disney•Pixar's "Coco" opens in U.S. theaters. November 22, 2017. It is directed by Lee Unkrich ("Toy Story 3″), co-directed by Adrian Molina (artist of the story "Monsters University") and produced by Darla K. Anderson ("Toy Story 3").